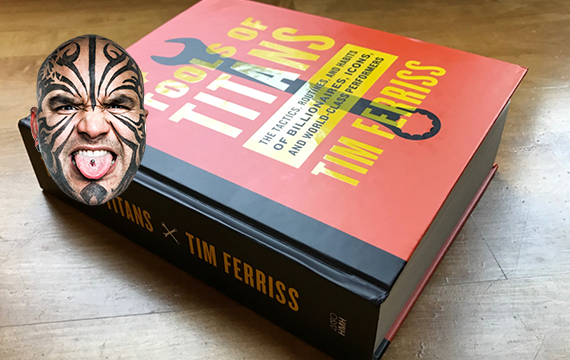 Loy Machedo's Book Review for Tools of Titans by Tim Ferriss
From the Desk of Loy Machedo: Loy Machedo's Book Review for Tools of Titans by Tim Ferriss
If you are a hardcore fan of Tim Ferris like I am, then anything that Tim Ferris sells, markets or recommends, you will buy.
Why?
Because he has built the foundation of trust & credibility over the years by giving free content, free tips, free strategies, and free videos to his millions of followers.
So when he sells something – you know for a fact – it will cover the cost of the purchase.
Which is when the book was advertised as his new book – I was among the first to preorder.
However, once the book arrived – I got busy with my personal list of challenges in life and so I kept it in my already overly crowded book shelf.
So after nearly weeks of leaving it and thinking about it – I sat to complete the book – took me around a month to do so (as I am reading multiple books – a bad habit I need to get rid off) and so here is it finally – Loy Machedo's Book Review
Read it…and also, let me know your thoughts about it.
If you wish to get in touch with me
loy@loymachedo.com 
Loy Machedo
The World's #1 Personal Branding Coach
www.LoyMachedo.com
www.whoisLoyMachedo.com
www.ThinkPersonalBranding.Com
———————————————————————
Loy Machedo's Book Review for Tools of Titans by Tim Ferriss

What is the book about?
The book is a summary of the 200+ interviews Tim Ferris has had with the whose who of the World we live in. From Scott Adams, Marc Andreessen, Peter Attai, Shay Carl, Kevin Kostner, Stephen Dubner, Jamie Foxx, Malcolm Gladwell, Seth Godin, Peter Thiel, Neil Strauss, Ramit Sethi, Arnold Schwarzenegger, Sam Harris and Triple H (Paul Levesque)
The book contains the best of what Tim Ferris felt would add value to his readers.
His Questions are more or less the standard ones and from those – he picks up the best answers.
Loy Machedo's Book Review for Tools of Titans by Tim Ferriss
What did I love about this book?
The very fact that Tim has managed to meet these legends and ask them questions which are so private and intimate with regards to their work ethics, how their mind works and the discipline that they have had to reach to where they are today – is simply priceless.
I went through each and every page reading whatever was shared and tried to get the best of what would suit me.
You will get everything here from a Keogenic Diet to experiments with Nootropics to micro dosing on LSD
There are productivity hacks, life hacks, drug hacks – all kinds of hacks in this book.
Loy Machedo's Book Review for Tools of Titans by Tim Ferriss
What did I not like about this book?
The book claims to be a recipe for success or as the title suggested "Tools of the Titans". However, here's the thing you need to understand – just because Triple H has a 'Keto Frappuccino' every morning or Jamie Foxx does 15 pull-ups X 50 Push ups X 100 sit ups or Tony Robbins does his Breathing exercises in the morning (I do this) – doesn't mean if you start doing it – you will see the same success as these legends. There are just too many variables to consider. All it will do it tell you what Triple H drinks of Jamie Foxx does as his exercise or what Tony Robbins Morning Routine Looks like. That's it.
The book has absolutely no structure, no format and no consistency in terms of its content. For some personalities, you have 6 pages and for some you have only 1 page. For some personalities, you will everything about their diet and another person you will have what do write in their journals.
The book does drag and bore you at many places. At least it did for me. I just quickly skipped through most of the pages. If I had to tell you how many pages I found useful – it would around say 20 to the least and 50 to say the max.
Loy Machedo's Book Review for Tools of Titans by Tim Ferriss
Moment of Truth
This is a book for the hardcore Tim Ferriss follower.
There is a little bit of wisdom sprinkled here, a little bit there and a little bit everywhere
Personally, I felt this book was more of a business decision to monetize all the hard work and effort he had put in for the years of giving free content.
Would I recommend you to buy this book – Yes
Would it help you – I doubt.
Would I use it again as a reference – Most probably the few pages I underlined.Do I think there is a lot more I can do with this book – yes. But the question is when?
Overall Rating – 6 out of 10
———————————————————–
The World's #1 Personal Branding Coach
www.LoyMachedo.com
www.whoisLoyMachedo.com
www.ThinkPersonalBranding.Com
Loy Machedo's Short Movie With RSN8 Productions
—————————
Coca Cola Features Loy Machedo in its Viral Advertisement
—————————
Loy Machedo Speaks at TEDx Dubai 2011 On Prejudice
—————————
Loy Machedo featured on National Television
—————————