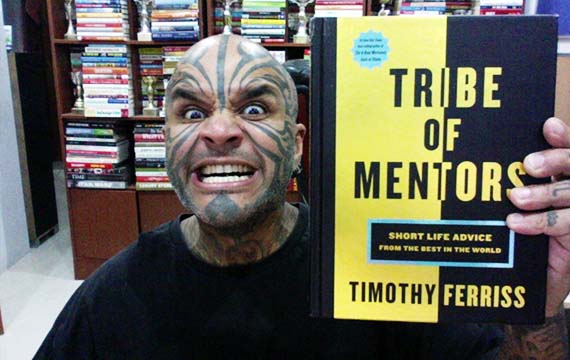 Tim Ferriss: Tribes of Mentors – The 70 Recommended Tips I Loved
Tim Ferriss: Tribes of Mentors – The 70 Recommended Tips I Loved
Given that this book was around 596 pages, and then my detailed review was around 4,000 pages, I decided to break down this review into 4 separate articles (links which are shared at the end).
Go through this article which shares the 70 amazing tips I got from this book. And then after that – go and read the other articles which share what other exciting stuff I found from reading this book.
Tim Ferriss: Tribes of Mentors – The 70 Recommended Tips I Loved

1. Page 23: Terry Crews stating that he realized at some point he had to let go of people in his life and never allow them to return.
2. Page 29: Debbie Millman stating "I do not believe in Work-Life balance"
3. Page 34: Naval Ravikant who says "Remember one day that you will die." All of this will go to nothing."
4. Page 55: Ayaan Hirsi Ali: "Many students come to me full of wonderful intentions hoping to change the world………I tell them to first graduate and make a lot of money…."
5. Page 57: "It's not how well you play the game, its deciding what game you want to play" – Kwame Appiah
6. Page 100: Veronica Belmont: I've only ever had one house motto: "Fuck you, pay me."
7. Page 128: Amelia Boone: "No one owes you anything."
**************************
Tim Ferriss: Tribes of Mentors – The 70 Recommended Tips I Loved
8. Page 206: Don't hire a dog, then bark yourself – David Ogilvy
9. Page 207 – Lose an hour in the morning, chase it all day – a Yiddish saying
10. Page 219 – "Money in a business is like gas in your car. You need to pay attention so you don't end up on the side of the road. But your trip is not a tour of gas stations." ~ Tim O'Reilly
11. Page 225 – "Excellence is the next five minutes….Forget the long term. Make the next five minutes rock!" ~ Tom Peters
12. Page 246 – "I started my first business with $200…I learned far more about business from that $200 than from a debt-inducing MBA."
13. Page 291: "Write down what your successful personal and professional life looks like in 20 years." by Strauss Zelnick
14. Page 298: Tony Hawk's "The 900" – https://www.youtube.com/watch?v=4YYTNkAdDD8
**************************
Tim Ferriss: Tribes of Mentors – The 70 Recommended Tips I Loved
15. Page 302 – Difference between a Deontologist & Consequentialist
A deontologist believes that for something to be ethically correct, it must abide by a predefined set of morals rules or ideologies and if an action breaks those rules then it is immoral, regardless of the outcome. A consequentialist believes that the moral value of an action purely depends on its outcome – the act itself doesn't carry moral weight, all that matters is whether its consequences are good or bad overall." ~ Live Boeree
16. Page 312 – "That's why race-horses have blinders on. If they look to the left or right, not only will they end up hurt, but everyone else will too."
17. Page 314 – "They don't realize that if you make the whole body strong in every aspect that you possibly can over a period of just three years, you've created an impenetrable machine that won't get hurt, that won't break down, that you can have for the rest of your life because you followed what you're supposed to at the beginning." Ed Conan
18. Page 335 – "The privilege of a lifetime is being who you are" ~ Joseph Campbell
19. Page 344: "Is what I am doing right now aligned with my life's calling?" ~ Gabor Mate
20. Page 346 – "Don't try to be something you're not. Be confident in the skills you have, as they may be make-or-break for the journey you pursue" ~ Steve Case
21. Page 347 – The three bad recommendations or pieces of advice people give:
1) You can succeed even if you do not know something
2) Its best to do everything by yourself
3) Ignore regulations & just go ahead
**************************
Tim Ferriss: Tribes of Mentors – The 70 Recommended Tips I Loved
22. Page 353 – "It will never get easier than right now to recklessly pursue your passion. Do it." ~ Tommy Vietor
23. Page 357 – "You learn the secret of this business, which is there's no secret. Be yourself." ~ Larry King
24. Page 363 – "You can only do your best" and "Take it easy, ya Azizi." ~ Muna Abusulayam
25. Page 369: "In order to become a Grandmaster, you must already be one." ~ Maurice Ashley
26. Page 370: "Greatness is a verb" ~ Maurice Ashley
27. Page 373: "There are many organizations that fret over small, direct expenses, yet have no misgivings about keeping superfluous staff tied up in a conference room for hours." ~ John Arnold
28. Page 374 – "There is no universal path to success." ~ John Arnold
**************************
Tim Ferriss: Tribes of Mentors – The 70 Recommended Tips I Loved
29. Page 374 – "I have become better at judging the opportunity cost of time." ~ John Arnold
30. Page 375 – "Those who are determined to be "offended" will discover a provocation somewhere. We cannot possibly adjust enough to please the fanatics, and it is degrading to make the attempt" ~ Christopher Hitchens
31. Page 376 – Check "Mr. Money Mustache Blog
32. Page 377 – "The worst piece of standard advice is more of an assumption that spans the entire middle class: "Get yourself into a nice, prosperous 40-year career of being completely dependent on your employer."
33. Page 378 – "Freedom is the fuel for creativity."
34. Page 383 – "The less you need positive feedback on your ideas, the more original design regions you can explore, and the more creative and, in the long term, useful to society you will be. But it could be a very long time before people will love you (or even pay you) for it."
35. Page 385 – Check out www.trickstutorials.com
**************************
Tim Ferriss: Tribes of Mentors – The 70 Recommended Tips I Loved
36. Page 389 – "It had long since come to my attention that people of accomplishment rarely sat back and let things happen to them. They went out and happened to things." ~ Leonardo Da Vinci
37. Page 404 – "Avoid Sugar. Especially soda and juice. All other diet advice is noise." ~ Bram Cohen
38. Page 409 – "Many of us have brought into the cliche – Pursue your passion. For many, that is terrible advice. In your 20's, you may not really know what your best skills and opportunities are. It's much better to pursue learning, personal discipline, growth. And to seek out connections with people across the planet. For a while, its just fine to follow and support someone else's dream. In so doing, you will be building valuable relationships, valuable knowledge. And at some point your passion will come and whisper in your ear, "I'm ready."
39. Page 414 – "You can do anything you put your mind to." Ah, no, that's not accurate, and it reveals the advice-givers naivete about human experience." ~ Michael Gervais
40. Page 417 – "What I learned from this design disaster was that I had attempted to treat the symptom of a problem instead of its cause." ~ Temple Grandin
41. Page 427: "If you want to get better in the sport, you need to work on your specific weaknesses, not those of someone who is successful." ~ Mathew Fraser
42. Page 427: "Once I figured out why, I had to figure out how to fix it. This then involved me working backward from the desired result." ~ Mathew Fraser
**************************
Tim Ferriss: Tribes of Mentors – The 70 Recommended Tips I Loved
43. Page 436: "Strategy without tactics is the slowest route to victory, Tactics without strategy is the noise before defeat." ~ Sun Tzu
44. Page 441: "My 5 Steps to Mastery:
1) Choose a worthy and meaningful challenge.
2) Seek a sensei or master teacher to help you establish the right path and priorities
3) Practice diligently, always striving to hone key skills and to progress incrementally towards new levels of competence.
4) Love the plateau
5) Mastery is a journey, not a destination."
45. Page 453: "Trying to crush it on every platform, especially if you're a one-person show, is not a wise or sustainable use of your time, talent or energy." ~ Marie Forleo
46. Page 453: "Ask yourself, what exactly do you want to be on this platform?"
47. Page 456: "Check out Enneagram – https://en.wikipedia.org/wiki/Enneagram_of_Personality )
48. Page 457: "……If I had a cheat sheet, I could give myself at 22, it would have three things on it: A Tennis Ball, A Circle, and the number 30,000.
The tennis ball is about finding something that you can become obsessed with, like my childhood dog who would go crazy whenever anyone threw a ball for her. The most successful people I know are all obsessed with solving a problem that really matters to them.
The circle refers to the idea that you're the average of your five closest friends. Make sure to put yourself in an environment that pulls the best out of you.
And the last is the number 30,000. When I was 24, I came across a website that says most people live for about 30,000 days – and I was shocked to find that I was already 8,000 days down. So you have to make everyday count.
49. Page 461:
"Number one: Every step in your early career must get you incrementally closer to whatever genuinely interests you.
Number two: The greatest lessons you learn in the beginning of a career are about people…." ~ Scott Belsky
**************************
Tim Ferriss: Tribes of Mentors – The 70 Recommended Tips I Loved
50. Page 462: "We were faced with a classic example of "don't ask customers what they want, figure out what they need." ~ Scott Belsky
51. Page 463: "You can do so much in ten minutes time. Ten minutes once gone, are gone for good. Divide your life into ten minute units and sacrifice as few of them as possible in meaningless activity." ~ Ingvar Kamprad (founder of IKEA)
52. Page 476: "If I am not for myself, who will be for me? But if I am only for myself what am I? And if not now, when?" ~ Rabbi Hillel
53. Page 478: "It's said that rich people and beautiful women never know who their friends really are. That can also be true of people with a reputation in professional circles." ~ Steven Pinker
54. Page 485: "I also unfollowed a lost of close friends and coworkers on social media, which actually made our relationships much stronger and more productive, respectively." ~ Whitney Cummings
55. Page 490:
– "If you're searching for wisdom, try to find it from people who've done it more than from people who teach it. Ask a lot of questions."
– "In addition, focus on something you love, because you have a far greater chance of succeeding by doing something you love, and regardless of whether you succeed or not, your life will be better. So you can't really lose by dedicating yourself to what you love.
– "Also, work tirelessly." ~ Rick Rubin
56. Page 495: Check out the Blog – Wait But Why? – https://waitbutwhy.com/
**************************
Tim Ferriss: Tribes of Mentors – The 70 Recommended Tips I Loved
57. Page 499: "Over the longer term, what really matters to you? If you answer that, you can reverse-engineer toward the end." ~ Ben Silbermann
58. Page 515: "The fundamental cause of the trouble is that in the modern world the stupid are cocksure while the intelligent are full of doubt." ~ Bertrand Russell
59. Page 516: "Google Egg Boxing"
60. Page 516: Advice to Students:
– Be as genuine as you can
– Seek out mentors constantly and without shame
– Ignore the advice that says "You spend X years learning Y, you can't just up and leave now and do Z."
61. Page 518: When you stop caring about being right in the eyes of everyone – versus being right in your own eyes and the eyes of those who matter to you – it's amazing how little you care to waste energy trying to convince people of your view" ~ Peter Attia
62. Page 530: I am rephrasing Jim Loehr
– Be your authentic self?
– "Think of the tennis player who, in the middle of the match blows up at the empire for any reason.
– Think of another tennis player who is certain that the linesperson has made an incorrect call but doesn't blow up
– Which example is more representative of true authenticity?"
63. Page 538: "Work Harder" ~ Jocko Willink
**************************
Tim Ferriss: Tribes of Mentors – The 70 Recommended Tips I Loved
64. Page 556: "I learned the limits of my own abilities, and the importance of going to experts instead of looking for shortcuts." ~ Yuval Noah Harari
65. Page 557: "Nobody really knows what the world and the job market will look like in 2040, hence nobody knows what to teach young people today. Consequently, it is likely that most of what you currently learn at school will be irrelevant by the time you are 40. By 2040, this traditional model will become obsolete, and the only way for humans to stay in the game will be to keep learning throughout their lives and to reinvent themselves again and again." ~ Yuval Noah Harai
66. Page 558: "We are not living in the era of hacking computers – we are living in the era of hacking humans." ~ Yuval Noah Harai
67. Page 565: "Most of the time, "What should I do with my life?" is a terrible question. "What should I do with this tennis serve?" "What should I do with this life at Starbucks?" "What should I do with this traffic jam?" "How should I respond to the anger I feel welling up in my chest?" – These are better questions ~ Tim Ferris
68. Page 567: "If you want to have more, do more, and be more, it all begins with the voice that no one else hears." ~ Timothy Ferriss
69. Page 569: "The secret to winning any game lies in not trying to hard." ~ Timothy Ferriss
70. Page 569: "What would this look like if it were easy?" ~ Timothy Ferriss