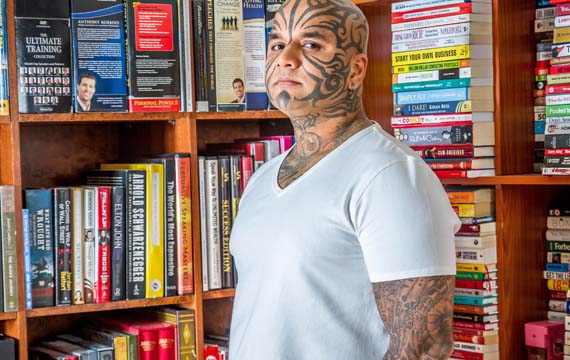 100 Recommended Non-Fiction Books By Loy Machedo
I have constantly been asked to give recommendations for my Top 3 or Top 10 or Top 20 Must Read Books that I would recommend for anyone.
So finally I decided to compile a list of my top 100 books that only changed the way I think but changed the person I am.
I have sorted them out alphabetically from 1 to 100.
Enjoy.
1. A Brief History of Time by Stephen Hawking
2. A Whole New Mind: Why Right-Brainers Will Rule the Future by Daniel H. Pink
3. Act Like a Lady, Think Like a Man: What Men Really Think About Love, Relationships, Intimacy, and Commitment by Steve Harvey
4. Awaken the Giant Within: How to Take Immediate Control of Your Mental, Emotional, Physical and Financial Destiny! by Anthony Robbins
5. Blink: The Power of Thinking Without Thinking by Malcolm Gladwell
6. Book Yourself Solid Illustrated: The Fastest, Easiest, and Most Reliable System for Getting More Clients Than You Can Handle Even If You Hate Marketing and Selling by Michael Port
7. Bounce: how champions are made by Matthew Syed
8. Brand Failures: The Truth about the 100 Biggest Branding Mistakes of All Time by Matt Haig
9. Brand Success: How the World's Top 100 Brands Thrive and Survive by Matt Haig
10. Brandwashed by Martin Lindstrom
11. Built to Last: Successful Habits of Visionary Companies by James C. Collins, Jerry I. Porras
12. Co-Active Coaching: New Skills for Coaching People Toward Success in Work and, Life by Laura Whitworth, Henry Kimsey-House, Karen Kimsey-House, Phil Sandahl
13. Delivered from Distraction: Getting the Most out of Life with Attention Deficit Disorder by Edward M. Hallowell, John J. Ratey
14. Delivering Happiness: A Path to Profits, Passion, and Purpose by Tony Hsieh
15. Emotional Intelligence: Why It Can Matter More Than IQ by Travis Bradberry, Jean Greaves
16. Finding Ultra: Rejecting Middle Age, Becoming One of the World's Fittest Men, and Discovering Myself by Rich Roll
17. Flow: The Psychology of Optimal Experience by Mihaly Csikszentmihalyi
18. Fooled by Randomness: The Hidden Role of Chance in Life and in the Markets by Nassim Nicholas Taleb
19. Freakonomics: A Rogue Economist Explores the Hidden Side of Everything by Steven D. Levitt, Stephen J. Dubner
20. Free Prize Inside: The Next Big Marketing Idea by Seth Godin
21. Free Will by Sam Harris
22. Get To The Top: The Ten Rules For Social Success by Suhel Seth
23. God Is Not Great: How Religion Poisons Everything by Christopher Hitchens
24. Good to Great: Why Some Companies Make the Leap… and Others Don't by James C. Collins
25. Great by Choice: Uncertainty, Chaos, and Luck–Why Some Thrive Despite Them All by James C. Collins, Morten T. Hansen
26. How I Made It: 40 Successful Entrepreneurs Reveal All by Rachel Bridge
27. How The Mighty Fall: And Why Some Companies Never Give In by James C. Collins
28. How They Blew It: The CEOs and Entrepreneurs Behind Some of the World's Most Catastrophic Business Failures by Jamie Oliver, Tony Goodwin
29. How to Get Rich: One of the World's Greatest Entrepreneurs Shares His Secrets by Felix Dennis
30. How to Talk to Anyone: 92 Little Tricks for Big Success in Relationships by Leil Lowndes
31. How We Decide by Jonah Lehrer
32. How: Why How We Do Anything Means Everything by Don Seidman
33. Imagine: How Creativity Works by Jonah Lehrer
34. In Search of Excellence: Lessons from America's Best-Run Companies by Tom Peters, Robert H. Waterman Jr.
35. Influence: The Psychology of Persuasion by Robert Cialdini
36. It's a Jungle in There: Inspiring Lessons, Hard-Won Insights, and Other Acts of Entrepreneurial Daring by Steven Schussler, Marvin Karlins
37. Letter to a Christian Nation by Sam Harris
38. Linchpin: Are You Indispensable? by Seth Godin
39. Little Red Book of Selling: 12.5 Principles of Sales Greatness: How to Make Sales Forever by Jeffrey Gitomer
40. Louder Than Words by Joe Navarro
41. Made to Stick: Why Some Ideas Survive and Others Die by Chip Heath, Dan Heath
42. Mortality by Christopher Hitchens
43. My Big Idea: 30 Successful Entrepreneurs Reveal How They Found Inspiration by Rachel Bridge
44. No Time for Tact: 365 Days of the Wit, Words, and Wisdom of Larry Winget by Larry Winget
45. Out of Our Minds: Learning to Be Creative by Ken Robinson
46. Outliers: The Story of Success by Malcolm Gladwell
47. Peaks and Valleys: Making Good And Bad Times Work For You–At Work And In Life by Spencer Johnson
48. People Are Idiots and I Can Prove It!: The 10 Ways You Are Sabotaging Yourself and How You Can Overcome Them by Larry Winget
49. Peoplewatching: The Desmond Morris Guide to Body Language by Desmond Morris
50. Permission Marketing: Turning Strangers Into Friends And Friends Into Customers by Seth Godin
51. Predatory Thinking: A Masterclass in Out-Thinking the Competition by Dave Trott
52. Psycho-Cybernetics, A New Way to Get More Living Out of Life by Maxwell Maltz
53. Quite: The Power of Introverts In A World That Can't Stop Talking by Susan Cain
54. Reality Check: The Irreverent Guide to Outsmarting, Outmanaging, and Outmarketing Your Competit ion by Guy Kawasaki
55. Self-Reliance by Ralph Waldo Emerson
56. Selling the Invisible: A Field Guide to Modern Marketing by Harry Beckwith
57. Smarter, Faster, Cheaper: Non-Boring, Fluff-Free Strategies for Marketing and Promoting Your Business by David Siteman Garland
58. SuperFreakonomics: Global Cooling, Patriotic Prostitutes And Why Suicide Bombers Should Buy Life Insurance (Freakonomics #2) by Steven D. Levitt, Stephen J. Dubner
59. Switch: How to Change Things When Change Is Hard by Chip Heath, Dan Heath
60. The 4-Hour Body: An Uncommon Guide to Rapid Fat-Loss, Incredible Sex, and Becoming Superhuman by Timothy Ferriss
61. The 7 Habits of Highly Effective People: Powerful Lessons in Personal Change by Stephen R. Covey
62. The Art of Thinking Clearly by Rolf Dobellli
63. The Art of War by Sun Tzu
64. The Charisma Myth: How Anyone Can Master the Art and Science of Personal Magnetism by Olivia Fox Cabane
65. The Compass of Pleasure: How Our Brains Make Fatty Foods, Orgasm, Exercise, Marijuana, Generosity, Vodka, Learning, and Gambling Feel So Good by David J. Linden
66. The Dream: How I Learned the Risks and Rewards of Entrepreneurship and Made Millions by Gurbaksh Chahal, Pablo F. Fenjves
67. The E-Myth Revisited: Why Most Small Businesses Don't Work and What to Do About It by Michael E. Gerber
68. The Element: How Finding Your Passion Changes Everything by Sir Ken Robinson
69. The End of Overeating: Taking Control of the Insatiable American Appetite by David A. Kessler
70. The God Delusion by Sir Richard Dawkins
71. The Greatest Show on Earth: The Evidence for Evolution by Richard Dawkins
72. The Leadership Challenge by James M. Kouzes, Barry Z. Posner
73. The Magic of Thinking Big by David J. Schwartz
74. The Millionaire Messenger: Make a Difference and a Fortune Sharing Your Advice by Brendon Burchard
75. The Missionary Position: Mother Teresa in Theory and Practice by Christopher Hitchens
76. The Naked Presenter: Delivering Powerful Presentations with or Without Slides by Garr Reynolds
77. The New Rules of Marketing and PR: How to Use News Releases, Blogs, Podcasting, Viral Marketing, & Online Media to Reach Buyers Directly by David Meerman Scott
78. The ONE Thing: The Surprisingly Simple Truth Behind Extraordinary Results by Gary Keller & Jay Papasan
79. The Path by Konosuke Matsushita
80. The Pocket Guru: Priceless Nuggets of Business Wisdom by Guy Browning
81. The Power of Habit: Why We Do What We Do in Life and Business by Charles Duhigg
82. The Presentation Secrets of Steve Jobs by Carmine Gallo
83. The Sales Bible: The Ultimate Sales Resource by Jeffrey Gitomer
84. The Shift: Taking Your Life from Ambition to Meaning by Wayne W. Dyer
85. The Skinny Rules: The Simple, Nonnegotiable Principles for Getting to Thin by Bob Harper, Greg Critser
86. The Steve Jobs Way: iLeadership for a New Generation by Jay Elliot, William L. Simon
87. The Survivors Club: The Secrets and Science that Could Save Your Life by Ben Sherwood
88. The Tipping Point: How Little Things Can Make a Big Difference by Malcolm Gladwell
89. Think Smart: A Neuroscientist's Prescription for Improving Your Brain's Performance by Richard Restak
90. Thinking for a Change: 11 Ways Highly Successful People Approach Life and Work
91. To Sell Is Human: The Surprising Truth About Moving Others by Daniel H. Pink
92. Trust Agents: Using the Web to Build Influence, Improve Reputation, and Earn Trust by Chris Brogan, Julien Smith
93. Unlimited Power: The New Science Of Personal Achievement by Anthony Robbins
94. What Got You Here Won't Get You There: How Successful People Become Even More Successful by Marshall Goldsmith
95. Who Moved My Cheese? by Spencer Johnson, Kenneth H. Blanchard
96. Why We Buy: The Science of Shopping by Paco Underhill
97. Willpower: Rediscovering the Greatest Human Strength by Roy F. Baumeister & John Tierney
98. Yes!: 50 Scientifically Proven Ways to Be Persuasive by Noah J. Goldstein, Robert B. Cialdini, Steve J. Martin
99. You, Inc.: The Art of Selling Yourself by Harry Beckwith & Christine Clifford Beckwith
100. Your Kids Are Your Own Fault by Larry Winget