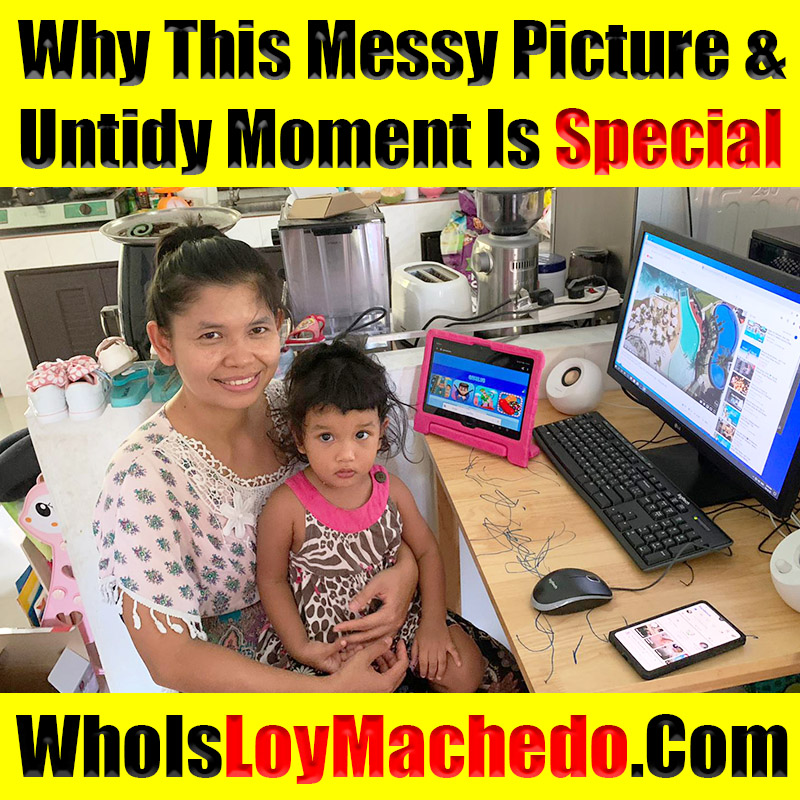 Why This Imperfect Picture….Is Perfectly Perfect
I want you to look at this picture carefully.
It is completely messy.
Everything is out of place.
There are boxes, shoes, clothes, dishes, plates, kitchen utensils all over the place. The table has marker pen marks. And the whole set up looks like a disaster.
In fact, my own wife being Thai, is not wearing any make up, isn't wearing a sophisticated outfit and neither is she posing – which most Asian girls do.
And have you noticed?
There is no filter to make the picture look amazing, to make her look 'more-attractive' than she actually looks. Most Asain women use apps that make their eyes bigger, make their skin brighter & lighter, accentuate their features to make them look younger, hotter and more attractive.
However, my wife has none of it.
It is not that she doesn't like looking attractive.
She does looking nice.
In fact, most of her friends on Facebook, Line & Messenger keep posting sexy, attractive and beautiful pictures of themselves and constantly tagging each other to yearn for likes & positive comments.
And it is not that my wife doesn't appreciate or want any social validation.
It is just that – I have told her, it is not required.
She doesn't need it.
But this is not why this picture is special.
The reason the picture is special – is what you see on her desk.
A Desktop.
And no, it is not a killer machine or top-of-the-range machine with amazing features.
It is just a simple Desktop.
So whats the big deal then?
Well, here is the story – you didn't know about.
And neither did I, until a few days ago when an incident took place.
This is what happened.
I was typing on my iMac doing work when my wifey dutifully got me my dinner.
No sooner she got my dinner, being hungry, I started gobbling on the delicious food. It was then a client of mine sent me a message on my desktop Whatsapp.
To which, I asked my wife – type & inform him – I'm busy.
She looked at me with a look of worry.
I repeated once again – type and tell him – 'I'm busy'
She looked at the keyboard and she was literally…shaking…and then she told me, she didn't know how to do it.
I was taken aback.
I thought for a moment and asked her…. What do you mean you don't know how to type? or you don't know English (as she is a Thai girl for whom English isn't the first language – and before you judge her on not being smart – try asking me to say ONE word in Thai…. and you will know how unbalanced my intelligence is. FYI – My wife learnt English in less than a few weeks of getting married to me!)
So coming back to the story – I asked her – if she didn't know how to type or she didn't know English. To which she just told me…"I don't know"
She walked out of the room upset.
I couldn't figure out what actually happened.
Was I rude? or Did I say something wrong?
So I allowed myself time to finish the meal, completed the basic household chores of washing the dishes, let my wife eat her meal in peace. And then once the baby was asleep (she puts the baby to sleep), I called her to my office (my room where I do all the work) to talk.
She sat down next to me, looking upset.
She knew I would bring up the conversation of what had happened. And I knew she was upset.
This was our normal 'Man-To-Woman-Family-Talk' which we would normally have after the baby went to sleep.
So, I asked her… tell me what happened.
She kept quiet for sometime.
A rather long, sad, upset face.
It was as if she was going back into the annals of her past memories to retrieve those moments.
And then she let me know what happened.
In school, there was just one outdated computer for 10 students. And each one would get a total of few minutes to touch a few keys once a week. And that was their IT-training.
The computer for them was a "BIG LUXURY"
And then as she grew up, she wanted to learn the computer.
But that was until, she got married to her 1st husband.
And her ex-husband – whom those days she was madly in love with – abused, insulted and tortured verbally & physically so much – that it destroyed her sense of self-worth.
He wouldn't waste a single moment to insult her appearance, intelligence or abilities every single moment he got. In fact, he was so embarrassed about her, that he didn't even have a picture of her with him on his social media. And she would try her level best to 'reach-his-elusive' standards of greatness. But to no-avail.
She tried every app, every setting and every outfit to look hot, attractive and beautiful – but she wasn't good enough.
And then one day, when my wife happen to touch his smartphone device – which must have been $100 brand, he ended up insulting her with the top of his voice, letting her know how dumb she was, how she wasn't supposed to touch anything as sophisticated as his '$100' smartphone and that he never wanted her to touch anything electronic.
He let her know, her intelligence was limited to her crappy, 2nd hand phone.
He screamed and shouted at her so badly, that she never again used any other device other than her own old device.
My wifey felt – she wasn't good enough to even touch a smartphone – let alone have a computer. For her – having a computer or laptop was relegated to the great-intellects of our planet. The great ones. Not someone like her.
She didn't cry.
But I saw the pain in her eyes.
It was very real.
And then she told me, even though she wasn't good enough, she wanted our daughter to be 'better-than-her' and 'more-worthy' than she would ever be.
She wanted our little baby girl Helen Machedo to be like me.
And not like her.
Because…..she was dumb.
She didn't know how to type.
She didn't know how to use a sophisticated device…. like a computer.
And that she wasn't good enough.
To her having a computer – was what they showed in the movies – a Perfect background, a beautiful office, a futuristic set up with a near-perfect layout.
And then she added saying…..After all – she was just a housewife who would cook, clean and take care of the baby. She wasn't like 'me' – a 'celebrity'.
And then she let me know – she was only 'a-house-wife' who would cook, clean and do household chores. She was limited to being in the kitchen and she didn't have the time to move from the kitchen.
And when she factored in looking after baby Helen Machedo – she wouldn't be able to leave the kitchen
She smiled.
And then she joked 'Because I am dumb and not smart like you'
She smiled again.
But I could feel the pain.
I kept quiet.
I didn't say anything.
I saw my wife… and suddenly I saw little 'Loy Machedo'… the 7 year old boy who was told by his parents, he was a mistake, he wasn't good enough, he was a nothing and nobody. And that he was better dead because he was….
I saw my wife … as she quietly went to lay down next to the baby on the floor… ready to sleep in those memories.
I went into my room.
Closed the door.
The memories came flooding back.
My past.
Those wounds
The anger.
The rage.
Suddenly, I switched off those memories off.
3 days later…..to today….my wifey was cleaning the house
Suddenly a delivery man came up to the door.
My wifey was confused – who this was… I knew who he was.
No sooner, I saw the guy, I paid him the money and in came the surprise
I setup the computer near the kitchen – the place where my wifey would normally work and stay busy with the baby and her house-hold chores.
True – she didn't have the time to move anyplace from there.
True – no one allowed her to use an electronic device.
True – her past was scarred with those painful memories of her being told she was not allowed to use this 'sophisticated' device called 'the computer'.
And most importantly – True – Even if she purchased one, she didn't have a 'office' to keep it and show off to the world on social media of how 'sophisticated' her life was.
But that didn't mean….She couldn't have a computer in the kitchen
That didn't mean, even if she had one, she had to have it in a 'sophisticated' & 'futuristic' set up.
And most importantly, I didn't give a fuck about what the world would think, say and comment about how terrible the place where she would have her 'office'
To me – I wanted her to know – she deserved everything I did in life – simply because she earned it by virtue of her sacrifices, her love for the family and her selfless character.
Her past, was her past.
It wouldn't carry forward into our future.
And yes, the place where she would have her office was terribly a mess. But what can you do when you have a hyper little baby who only knows how to mess up the entire house?
So I not only surprised her with her own PC, I let her know that every single day she would spend time learning, studying, exploring and educating her mind with what technology offered. And along with her, our little baby would study – not bypassing her – but through her.
And as for looking 'perfect' and me feeling 'proud' that she looked sophisticated and hot – like how most other men paraded their spouses on social media – I let her know, I was absolutely happy, content & proud of how she was.
And that is where I asked her to sit on the chair, near the table and show the world exactly how her world was – in all its imperfections & its challenges.
To me, that messy table, that complete disaster of a room destroyed by the little one, the one-hundred and one different items that are all over the place – represents the reality of what her life and my life is.
And irrespective what the world says, what the world thinks and how the world judges – in my eyes, I am absolutely proud of my wifey and my little one.
And she not only deserves this 'sophisticated' machine called a computer. She deserves everything the world has to offer.
I am proud of my wifey.
My little one.
And I am proud of our simple, unfiltered, imperfect & messy life.
And here is the picture to prove it.
Loy Machedo
https://whoisloymachedo.com/
+66-92-541-4784