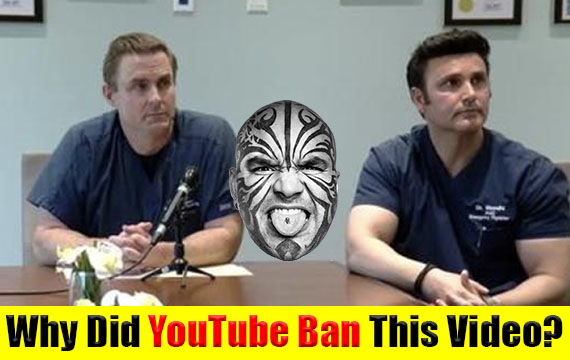 Why Did YouTube Ban These Videos About Covid-19?
WATCH: "Dr Erickson Covid19 Briefing" CENSORED by YouTube
Click on this link –> https://bit.ly/3d2j7U5
Former AIDS Scientist Exposes Dr. Fauci's Medical Corruption
Dr Judy A Mikovits PHD has a virtual sit-down with Patrick Bet-David and opens up about her fallout with Anthony Fauci that led to her 5 year arrest and whistleblower status. Order her book https://amzn.to/2VL3AC8 Site: Plague of Corruption https://bit.ly/2Yg3Tqn Follow her on Twitter:@DrJudyAMikovits https://bit.ly/2VK4xL8
About the guest: Dr. Judy A. Mikovits earned her BA in chemistry with a specialization in biology from the University of Virginia in 1980 and her PhD in biochemistry and molecular biology from George Washington University in 1992. In her 35-year quest to understand and treat chronic diseases, she has co-authored seminal papers culminating at least a decade of research in each of four fields: immunology, natural products chemistry, epigenetics, and HIV/AIDs drug development. In 2006, she became attracted to the plight of families with neuroimmune diseases including ME/CFS and autism. Dr. Mikovits has been primarily responsible for demonstrating the relationship between environmentally acquired immune dysfunction, chronic inflammation, and these diseases.
Dr. Mikovits has published more than 50 peer-reviewed articles, many in the world's top medical journals and she has been profiled in Discover magazine as well as the Wall Street Journal and The New York Times. Her pioneering work during her 20-year career at the National Cancer Institute includes the discovery of the modulation of DNA methylation machinery by human retro viral infection and the development of the concept of inflammatory cytokines and chemokine signatures of infection and disease, which was first published in 1999, when she directed the Laboratory of Antiviral Drug Mechanisms in developing therapeutics and diagnostics for HIV/AIDS and AIDS associated malignancies.
Dr Buttar Accuses Fauci, Gates & The Media For Using COVID-19 To Drive Hidden Agenda
Dr. Rashid A. Buttar has a virtual sit down with Patrick Bet-David. Ask Dr. Buttar on his site and get all videos https://bit.ly/3bPykHS Subscribe to Dr. Buttar's channel https://bit.ly/3bOkvcF
Get his book https://amzn.to/2SbvNjq The 9 Steps to Keep the Doctor Away: Simple Actions to Shift Your Body and Mind to Optimum Health for Greater Longevity
About the guest: Rashid Buttar is an American osteopathic physician from Charlotte, North Carolina. He is known for his controversial use of chelation therapy for numerous conditions, including autism and cancer. He has been reprimanded by the North Carolina Board of Medical Examiners for unethical treatment of patients.
Follow Dr. Buttar on:
Instagram: https://bit.ly/2W4J8v8
Twitter: https://bit.ly/2VKFuYw
About Patrick Bet-David: Patrick's story starts with his family immigrating to America when he was 10-years old. His parents fled Iran as refugees during the Iranian revolution and were eventually granted U.S. citizenship. After high school Patrick joined the U.S. military and served in the 101st Airborne before starting a business career in the financial services industry. After a tenure with a couple of traditional companies, he was inspired to launch PHP Agency Inc., an insurance sales, marketing and distribution company – and did so before he turned 30.