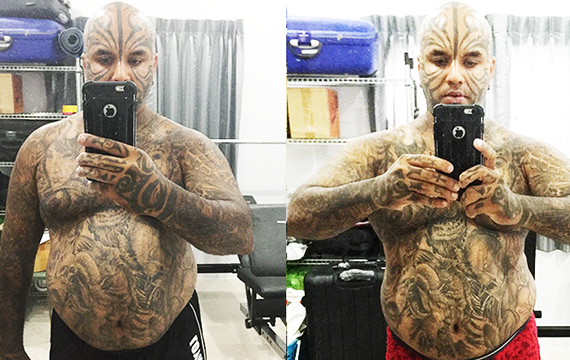 Losing 8 kgs in 5 days – My Weight Loss Journey
From the desk of Loy Machedo: Losing 8 kgs in 5 days – My Weight Loss Journey
Here are my thoughts as I move towards my biggest challenge in life
Trying to lose 30kgs in 30 days – something I have never attempted and do not know if I can succeed.
But all I have is hope that I can.
Loy Machedo
The World's #1 Personal Branding Coach
www.LoyMachedo.com
www.whoisLoyMachedo.com
www.ThinkPersonalBranding.Com
———————————————————————
Monday, May 15, 2017
8:58pm
#loymachedo's HONEST CONFESSION with regards to Weight Loss
It has been only 5 days since I began
my hardcore weight loss diet/exercise regiment.
This is by far the HARDEST
and the MOST TOUGHEST assignment
I have ever taken.
Trust me when I say this
Weight Loss is not easy.
Seriously.
Consider this
For me – the biggest weakness
the biggest temptation
the single most powerful influence in my life
Has been
Not Sex
Not Women
But Food
Seriously – I cannot live without food.
I have never stayed without food for more than few hours.
I have to pop something in my mouth
When meeting someone
When going out
When waking up
When sleeping
When doing work
Especially When watching a movie
I have to eat and drink whatever I love and desire.
Since the past 5 days – it has been….nothing.
Total and absolute strictness.
My secret diet – which is…
No carbs, No sugar, No sweet, No protein, No fat…
Only one thing…..Just One.
Plus a specially formulated Exercise & Diet Regiment.
And because of this…I am losing weight – 8 kgs in 5 days.
And trust me – it is not a joke…
Not a joke to lose 8kgs in 5 days…
But with this…
Comes a price to pay….
What is the price to pay during Weight Loss?
1) Every day I have headaches.
2) My body aches like crazy.
3) My energy levels are dead.
4) I am unable to focus and think.
5) I am unable to even write an article or record a video.
6) Since I stay alone – No one is there to motivate me, drive me or inspire me.
7) Every single day I face temptations – right up my face
8) Every day I ask myself – why am I doing this – for what?
9) My mind plays games on me. Tries to convince me – to just take one bite – just one.
10) I am not joking when I say this – I dream of food every single day. I actually have dreams of eating food. And then I wake up terrified that I failed and gave into temptation.
11) I haven't cleaned my house, my room, my desk – nothing. I am just unable to do or want to do anything.
Yet, I am doing my best to stick on.
I keep reminding myself – one day at a time
Just one more day
Just one more day at a time
Seriously
This is by far
The hardest thing I have ever done or undertaken.
I am just taking it
One step at a time…
I honestly do not know how long I can go on
But I am just taking it…
One step at a time….
25 more days left.
So lets see what happens.
By the way – if you want to know how I am able to do this – send me an email to loy@loymachedo.com
I will put you on the waiting list and you will be the first one
To know about the secrets of how I am
Loy Machedo
The World's #1 Personal Branding Coach
———————————-
Loy Machedo's Short Movie With RSN8 Productions
—————————
Coca Cola Features Loy Machedo in its Viral Advertisement
—————————
Loy Machedo Speaks at TEDx Dubai 2011 On Prejudice
—————————
Loy Machedo featured on National Television
—————————