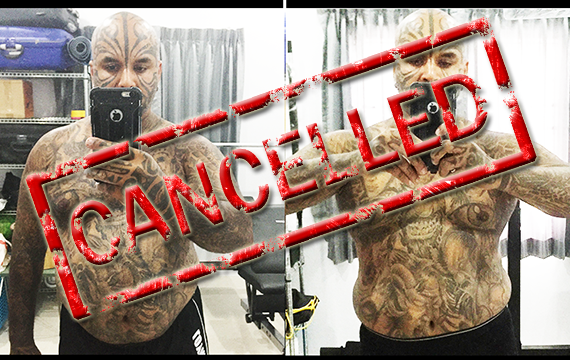 30 kgs in 30 days – Why I Am Giving Up On My Weight Loss Challenge
From the Desk of Loy Machedo: 30 kgs in 30 days – Why I Am Giving Up On My Weight Loss Challenge
After 8 days of really pushing my body to the limits
I ended up losing 11kgs in 8 days.
However, My diet was spartan & and my workouts were increasing in its intensity.
I was losing rapidly and I was happy
But deep down only I knew
Something wasn't right.
I was ignoring the signals my body was trying to tell me.
The reason I didn't want to give up was
My ego and My pride
After all – I had announced to my 200,000 followers
I was going to lose 30kgs in 30 days
How could I face them?
So I had to show them
That Loy Machedo was invincible.
But….that came with a price to pay
So here is the run down of what happened
And why I gave up this challenge.
Loy Machedo
The World's #1 Personal Branding Coach
www.LoyMachedo.com
www.whoisLoyMachedo.com
www.ThinkPersonalBranding.Com
———————————————————————
My Weight Loss Challenge: THE BAD SYMPTOMS
As the days progressed,
1) My body temperature was increasing,
2) I was feeling light headed constantly,
3) My energy levels dropped rapidly,
4) I was constantly sleeping every 3 hours
5) My mouth was constantly dry
6) I wasn't able to walk for more than a few meters
7) I wasn't able to work or concentrate on work at all
*******************************
My Weight Loss Challenge: THE WARNING SIGNALS
Since three days I was experiencing bad chest pain.
And it felt as if something was inside of me –
more like someone was standing on top of my chest.
I tried to brush it off but it wouldn't go.
However, today (the third day of the chest pain) it got really bad.
My Weight Loss Challenge: WHAT HAPPENED NEXT
Around 8am
After I woke up in the morning, I realized I was hot and sweaty.
There was no electricity so I was sweating and apparently lost body water.
I also felt the chest pain again – I walked around hoping it would disappear.
But I was unable to wake up from my bed.
I continued lying on my bed for sometime.
Around 8:20 am
After sometime it vanished.
And then I thought that was the end of it.
But after sometime – I began to feel drowsy
So I went to sleep for an hour.
Around 9:35am
I then had to wake up as my home gym equipment was coming home.
So I went, had a cold shower and then forced myself to go out.
And then things went on normal….for sometime.
Around 11am
I started to feel sleepy again.
So then I decided to sleep.
Around 12:15pm
I woke up took another cold shower
And then decided to do something I shouldn't have.
My Weight Loss Challenge: THE BIG MISTAKE
Around 12:30pm
I went to 7/11 store and ordered 4 cups of super strong espresso.
I had all of it in one big gulp
And then went back home.
No sooner I went back home
My energy levels were back up
I started to do work
Around 3pm
I started to feel sleepy again
But had a client call
So I attended him call
Started speaking to him
But something wasn't right
My heart started beating hard and fast
And then I started to feel as if something was standing on top of my chest
I tried to talk but found it hard
Soon I started to feel dizzy
And so I decided to lie down
I continued speaking to the client
Spoke to him for nearly 35 minutes
And then had another online client
Spoke to her for 15 minutes
And then after I said goodbye
Decided to sleep.
Around 4pm
I woke up but now the dizziness was at its worse
The suffocation was unbearable
The pain on my chest/heart was as if someone was squeezing the life out of me
I realized something was going really wrong
And I had to stop it
So I immediately decided
I needed to end this hardcore regiment
And ensure a proper food/water was put into my body
Around 5pm
Had a cold shower fast
Even though I was shivering
Managed to get on my bike
Drove – even though I found it hard to drive straight
Did have a few fainting spells
But managed to drive to my friends restaurant
Asked her to get me a cold watermelon
And freshly clear boiled water of the vegetables
At first it was hard to swallow
But managed to take it in
Soon I was able to drink more and more
My Weight Loss Challenge: WHAT SHOCKED ME
I ended up drinking 7 large massive bowls of soup
And 2 big plates of watermelon
Which practically speaking – wouldn't have been possible
Under normal circumstances
But yeah – I did end up eating all this.
My Weight Loss Challenge: THE BIGGER SHOCKER
Immediately within an hour
I felt the really bad urge to go to the toilet
It was BAD and started to get REALLY BAD!!!
Fortunately my house is close by
I zoomed off to my house
Ran to the toilet
No sooner did I sit on the commode
My ass exploded and I have no idea
From where all the fucking goo, shit, gunk came out
It was HUGE!!!
And for a minute I felt it was never going to end!!!
After literally 30 plus seconds of just water and shit coming out
It stopped.
I felt really light.
I looked down and saw
Yellow, Black and Dark matter
The Fucking thing was STINKING SO BAD
I couldn't even bear to sit there
After all of it was out
I flushed 4 times
I poured buckets of water, Dettol and washing liquid
Sprayed the whole fucking toilet with a entire can of spray
And then poured bleach into it
I couldn't believe what was hiding inside me
And what actually came out.
My Weight Loss Challenge: BIG QUESTIONS!!!
As I write this – I have gone to the toilet 3 times.
The same stuff came out from my ass – The horrible stuff
I have no idea what it is
But I presume it is the toxic stuff that lay stuck inside me
My Weight Loss Challenge: FAQ'S
These were some of the questions people asked me after I posted my update
My Weight Loss Challenge: QUESTION 1
So Loy, does that mean you are going to give up on your weight loss program?
ANSWER
Fuck – No Fucking Way Mate!
If you know me – you will know this.
I may fail a million times
But I am not going to give up until I find the answer
This is a small setback.
I will be back.
*******************************
My Weight Loss Challenge: QUESTION 2
Are you going to attempt the 30 kgs in 30 days?
ANSWER
For now, no.
It was by far the toughest challenge I undertook in my life
And I am glad I got by 8 days without failing.
For me – It is a success.
*******************************
My Weight Loss Challenge: QUESTION 3
You failed – Doesn't it harm your reputation as a Brand?
ANSWER
The World's Greatest & Most Successful Peak Performance Coach
Tony Robbins who teaches and has a Mastery Course on
Marriage & Love
Money Mastery
Health
Failed in Marriage (had a divorce)
Failed in his Finances (got nearly bankrupt)
Failed in his Health (has serious thyroid problems)
Oprah Winfrey – the single most successful Afro-American woman
The richest and most well known
Lost all her weight on a public challenge
And today she is twice the size
John Gray
Author of 17 International Best Sellers
On Men, Women & Relationships
Barbara De Angelis
Author of 14 International Best Sellers
On Men, Women and Relationships
Both got married and divorced
So does that mean all the above 3 are failures?
If you are expecting a story like
Mark Zuckerberg
Bill Gates
Warren Buffet
Sorry mate – you need to look else where
In life for normal people
There are plenty of challenges.
I fell down, I failed, – So fucking what?
I will try until I fucking succeed.
So if you feel this one fucking failure
Affects my brand – that's your fucking opinion.
Maybe you haven't failed your entire life
Or you are looking for that one human being
Who has NEVER failed
Sorry – I ain't that man.
I will fail
And I will keep failing
But I am never going to stop
Until I do fucking succeed
That is the beauty of my fucking brand.
*******************************
My Weight Loss Challenge: QUESTION 4
There are a lot of people who are laughing at you, snickering at you and celebrating that you failed. What about them?
ANSWER
Do you seriously think I give a fuck to those people who are busy watching me and not themselves? I give a fuck to them. Let them keep looking at me keep trying until I succeed. They are fucking spectators and losers. I am the motherfucker who gets into the arena and fights his heart out.
Its like having those retard spectators who sit in the side line and shout and scream at the players – those players who practice day and night and push their bodies to the limit.
Want my respect – come down to the battle field.
Also – ask yourself
Why are they looking at me
And why am I not looking at them?
*******************************
My Weight Loss Challenge: QUESTION 5
Are you going to delete all the pictures and videos and update with regards to your weight loss program to avoid embarrassment?
ANSWER
Are you fucking kidding me?
NO FUCKING WAY.
It will remain there as it is.
Because Yes, I failed due to health reasons.
Given the fact I ended up – almost to the point of death
Thanks to my ego experimenting with Insulin and Exercise
I wasn't going to do it this time
Especially since I am alone in a foreign country
*******************************
My Weight Loss Challenge: QUESTION 5
What's Next?
ANSWER
Go on until I succeed.
*******************************
My Weight Loss Challenge: QUESTION 6
So is this Diet/Exercise Regiment of yours safe? Can people lose weight with what you are doing and have done?
ANSWER
Here's the thing.
If I lost weight after 1 year – no one would be impressed.
But I lost it quickly – everyone would be impressed
The only reason I pushed myself to the extreme
Was to get eyeballs and achieve higher rankings
On Google.com – So it was a publicity stunt
But a honest one.
Would I recommend others to do what I did?
Fuck – No way.
But does it work in terms of losing weight?
Absolutely 100%
However, it will take time, discipline, dedication, and yes – commitment
And as of now I have 13 clients who have signed up.
I will carefully guide them what to do and not to do what I did
I will assure you 100%
They will achieve results – slower but safer.
My quest for learning, improving and growing never ends
Yes I will fail but through my failures
I will achieve success
And that is what makes me better than the rest.
Real Results from Real Life Experience.
Loy Machedo
The World's #1 Personal Branding Coach
———————————-
Loy Machedo's Short Movie With RSN8 Productions
—————————
Coca Cola Features Loy Machedo in its Viral Advertisement
—————————
Loy Machedo Speaks at TEDx Dubai 2011 On Prejudice
—————————
Loy Machedo featured on National Television
—————————