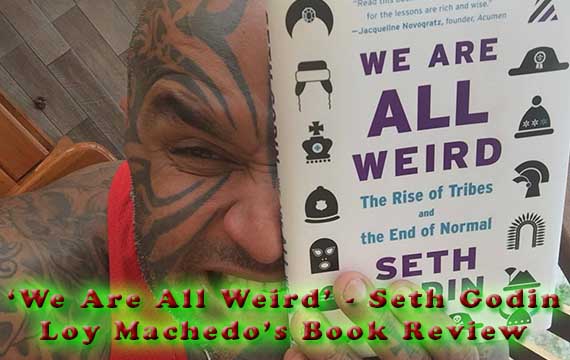 We Are All Weird by Seth Godin – Book Review by Loy Machedo
I am a big fan and admirer of Seth Godin.
He is a Rebel Marketer and someone who totally thinks out of the box.
If Creative Marketing had a name – it would be called 'Seth Godin'.
However, this books fails to deliver.
In his classic casual style, this squeaky nasal-voiced author lets off his thoughts on the fact that Weird is the new Normal and that going against the grain the way forward.
But herein lies the problem.
If you have heard Seth Godin the number of times I have heard him and read his previous best sellers (Linchpin and Tribes), this book falls completely short of any expectations you may have.
Not only is it repetitive in all its glory, you will not find any substance that holds your interest. The concepts were once again the same. And what was worse – all he did was state casual and random opinions to reinstate his views.
Personally, Even though the book was only around 100 pages, I was absolutely bored of the book. After the 1st 20 pages, just started skimming through the book to see if I could find something worthwhile.
LOY MACHEDO'S OVERALL RATING
1 out of 10
Sorry Seth – I love you man…..But this book gave me a fucking headache.
Loy Machedo
The #1 Personal Brand Coach In The Middle East
whoisloymachedo.com