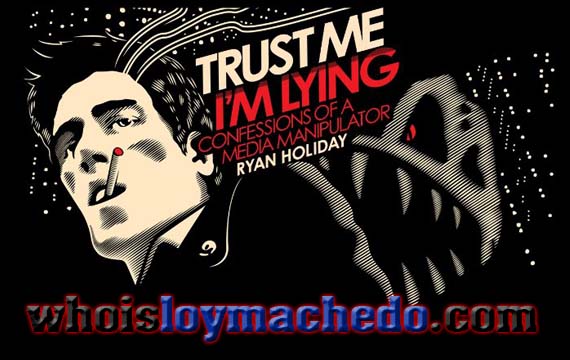 Trust Me, I'm Lying (Confessions of a Media Manipulator) by Ryan Holiday – Loy Machedo's Book Review
INTRODUCTION
Should I start by telling you how much money I have made by bullshitting, bragging, or boasting to my clients?
Or should I rather tell you how I earn $ 5,000 for 4 days of work – that too for 4 hours a day?
Or maybe…..I should tell you the truth?
Not that what I stated was a lie.
But then again – how do you know if what I am saying is – the truth or lie?
That is where I have to welcome you to Ryan Holiday's 'Trust Me, I'm Lying' World.
WHO IS RYAN HOLIDAY?
Ryan Holiday – an American author, editor, media strategist, marketer, entrepreneur and 'fake' journalist is one of those personalities whom you do not know if he is telling you the truth or telling you a pack of lies.
Most probably he is without a doubt telling you nothing but lies, more lies and even more lies.
You may ask why?
Well, simply because – the truth – the real truth – the actual truth – well it is boring.
You cannot benefit from it.
You cannot make money out of it.
And the best part – no one f**king cares!
However, the only thing you can be assured off – is that – no matter what he says – lies or blatant lies – he does achieve one singular objective.
He attracts incredible results in the blogosphere world.
CONTENTS IN THE BOOK
In the book "Trust me, I'm Lying", he makes a very strong case stating that today the internet & news media – they exists because they are focused on one thing and one thing only.
Page Views.
Or make that two.
Page Views.
Page Clicks.
And before you around generalize and stating that
"Yes! That Big Bad Media is Evil……"
Ask yourselves this question –
For whom are they doing this exactly?
All this BS?
For who?
Psss….Want a Clue?
Its you – you f**king idiot!
Now before you jump the gun….
SOME EXAMPLES
Consider this.
Why is Reddit.com – one of the most visited user generated news sites in the world?
Why do you think youtube videos that post of cute kittens and puppies playing around getting more views than Tom Peters Videos on Change Management?
And why do you think you are more interested to check out facebook updates rather than the latest updates in Science & Technology?
Because the facts are loud and clear.
People love gossip.
People love shit.
People love more gossip.
People love crap.
And finally
People love Sensationalistic, controversial, shocking, obscene, naked, shameless gossip.
I helps kill time.
Kill boredom.
Kill anything worthwhile.
People are willing to invest a lot of their time, effort and money, listening to nice yummy juicy gossip.
It is what sells in the media.
Its what brings in page views.
Its what brings in the moolah – or the money.
And as per the author in this book – all you have to do is Lie, Cheat, Bribe, Mislead and Spread False yet Juicy false reputation destroying gossip.
SHOCKING REVELATIONS
Describing Gawker,
Jezebel,
Business Insider (seriously…..!) &
Wikipedia (the author has used these articles as citations to prove the fake news)
and many other blogging news portals as a 'monster' that can't be tamed, Holiday blows the lid on a corrupt, page-view-centric media that is destroying lives.
The book describes incidents where FAKE personas send FAKE scoops about FAKE incidents to real time bloggers, real time reporters and real time journalists to create a media whirlwind where the end result is people clogging the internet sites with traffic resulting in page views and page clicks.
IN A NUTSHELL
So – if I were to sum it up in one line – the book can be divided into the "HOW" and "WHAT" of Media Manipulation.
Where on one side he confesses what all wrong he did and how did he do it. On the other side, he lets you know that this is a necessary evil that – if not committed by you – someone else would do it for you.
The book I think leaves you in a dilemma where you have to ask yourself this important question:
If you have to succeed in today's media-manipulated-social-media-centric-world – which survives and thrives thanks to the despicable, dishonest and disgusting appetite to destroy others in the name of 'success' – do you have what it takes to succeed or are your value systems so strong – that you cannot change and become part of the sinful orgy?
I think knowing the answer to this question can give you insight into if or if not you have what it takes to become a 'Successful Media Manipulator'
OVERALL RATING
7.5 out of 10
A Thought-Provoking book that I enjoyed reading – however would not recommend following.
Loy Machedo
Personal Branding Strategist
loymachedo.com | whoisloymachedo.com