The Worst Movie of the Year – Fast & Furious 6 (2013)
When sensible people on Facebook & Movie Reviews state that Fast & Furious 6 was "Simply Amazing", "Wow", and "A Master-Piece in Action", it makes me realize how Intellectually Deprived and Illogically Stupid these people are.
Why?
Question 1
Let's try this.
1) Jump a Bridge 100 meters across,
2) While standing on top of a 'self-driven' car driving at 200 kms per hour,
3) Save your girlfriend who is flying across a bridge 100 above ground level
4) She is moving in the opposite direction towards you at 200km per hour
5) You both should have a Mid-Air Collision
6) You should be able to hold her Mid-Air and Grab her towards your direction (yes, mid-air)
7) Be able to land on top on the other side of the bridge,
8) Land on top of another car
9) Without a Single Scratch or broken bone or injury to both of you.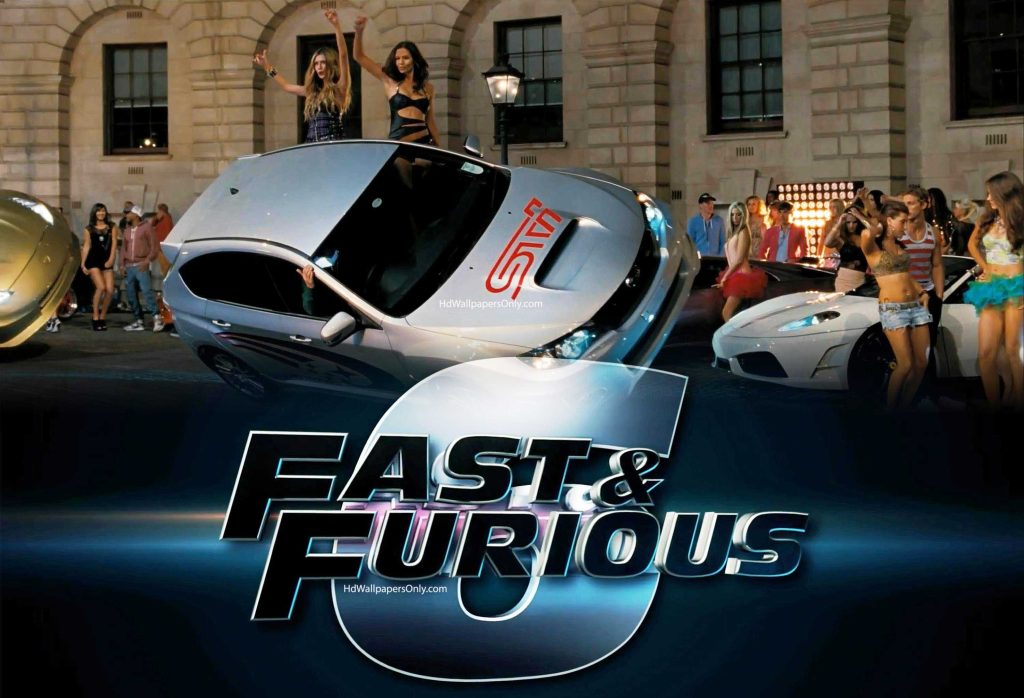 Makes Sense?
Question 2
Let's try this:
1) Have a Mega-Sized Russian Bomber the size of a Dinosaur land on an American Military base without being detected by the Most Advanced American Military Radar System in the world.
2) Ensure none – Not one of the Military Personnel notice this event or the plane.
3) Have some 8 American Hot Shot Sports Cars drive at 200 km per hour for around 20 minutes at the speed of 200 Km per hour chasing this Bomber (the landing strip never ends)
4) Ensure that this Super-Sized Bomber (that can easily carry the weight of 10 Military Tanks) be pulled down with the help of 3 small sports cars and the muscle of 6 human beings.
5) Ensure all the Heroes stay alive, fit and well after death-defying action scenes but at the same time all the Bad Guys get killed – at the same time.
6) Ensure that the Bomber gets destroyed, all the bad guys get killed at the same time and all the good guys stay alive – in the end.
7) Ensure that the cargo hold of the air-craft stays open the whole time – in case the bad guys and good guys want to drive in and out of the air-craft.
8) And finally, ensure the Hero in the end manages to stay in the Bomber, while it explodes, crashes and get destroyed – but he should manage to take his car – drive through the Metal encased Cockpit of the Bomber, through the fire and the explosion, have his car flip over 15 times and then once engulfed in the fire, the Hero should come out with a few scratches and save the day.
9) Oh one more thing – Ensure the Military still does not wake up or notice all this action taking place in its own backyard.
Finally……
Question 3
Without being noticed, set up a State of the Art Military Styled Facility in a Building that hasn't been constructed as yet but have the following essentials:
1) A Vending Machine to have snacks
2) A Pepsi Vending Machine to serve Pepsi.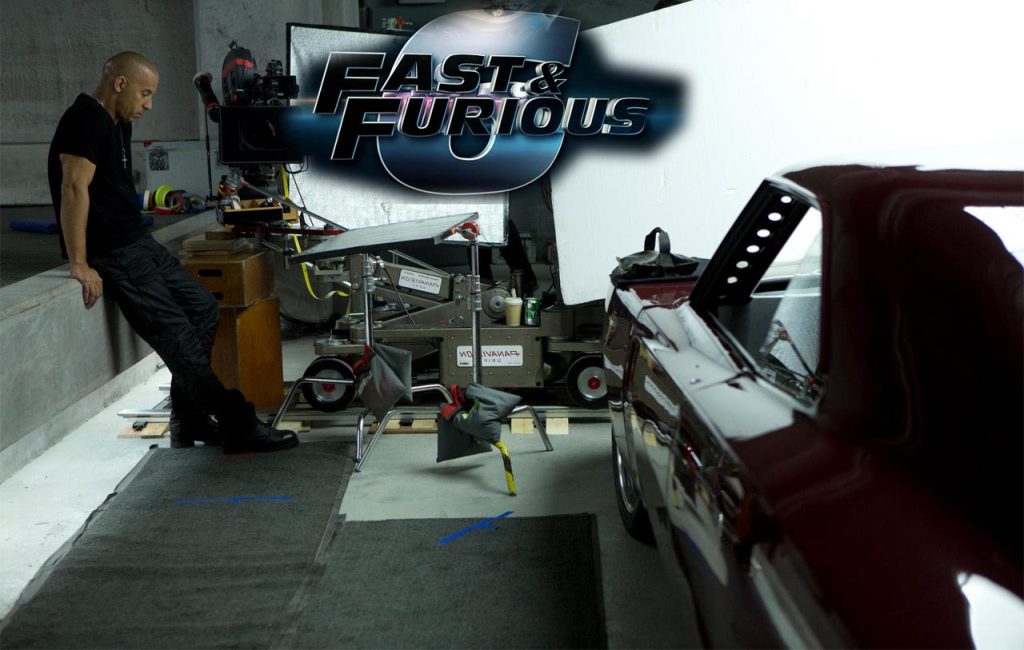 Does this all make sense to you?
Is this a Hindi or Pakistani Movie I am talking about….or is this a Cartoon?
Ladies and Gentlemen, in the quest to get Bigger, Bolder, Badder and Better, Director Justin Lin (who?) constipates Fast & Furious with too many stars, too much action and too much rubbish.
In Fast & Furious 1, you had in the leading role
1. Paul Walker ,
2. Vin Diesel,
3. Michelle Rodriguez,
4. Jordana Brewster.
In Fast & Furious 6, you have in the leading role
1. Paul Walker ,
2. Vin Diesel
3. Michelle Rodriguez,
4. Jordana Brewster PLUS
5. MMA Champion Gina Carano,
6. Steriod Bloated Dwayne 'The Rock' Johnson,
7. Tyrese Gibson,
8. Elsa Pataky,
9. Chris 'Ludacris' Bridges and
10. Gal Gadot.
Are They Stupid? How can you do justice to any character when you have so many to focus on?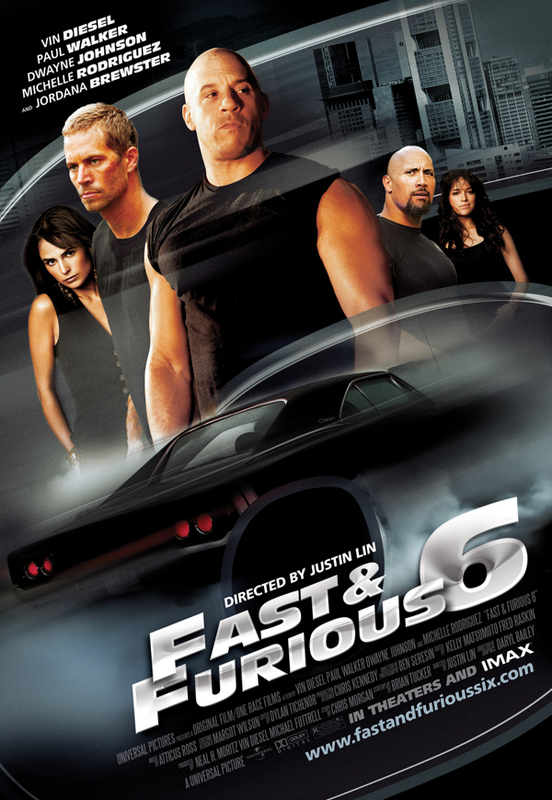 And now, consider this:
1) Vin Diesel – who can't even pronounce the words properly let alone speak logically -looks like he is either having a drinking problem or he has lost his charm. Either way, he is no more the 'Vin Diesel' he once was.
2) Dwayne 'The Rock' Johnsons has taken so much steroids, is so bloated and puffed up – he looks like he is going to explode. In fact, he can't even seem to walk properly – let alone keep his arms next to his body. Oh…And do you know Dwayne can fly like Superman from One Car to Another?
3) The starting scene where you have Vin Diesel & Paul Walker drive at super high speed – looked more like a Matchbox Toy Car CGI Cartoon Chase. There was no real feel to it. And then you are made to realize the reason they drove at Death-Defying speed was only to…..be on time for Paul Walkers Pregnant Wife's delivery. Really???
4) Dwayne's method of Questioning a Prisoner – Is this realistic? That you can beat up a person violently and destroy the office – that too in the Law Offices of another country? Oh yeah, I forgot. Dwayne is a Bad Ass American. And Americans can do anything right?
5) The Beginning Scene in London where they have to catch the Villain Luke Evans. Now look at this joke – You have the ENTIRE London Police Force with all of the Lights Boldly Blaring Blue, all the cops surrounding the area where the villain is, every single individual in the Special Force. But somehow the Villain didn't notice this? And secondly, they all had to wait until the Villains Side Kick went inside?
6) You have all the Fast & Furious cars look like Girly Toy Cars in bright colors – I wonder why?
7) In the Middle of the Movie, the Director was may be hoping for some Intellectual Content however the Dialogue between Vin Diesel, Michelle Rodriguez and Luke Evans could put anyone to sleep.
8) And then, if I could just add another bonus to the whole thing – Luke Evans manages to escape from a Highly Secretive Military base. How? By having Dwayne stick a gun to the general head. And then apparently, everyone puts their guns down. The bad guy goes away. All the Military guys go back to work as if nothing happened. And our Heroes – who stuck a gun to the head of a High-Ranking Military Officer – well they went to chase the bad buy…while our Military officials…? Well they, continued doing their job as if nothing happened.
9) And as an honorable mention – Almost everyone in this movie is able to fly from one car to another – that too at 200km per hour and at heights you would normally break your body to pieces.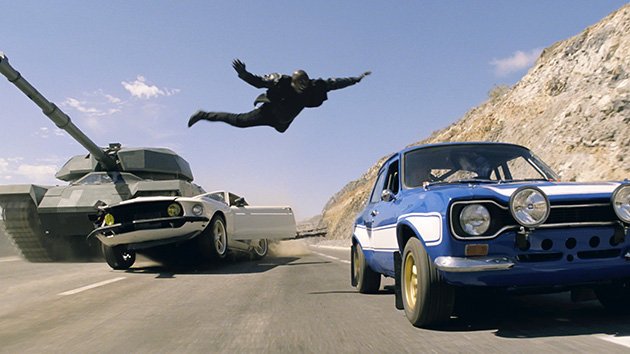 Final Comments:
Successful Sequels are very hard to make.
Lethal Weapon 1 was a Classic. Lethal Weapon 4 was a joke.
Die Hard was a Phenomenon. The rest of the Die Hard series, you would wish would Die Fast.
Transporter 1 was amazing. Transporter 3 was horrible.
Superman 1 was an all time classic. Superman 4 was a Super disaster.
Rocky 1 was an Oscar winner. The rest of the Rocky movies had someone knock its lights out.
The same can be said about Rambo, Conan the Destroyer, Ghostbuster 2 and Terminator series.
For some reason, Hollywood always hopes to recreate the magic of the 1st movie by doing something even better, bigger and bolder the second time.
Fast & Furious 6 was a Senseless, Meaningless, Mindless Movie with no substance, no message, no plot lacking Intelligence, Common Sense and Vision.
Overall Rating
1 out of 10
(The only reason for 1 – well was seeing Jason Statham in the end)
Loy Machedo
loymachedo.com | loymachedo.tv