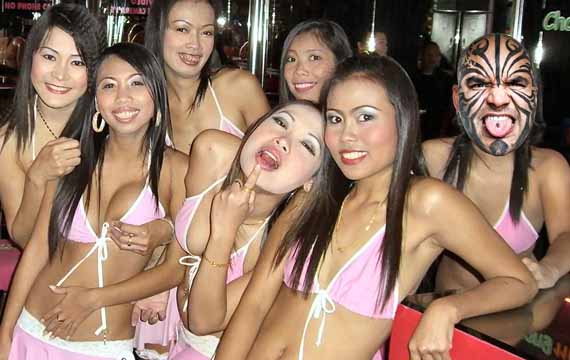 67 Thai Bargirls Rules On How To Tame The Farang Buffalo
From The Desk of Loy Machedo presents – Thai Bar Girls Commandments & Rules For Farangs (Foreigners)
My obsession into studying the psychology of Thai Bargirls came into play after the girl I was supposed to get married to – cheated me of quite a large sum of money and ran away.
The thing that shocked me the most was
She wasn't a bargirl
She was only 26
She was really a sweet girl, innocent and petite
She looked incredibly innocent
She was kind, courteous and loving
But then how in the world did she manage to cheat me??? ME???
That lead me to wonder – how in the world was a girl who hardly had any education, who hardly knew a word of English, who was supposed to be the epitome of innocence – be able to fool ME – a highly intelligent (or so I assumed), well read and an exceptionally analytical guy.
So that resulted in me releasing the monster that lay sleeping inside me.
The Obsessive Hardcore Analytical Monster – The Researcher
And it called for hardcore obsessive research into how their mind worked.
And that in turn lead me to write this article at 1:43 in the morning.
Thai Bar Girls Commandments & Rules For Farangs (Contd….)
However, do keep this in mind.
I am not trying to imply that culture A is bad or the female species of our race is evil or any other stupid assumption.
No. And Super No.
What I am trying to imply is – for everything there is a strategy in place.
A syntax. A system. A pattern – which can not only be mastered but perfected upon after a period of time.
Here is my analysis into the minds of the most dangerous of the lot – the women who have been known to strip a man completely down and remove even the flesh hanging on his bones.
These irresistable forces of nature are able to achieve wonders that maybe no mind manipulator or psychologist can ever replicate.
Foreigners from all over the world come to this one wonder, just to experience everything that is forbidden, unknown and unavailable in other parts of the world – The pleasure and The Pain of Bargirls.
Why pleasure?
Well for obvious reasons.
Why Pain?
********************************************
Thai Bar Girls Commandments & Rules For Farangs (Contd….)
Well if you give your heart to someone who has become callous and desensitized over a long period of time – you are in for a one way ticket to destruction – and maybe even death.
However, let's not get too dramatic here.
Let us get down to the fun bits.
So ladies & gentlemen, I present to you a sneak peek into the minds of the most amazing and most dangerous creatures on our planet who truly deserve our respect – The Thai Bargirls and yes….Their Time Tested, Fool Proof, Shockingly Infallible Commandments!
Read, Enjoy, Share.
Loy Machedo
The World's #1 Personal Branding Coach
www.LoyMachedo.com
www.whoisLoyMachedo.com
www.ThinkPersonalBranding.Com
———————————-
The Thai Bar Girls Commandments.
1. Remember, all Farangs are Buffalos. If your rope is tied around the nose, you can drag him wherever you like – he will follow you even though he is more powerful than you are.
2. Farang Buffalo tourists come with a lot of money to spend. Make sure they spend their money on you.
3. Remember all Farang Buffalos have a wife they are cheating on. So make sure you make him pay the price for this. And yeah – if you can make him believe he is your dream man, he will be prepared to keep you as his part-time in Thailand. Which means guaranteed salary every month.
4. Farang Buffalo's watch too much of TV and Advertisement. They think we love to smile and join our hands to show them respect even though they do not deserve any respect because all they do is come to our country to have sex, drink cheap beer and alcohol. Like stupid idiots they also try to imitate our culture. Show them how impressed you are by smiling back at their stupidity and play along. They will feel they are doing a good job.
5. Make Farang Buffalo tourists spend quickly and fast because they do not remember how much they spend. And always give them an extra bill of something extra – they will never complain but pay because they do not know the rules.
********************************************
Thai Bar Girls Commandments & Rules For Farangs (Contd….)
6. Farang Buffalo earn per month what you earn in one year – so don't fall for his big tips. Remember whatever he is giving you – he has a million times more in his wallet. He starts by giving you only 1% first.
7. When looking for Farang Buffalo customers, it is very important to evaluate him quickly. Check what he is wearing, how he is behaving. The more inexperienced he is – the faster you can get cash out of him.
8. If and when you have a customer, forget everything that has ever happened. Just focus on your Farang Buffalo.
9. RememberFarang Buffalo customer is King. The more ugly he is, the more overweight he is and the more useless he looks like, the more money you will get from him. And yeah – if he is old, really horribly old – that is your easiest ticket money to get shitloads of money.
10. Old Farang Buffalo customers are super special! More old – More better! That is your easiest ticket money to get shitloads of money. They are going to die anyway – so for them money is not important. Make them feel young!
********************************************
Thai Bar Girls Commandments & Rules For Farangs (Contd….)
11. White skin Farang Buffalo are always good. Why? Check the exchange rate to the Baht!
12. Remember to always tell your Farang Buffalo that he is special, he is cute, he is handsome, he cares about you and that he makes you happy. If he is ugly, tell him he is handsome. If he is fat, tell him you love his curves. If he looks bad, tell him you feel he has a very good heart. Tell him what he doesn't expect. And yes, with every compliment, ask him to buy you yet another drink.
13. Whatever nonsense Farang Buffalo talks, show interest in it. The more he talks, show more interest. The more interest you show to the nonsense of the Farang Buffalo, the more he will like you. And the more money he will spend on you.
14. Always tell theFarang Buffalo that Thai Men are no good. And that you always wanted love. They always fall for this line.
15. Remember to follow what Internet Marketers always do – take the customers email address, his cell phone number or some contact of his. Keep all this information. And send them group messages – letting them know how much you miss them. But let them feel he is THE ONLY ONE you are missing.
********************************************
Thai Bar Girls Commandments & Rules For Farangs (Contd….)
16. When Farang Buffalo leaves, immediately send him a "I Miss You Message". Copy some romantic message from the internet. The more messages you send him, the happier he will be to send you money.
17. Remember Farang Buffalo has too much of extra money which he doesn't know what to do with it. So he will be very happy to give it to you. Remember to look like a nice naughty girl but a nice kitten
18. Remember to look like a nice naughty girl but a nice kitten with him. Show you are wild and crazy but girly and cute. But let Farang Buffalo know you are attracted to him. The more you purr next to him and the more you show that you like him – the more money he will throw at you.
19. Remember to place your head on Farang Buffalo's chest, put nice perfume because he loves to sniff you like a dog, touch his leg or his hand always, allow him to squeeze
20. Always repeat to the Farang Buffalo that he has a good heart, he is a good man and he is different from all the other men you have met. This dialogue works with all Farang Buffalo's.
********************************************
Thai Bar Girls Commandments & Rules For Farangs (Contd….)
21. Remember to place your head on his chest, put nice perfume because he loves to sniff you like a dog, touch his leg or his hand always, allow him to squeeze somebody part of yours, show that you belong to him only and give him all the importance in the world.
22. MostFarang Buffalo have a soft heart. A good way to ask for money is to say you have a sick buffalo, failing that your mother/father been sick or been pregnant is the best way to ask for money. They love to be the knight in the shiny armor.
23. Farang Buffalo are soft, tears from the eyes can make them easy softer. Practice crying whenever you are free. When they say something romantic, immediately show the tears to let them know you are touched by their words even if you don't understand it.
24. Farang Buffalo fall in love easily. They will tell you "I love you" as soon as they see you. Don't say it back. Rather show them that his words have touched your heart. Show them it means a lot to you. Hug them. This is a stupid Farang Habit. And show that you want to believe it but cannot believe your luck. They will do their best to keep you convinced.
25. When you have sex with a Farang Buffalo, tell them you want more. They love knowing they are amazing sex machines – even though they are terrible.
********************************************
Thai Bar Girls Commandments & Rules For Farangs (Contd….)
26. When having sex with a Farang Buffalo, make him work hard. You lie on your back and let him lick your pussy and let him move up and down. Your can rest for sometime and plan out what to do next.
27. When having sex with a Farang Buffalo, make strange sounds you see from porn movies. They climax faster.
28. After sex with Farang Buffalo, have a shower and show him you care about him. Suddenly act like his wife. Keep everything clean and tidy. See if he wants something to drink – even though he is paying. They feel guilty and give you more money.
29. After sex with Farang Buffalo, and shower, lie down on his lap with your long hair touching him. Act as if you are a child. They feel like they should take care of you more.
30. Tell the stupid Farang Buffalo you do not want their money. Only their love. That will make them want to spend more money on you.
********************************************
Thai Bar Girls Commandments & Rules For Farangs (Contd….)
31. Always ask Farang Buffalo to buy you small cheap things. Get them to feel good about doing this for you. Because with the small bits and pieces, eventually they will start buying you more and more. Remember – always start small and increase slowly.
32. It is important to be able to cry on queue, this will give you a chance getting more presents or money from the Farang Buffalo.
33. If you want to be the best in the business, you should be able to produce crocodile tears on command, you should be able to laugh on queue and you should be able to show different romantic expressions whenever possible.
34. If you make Farang Buffalo angry by mistake – just keep quiet and make your eyes big like Puss-In-Boots holding that hat, they will automatically feel guilty.
35. If your Farang Buffalo stays with you more and more, means he willing to spend money on you. Take him for shopping.
********************************************
Thai Bar Girls Commandments & Rules For Farangs (Contd….)
36. Whenever you buy anything, say you are buying for your baby, buying for your mother, buying for your father or rubbish like that. Why should you spend on your family when this Farang Buffalo can spend on you? They fall for statements like this that you are spending for your family and they will not say no.
37. If the buffalo ever sees you with your husband dropping you off to work on his motorbike or eating noodle soup after you have done a short time, just say it is your brother. And ask your 'brother' to be very polite to him.
38. Gold is an excellent item to get, makes your customer happy you wear it while he is in Thailand. Let him know that you want to wear it to remember him. Show it to everyone and point your finger to him explicitly. Let him feel you are bragging about him to the whole world. But in your secret language tell your Thai friends to act surprised – while in your local language you can even say what an idiot he is. Once he leaves you can sell it at the Gold shop.
39. If you working in the bar, and local expats are there, speak in your local dialect !
40. Whenever theFarang Buffalo is angry, show a quiet innocent face and remember the cry on command, this will be your ticket for more money.
********************************************
Thai Bar Girls Commandments & Rules For Farangs (Contd….)
41. When you see aFarang Buffalo go to an ATM – be extra nice to him.
42. Whenever you speak to a Farang Buffalo , sweetly ask him for gifts. If he likes you, and he says yes, find out ways to ask him more because he is just getting warmed up. And for every gift he gives you, show you are very happy. Hug him, kiss him and hold him as if your never received such a gift in your life. Farang Buffalo will most probably feel good about it and give you more.
43. If you meet a rich, generous Farang Buffalo, invite him to your village. Make sure the whole village knows that there will be a welcome dinner when he arrives and everyone is invited. He will pay.
44. Make sure you negotiate a 10% commission with any restaurant before you go.
45. Don't let Farang Buffalo stay in a hotel but in the family house. Let him see and feel what a traditional Thai home feels like. He will take pity on us and if we play it right, he will offer to build us a new house.
********************************************
Thai Bar Girls Commandments & Rules For Farangs (Contd….)
46. Send your husband to a neighbour's house for a few days but if they will not take him, introduce him as your brother. If you already have a house built by one Farang Buffalo , go to an aunty or uncle's house and introduce them as your family. The same rules apply. If you are good, you might get two houses or more…!
47. Locate all of the offices for Western Union and Moneygram. Collect their free leaflets and give to the Farang Buffalo so they know how to send you money.
48. Open different bank accounts and always have one bank account book with you at all times with a balance under 1,000 baht. Update it frequently so it looks like it is your main account.
49. The book for the account that has most of your money must be hidden and the Farang Buffalo must never ever see it. We know the Farang Buffalo aren't aren't clever so we have to make it easy for them.
50. And whenever you show the Farang Buffalo your account, show that you are ashamed of it. He will feel bad and give you more money.
********************************************
Thai Bar Girls Commandments & Rules For Farangs (Contd….)
51. When you go with a Farang Buffalo for long time, make sure your friend has your phone number. Ask your friend to call you at 3 AM and tell them where you are. When the phone rings make an excuse to leave. Tell them something like Your friend got an accident, or Your friend lost her keys, or your Mother is sick or Something has happened. Farang Buffalo will pay you 100%.
52. Don't worry about the Farang buffalo you're with in the hotel loom. Whatever was agreed earlier with the Farang buffalo doesn't matter. Tell him stories that you have to pay the bar or you will come again or you like him or you want to spend time with him again. If he protests, start screaming and yelling at him. Threaten to smash his laptop or camera. Tell him you will go to the police. If there is a balcony, threaten to jump off. The more louder you can scream or make a crazy noise – the more money he will pay you.
53. Once Farang Buffalo gives you the money, you can go and hire a hardbody Thai man to satisfy you or you can and give your husband the money – he will love you so much and be so proud that you are taking care of the family. Or you can go to play cards. Or if you have important professional goals, go catch another customer and make some more money for the family. Remember – you are not a bad person. These Farang Buffalo's are bad. You are only taking bad money from this bad Farang Buffalo and giving it to your family. So you are a good person.
54. Remember – a smart and successful Thai Bar Lady will keep 2 phones. One should be the lastest because you deserve the best. The other phone should be super cheap, broken and damaged. Whenever you are with the Farang Buffalo use the old phone. Show you are struggling. Make him feel guilty. Farang Buffalo will always buy you a new phone. Make sure you go to a store where you negotiated a 10% commission and take whatever he can give you. He is an idiot so take a charger also and a few accessories.
55. Whenever shopping, take the Farang Buffalo to the most expensive places which you cannot afford.
********************************************
Thai Bar Girls Commandments & Rules For Farangs (Contd….)
56. Find the newest most expensive phone you can and stare at it. Make sure he sees some tears in your eyes and don't leave until he buys it for you.
57. Whenever Farang Buffalo does not buy you what you want, show a sad face. Act super sad. But even though you are sad, show that you care about him. Do all the house work. Make him feel special. When taking him anywhere speak in your local dialect to let others know he is loaded with cash and that you and all of them have to make sure he shells out enough and more cash. Once The Farang buffalo is in a good mood – he will end up buying you what you want.
58. Once you have succeeded in making the Farang Buffalo buying you a mobile – means – he has the capacity to buy you gold. Few days later take him to a gold shop. Show him your girly side and happiness when you wear gold on your body. Repeat the steps until he buys the gold. Take both to the pawn shop and sell them as soon as he leaves.
59. Whenever you are with a Farang Buffalo go to MBK. They always serve the most expensive food which you can never eat if you tried to because the bill is equal to your one month's salary. So take the Farang Buffalo there and make him spend. Order a bigger dish than you and all your friends can manage and then take the remaining home for your friends to eat.
60. ManyFarang Buffalo can speak Thai but not proper Thai. They think they are very smart – at least that is what Farang Buffalo's think. Use code words and hardcore dialect. Farang Buffalo can never understand.
********************************************
Thai Bar Girls Commandments & Rules For Farangs (Contd….)
61. When Your Farang Buffalo leaving Thailand, go with him to the airport. He will always give you an extra tip for this.
62. When yourFarang Buffalo is leaving, start crying. The more you cry, the more money he will spend on you. And the more you hug him and let him know he was the most important person in your life – the more the Farang Buffalo will give you money.
63. Ask yourFarang Buffalo to give you the remaining Baht very politely which he will have with him as he cannot use in his country. The Farang will be happy to give it to you as he can't use in his country.
64. When you say good bye to your Farang Buffalo, start to cry and tell him you love him or no one loved you the way he did or some shit like that. He will pay you 100 times more.
65. When you leave your Farang Buffalo to the Airport or any location, ask for Taxi money – even if you live 2 minute walking distance. He will always give you another 200 to 300 baht easily.
66. Farang Buffalos earn in Foreign currency. So for them, looking after you every month is very easy. Target 1o to 12 Farang Buffalos send you money per month. Your family will be blessed.