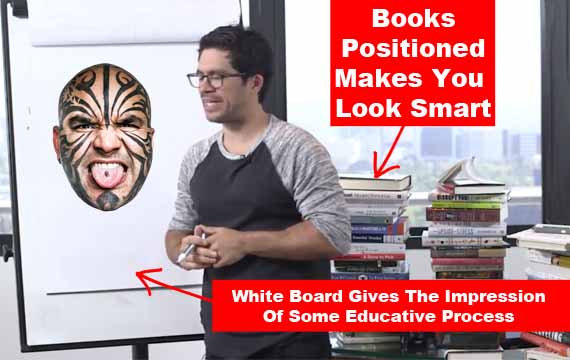 Is Tai Lopez & 67 Steps an Internet Marketing Scam?
From the Desk of Loy Machedo: Is Tai Lopez & 67 Steps an Internet Marketing Scam?
I am a Personal Branding Strategist and also run the Online University for Personal Branding for people who want to earn more money by Revamping, Recreating and Reinventing themselves. So whenever there is a chance to share knowledge or information that can help people become better – I immediately dive right into it.
A few days ago a student of my Secret Facebook Group (if you wish to join – send me an email on loy@loymachedo.com. Entry to this group is only after your profile is evaluated and studied. And yes – it is a paid forum if you wish to join) asked me about Tai Lopez. He wanted to know my thoughts about him.
Given the fact that my strength is Research, I immediately started an extensive research and study about Tai Lopez – everything from finding out what other bloggers, videos, articles and websites had to say about him – to even speaking to students who registered for his course.
So here is a totally fair and honest assessment about Tai Lopez.
If you feel I have been wrong in any place – please feel free to send me a message. I would glady rectify it and make the necessary changes.
Please note: I have nothing but admiration for what Tai Lopez has accomplished. What he has done and is currently doing – is what all Internet Marketers would hope and dream of doing some day. However, at the same time – I need to tell the truth about who this guy is, what techniques he uses and how he manages to make money.
So here is my hardcore analysis of Tai Lopez.
If you like my article, please share it on Facebook & on your social media channels.
Loy Machedo
The World's #1 Personal Branding Coach
www.LoyMachedo.com
www.whoisLoyMachedo.com
www.ThinkPersonalBranding.Com
————————————————–
Loy Machedo's Hardcore Analysis Of Tai Lopez
His Course, His Business Model & The Verdict
Is He The Scam Artist & Internet Fraudster
Who Has Made Millions Out Of Cheating People?
————————————————–
Who is Thai Lopez?
Tai Lopez is a college drop out.
He use to work at GE Capital.
He is an owner of a nightclub business in Hollywood.
Tai Lopez went on to become a Certified Financial Planner.
He worked in the world of finance before becoming a founder, investor, Keynote Speaker, advisor, or mentor to more than 20 multi-million dollar businesses.
Now he does business mentorships online, inner circles, conferences and runs his "67 steps program"
He also runs a podcast "The Grand Theory of Everything" and a Youtube channel.
He lives in Hollywood Hills and drives a black Lamborghini Gallardo
Below are some Tai Lopez Wiki Facts
Taken from Tai Lopez Linkedin Account
High School: Tai attended to Sunny Hills High School.
College: Dropped out of a University after a semester or two – Source
Grew up: Fullerton, CA – (Sunny Hills High School is in Fullerton)
Born: 1977 ?
Age: 39 ? (year 2016)
Birthday: ?
Relationships:
Maya Burkenroad – Cousin ( https://twitter.com/mayathebeeeeee )
Ben Avanzato – Half Brother – Tai Lopez CMO (https://www.facebook.com/benavanzato )
Girlfriend: His girlfiend's name is Kenna Alastair. This young brunette is 5'10" tall and wears 34B bra size. She's signed to Otto Models modeling agency. Since she started dating Tai, Kenna appeared on couple of Tai's videos and Instagram posts.
Tai Lopez Video that started his journey to Millions….
 ————————————————–
Tai Lopez Accomplishments:
Tai Lopez's Networth: Rumored to be 2-3 million a year (speculative)
Founder, investor, advisor, or mentor to more than 20 multi-million dollar businesses
Owns 20 or so multi-million dollar businesses
Spent 2.5 years working and living with the Amish.
Traveled to India and worked at colony for lepers.
Assisted his mentor Joel Salatin in pioneering grass-fed, sustainable agriculture on Polyface Farms.
Member of Mensa
Worked at GE Capital
Became a Certified Financial Planner
Spoke at top global universities like The London Business School and the University of Southern California
Spoke at TEDx – "Why I read a book a day"
YouTube channels: "The Grand Theory of Everything." -Tai created one of the top downloaded podcasts
He appeared on various TV and radio shows
Appeared on Millionaire Matchmaker Episode #104
Is owner of a night club
————————————————–
Is Tai Lopez A Scammer? – The REAL Truth On How He Makes Money
————————————————–
Tai Lopez's 67 step program scam or not a scam?
Tai Lopez's business is a legit business.
He has partnered with clickbank which does a really good job at buyer protection / refunds.
So if you pay for his program and do not like it, the refunds are through the clickbank website and it will take a minute to get it sorted out.
When you buy anything, you need to pay attention to what you're signing up for.
Tai is in the same field as Tony Robbins, Jack Canfield, Wayne Dyer, etc where he is selling you self help information.
It's not a "get rich quick" scheme.
And he has never stated this.
So the question only begets – Would you pay $67 every month?
————————————————–
Tai Lopez Scam Alert
————————————————–
Controversy over Tai Lopez House
Is it His House Or Rented?
Here is the funny thing.
We all have rented a house at some point in our lives.
Some of us honestly admit upfront – this is my rented apartment.
Some of us also say – This is "MY" apartment.
However, I am pretty sure you do not say  "come over to my landlords house".
(Although I am one of those rare idiots who does say it this way)
So here you have Tai Lopez who says that it is 'his' house.
Personally, I do not see anything wrong with that.
Not everyone has $ 44,000,000 to Rent out a massive luxury villa like that.
So if he has taken the risk (even if it is for marketing purposes or for showing off), I do not see anything wrong in it.
And Is he obligated to disclose this information?
I don't think so.
————————————————–
Tai Lopez Parody: Here In My Garage: How I Went From Broke To Buying A Lamborghini
————————————————–
Tai Lopez Rents a Lamborghini:
Tai Lopez in his most popular video – the video that made him globally famous stated "This is my Lamborghini"
Apparently, the problem stems from the fact that there is an image of him driving it with the plastic rental tag on it.
This does look like rental keys, but the same question applies, did he say that he owns the car fully?
On a later date, Tai admitted that he's bought a lamborghini second hand.
Now before any of us start judging him – ask yourself this – how many of us can actually rent out a Lambo – let alone purchase a 2nd hand one?
And since we can't why judge the bugger?
So why the hate?
————————————————–
Tai Lopez rips off other authors & their material…..
It seems that Tai Lopez has taken all his material from famous authors like Stephen Covey's 7 Habits, The Power of Habit by Charles Duhigg and from Jack Canfield's work "Success Principles".
Now even though I read a ton of books – I seriously do not see anything wrong in this being done.
After all – who creates original content? And that too original content that no one else has thought off?
If the legendary Tony Robbins took his material from John Grinder, a linguistic professor, and Richard Bandler, a mathematician, at the University of California at Santa Cruz (UCSC), around 1975 – then why should anyone else not follow suit?
Keep this in mind… we live in a world of regurgitation.
You won't believe how much regurgitation and repackaging that goes on today, and this is legal.
So now you have the option – either purchase tons of books – or buy from someone who read them and gives them to in an easy to digest format.
BTW – Even I do this.
PS – You can also go to youtube and read book summaries like this one:
Want the links?
Ask me – I will send them to you.
————————————————–
Tai Lopez With His Hidden Monthly Charges!
Ok, I don't like the fact that he has fine print on his check out page when you buy The 67 Steps.
But at the same time, it's perfectly legal, and the fine print really is not that difficult to spot.
Even though I don't like it, it's also the buyers fault for not reading it right in plain sight.
Moral of the Story: Read the Fine Print!
————————————————–
Where Tai Lopez got caught Red-Handed….
The Lamborghini,
The mansion,
The book shelf
Even the absolutely ridiculous strategy of going on Jet plane with rented escorts but he claims what is important – is his 'books' – was really stupid.
(Check video below)
F*ck this guy pt 2 – Tai Lopez
However, I found it hilarious.
Do you know why?
These are absolutely silly strategies – but ones that only idiots fall for.
While stating – They are all too obviously placed. "Look at my Lamborghini!
They are all too obviously placed.
Look carefully…
And then….The Books on his book shelf are… Fiction:
If you look closely, some of the books are fiction and don't deal anything with improving yourself.
Take a check yourself
————————————————–
For a good Laugh:
Check out this H3H3 video for a funny laugh, he makes fun of Tai Lopez.
————————————————–
Has Tai Lopez been involved
in shady businesses in the past?
YES!
http://elitemeeting.com
It's a dating site that he owned at one time that lures people in with fake profiles.
Check out some of the reviews it got online.
I bought an information product from this company and did not sign up to become a member. After checking my VISA statement, I noticed that they had charged me over $200 for a monthly membership fee that I had not authorized. I have contacted my bank and they have cancelled that VISA card. Beware to anybody who has any dealings with Elite Global Dating.
-Ken consumeraffairs.com 2013
————————————————–
SCAM ALERT DON'T DON'T DON'T SIGN UP TO THIS SITE. IT IS A TAI LOPEZ SCAM! Do I FEEL LIKE A DUMB BLONDE FALLING FOR THIS? YES!!! I am not a dumb blonde, but should of, could of, would of….. Check into this, I hope these guys get what is coming to them. Karma!
-Madeline Trustlink.org 2010
————————————————–
After cancelling my subscription they still took payments from me! I then deleted my profile and advised my bank about their fraud but they still keep going!! My bank says they have to pay money out but refund me the cost. I wonder do I have to keep paying them forever! Countless emails to their costumer service without reply. Its not only scam but real FRAUD!
–allyka Complaintsboard.com 2014
————————————————–
Elite Global Dating LLC Tai Lopez, This is a fraudulent dating site. They send fake emails to induce you to pay for their bunk service.
-Anonymous Ripoffreport.com 2011
————————————————–
The owner of eliteMeeting Tai… is the most unscrupulous dirtbag on the planet… funny how he even comes on this site, and creates a whole lot of negative votes for everyone that has a complaint against his site and super props to every stupid positive shameless promotion of his site… We know it is you Tai… get lost you stupid scammer…
-Poker Complaintsboard.com 2009
————————————————–
Too bad that Tai Lopez is a thief, liar and commits fraud. Other than that, sure, great person to listen to. Be aware, Tai Lopez is a bad person who only wants your money.
-Carrie EpicLaunch.com 2012
————————————————–
Is Tai Lopez a scam?
The 67 Steps unbiased review
————————————————–
So how can you replicate the success of Tai Lopez?
The Tai Lopez Strategy PHASE 1
Just Google "best self help books".
Copy parts from other successful self-help books and talks.
Build a self-help program
Give it a Customized Sophisticated Sounding Name
Stretch the program to make it long (dont worry about the quality)
Give them plenty of to do steps – the more the better!
Market the program online using google analytics & smart words
Get people excited about your program
Eventually people will realise to become rich, a lot of effort goes into it.
Make it easy for them to pay and join
Make it hard for them to leave
Always have the important details in fine print
Once after they join, let them know – it is possible but not easy
Use smart language and intelligent words
Give them so many things to do and so much educational material – they should get overwhelmed.
Bonus point if they subscribed to your website and forgot to cancel the subscription!
You could even add a bug which makes it harder for them to cancel the subscription
————————————————–
The Tai Lopez Strategy PHASE 2
Get someone in India or Phillippines to build you a really good website – but for cheap.
Pay them extra so that there is more value that you will get.
Make sure you have a strong backend, that it can handle subscriptions & it is connected to your paypal account.
Follow the template of other successful marketers and hype words like Success, Dreams and yes – focus on the fears of people.
Have an amazing set of pictures, photographs and words selected – make sure they are yours!
Get ready to launch.
————————————————–
The Tai Lopez Strategy PHASE 3
Make lots of videos.
The majority of them should focus on inspirational & motivational messages – stuff you can get from the internet
Keep giving people regular bullshit like "You can achieve the Impossible" or "You are special"
Make sure the videos focus on selling HOPE
Give an amazing story
Talk about how you were poor and how a SECRET system helped you to become rich.
Make sure your video or script follows the script – 9 minutes your story of success – 1 minute of selling the 'secret'
Do it many times
Remember this is a sales pitch – you are selling the idea of "How to get rich quick" not actually explaining how to get rich.
Hire a Mansion for a few days
Make a video in your 'hired' Mansion stating this is your house. But it is not as important as the 'knowledge' you have received from books. And then mentioned one line about 'Your System'.
In the video pretend that this is your house.
Hire a Super Expensive Car for a few days
Make a video with your 'hired' Super Expensive Car at the background. But state it is not as important as the 'knowledge' you have received from books. And then mentioned one line about 'Your System'
In the video pretend that this is your car.
Hire a Super Luxury Jet for a few days
Make a video in your 'hired'Super Luxury Jet stating this is your Jet. But it is not as important as the 'knowledge' you have received from books. And then mentioned one line about 'Your System'
In the video pretend that this is your Super Luxury Jet.
Hire Super Expensive Models for a few hours
Do the same.
Be super casual like having a huge house is no big deal.
Get a professional camera operator and hire some models and extras.
Remember MORE EXPENSIVE the house, MORE EXPENSIVE the cars, MORE EXPENSIVE the Luxury Jet, andMORE HOT & BEAUTIFUL the woman – the more people will fall for you.
Talk Rich Stuff.
Talk about how you arrive via private jet.
Talk about your other cars.
Talk about your luxury Rolex.
Be causual about going on a Cruise on your Private Yatch or hanging out on your Private Island
Create a whole series of videos that will make you look wealthy and successful.
If you run out of ideas, just look at Tai's videos to get some ideas and copy them.
————————————————–
The Tai Lopez Strategy PHASE 4
Promote the videos on YouTube & google.com
Buy high-quality Google Ad-Words
Have a strong advertising budget
Do a test run and check that the numbers add up.
As long as your revenue from sales is higher than the advertising costs, you're in business.
Keep upping the advertising budget and see the money roll in!
As long as your revenue from sales is higher than the advertising costs, you're in business.
Keep upping the advertising budget and see the money roll in!
People will see your videos and think that your program made you wealthy!
Whereas in fact, your program IS your product.
————————————————–
TAI LOPEZ – Before They Were Famous – Here In My Garage…
————————————————–
How does Tai Lopez Make his Money?
His Business Model.
He makes most of his money by using video and ads to market his paid courses.
When you subscribe to it, you are paying him money to reinvest into the advertising.
He makes his money through an Internet process called "Sales Funnel"
He initially spends a lot of money on YOUTUBE ADS.
If you do not become his customer – he will continue retargetting you with YouTube Ads.
THAT'S why you are seeing his ad all the time.
He collects Email from his Email Marketing Campaign where he sends you a book a day summaries and a link to it.
Most of his links take you to his Affliate Marketing Links – where he gets paid a percentage for all that you purchase
He gives valuable content for FREE through book reviews, webinars, podcasts, youtube videos and that gives the impression that what he charges for – will be even more valuable.
This FREE service that Tai provides in return creates loyalty and trust between the potential buyer.
It tells the buyer that, "If he's giving away this information for free, I bet his paid stuff is extremely valuable.
How many are Tai Lopez Businesses there?
Night Clubs – LA and Miami based
Investments into other JV businesses
Teaching an Insurance Program via Video – Pre 67 steps
Tai Lopez 67 Steps
Tai Lopez Accelerator Program
Amazon Affiliates from emails
————————————————–
Is Tai Lopez A Scammer? (The Real Truth)
————————————————–
Tai Lopez Net Worth
Tai Lopez's Net Worth some sites have it around 3 to 5 million dollars.
Let us look at just one program of his – the most successful one – 67 Steps.
Apparently, he has around 100,000 people who have applied for this course.
Easy math = $67/mo x 100,000 =$6.7 million (recurring every month) and we are sure there is high recurring % and he has other programs like the accelerator program that use to be $997 and now is 3 to 4 payments of $997.00.
He also has affiliate money which he gets from Amazon, OMG and Sam Ovens.
He also has a Real Estate Program with Cole Hatter that is $997 and a Social Media Agency Program that is $697-$997 range.
He has real-estate around the world which he rents out – Norway, London, Beverly Hills.
Recently he bought his 2nd Lamborghini an Aventador costing $400,000 and a Rolls Royce Dawn that costing $335,000 which again this was his second Rolls, and he still has a Ferrari 458, Maserati Quattroporte, another Rolls and Lambo. So his total car collection is around $2,000,000
————————————————–
He Doesn't Know Jack Sh*t About Business
————————————————–
Drawbacks to Tai Lopez Coaching Program
Tai Lopez makes money as a "motivational or inspirational speaker"
There is No Specific investing or small business advice.
The word Success is indirectly linked to a big house, super expensive car, expensive jets and super sexy women.
He contradicts what he states – "This is not as important as the books…" If what he was showing (big house, car, luxury jet and women) were not important – why show them?
He uses the subtle art of deception – Advice on how to make money, however, there is nothing substantial.
He uses material from other books, videos and resources – which could be anything from positive thinking to changing your life to success to self-confidence – and indirectly connect it to his course.
He sells bullshit – because people want to believe in bullshit.All the bullshit "ideas" everyone chooses to freely indulge in with no positive outcome possible.
Most of Tai Lopez customers are idiots who do not use common sense – they do not have any specific or realistic targets. Rather they have over-hyped hopes about themselves and what they can achieve.
Majority of the people who pay for such courses want an easy life, easy pay day and want to believe – they are "special"
Tai Lopez use words like "Limited time only offer! In reality, his offers have been there forever!
Almost everything you click will ask you for you Credit Card Details – Instead of other payments gateways where you can dispute transactions and unauthorized charges. If it was Paypal for example, one could easily
He doesn't use paypal because If it was Paypal for example, one could easily canceled any recurring charges at any time and dispute anything that wasn't authorized, approved or felt unfair.
He will always state – The generous 75% discount!
He will overly hype the cost of what he is giving you ($4,000) and out of kindness and with a limited time – let you know that you can now purchase it for $997. (Simple logic – Why would someone give you a discount when he can sell you something for a full price?)
His Affiliate program backed by ClickBank and JVzoo.
I guess that this will shut lots of mouths out there 🙂 Just check the reputation of both platform, and you'll understand 🙂 They are on the center of any crappy biz opp, CPA offer, and anything in between. This actually wraps up any regular scam offer I've seen to date. It always ends up launching an affiliate program at ClickBank or JVZoo :)))
75% PAYOUT! And don't come tell me that this is a sales tactic :)))
http://www.tailopez.com/affiliate
I've seen lots of scam-artists in the last decade. But this one kinda surpasses them all. He could teach a master scamming class 🙂 Chapeau Mr. Tai!
————————————————–
Whatsup with Tai Lopez? Legit? Scam?
I share my thoughts.
————————————————–
Testimony From a Student Who Applied
For A Tai Lopez Coaching Program
Tai's advice is not all bad. In fact, a lot of it is fairly sound. But it is nothing Special or Unique. It is more or less the same advice you can get for free when you join any business forum, community or check a youtube video.
People join Tai Lopez only because he constantly keeps flashing the amount of money he is making – from the super-expensive cars, to the luxury Moving on, I'm going to address Tai's commercial.
If you read "Influence – The Psychology of Persuasion" which will cost you $11 or if you wish, you can watch for it free here….it is much more worth than Tai-Lopez's entire course.
Tai Lopez follows the time tested strategy. First, he opens up the ad with promises that he is going to give you something worth $100, free of charge, just for watching the video. This is the Principle of Reciprocity, the psychological bias that says that if someone gives you something, you are obliged to pay them back. However, the actual application of Reciprocity is very clumsy because all he is giving you is 'advice' online. You are not physically getting anything. Then once he gives you his 'advice' and pumps you up for 'change' in your life – he asks you to take action by purchasing $67/month subscription.
Tai Lopez also uses the most over-used sales principle when he asks us "What is living well worth?" and goes down the list from 1000, 500, and so on and so forth until he reaches that point, in addition to the established value of the gift- or, rather, claimed value of the gift- being higher than the asking price for the program.
Tai Lopez also uses another sales strategy which is very powerful "The Social Proof" where you will hear other people praise his program – and you will end up buying it.
Tai Lopez also spends a lot of time encouraging his viewers by stating "If you've watched this far, you're obviously pretty smart"  – a sentence which he keeps repeating many times.
He then finally uses the Scarcity Principle where he states that this program is ONLY available to 200 people and makes you want to subscribe to him asap!
Tai Lopez's educational content – which he drags on for 1 hour can be summed up in less than 5 minutes
If you want to check and see, though, make sure to cancel the additional monthly fees. There's no need to pay more than the initial seventy bucks for what he's selling you.
————————————————–
Taken from
He's an investor, partner, or advisor to a multitude of businesses.
Through his book club and podcasts, he shares advice on how to achieve health, wealth, love and happiness.
He says that finding mentors is one of the biggest predictors of your success.
He's Tai Lopez and here are his Top 10 Rules for Success.
1. Increase your sense of urgency
He shares why he reads one new book a day: "Books allow you to simulate the future (without having to actually do all the trial and error yourself)…"
2. Practice
At 16, he realized life was too complex to figure out on his own. He wrote a letter to the wisest person he knew, his grandfather, to ask for answers to life's hard questions.
3. Protect what you already have
The letter said, "Tai, the modern world is too complicated. You'll never find all the answers from just one person. If you're lucky, you ll find a handful of people throughout your life who will point the way."
4. Increase your courage
One week later his grandfather sent a package containing an old, dusty set of eleven books with a note, "Start by reading these."
5. Get hold of something, and hang on to it
Tai began his habit of reading on his search for what he calls the "Good Life": the balance of the four major pillars of life – health, wealth, love, and happiness.
6. Have extraordinary imaginative vision
He began by reading thousands of books from the most impactful figures in history: Freud, Aristotle, Gandhi, Munger, Sam Walton, Descartes, Darwin, Confucius, and countless others.
7. Change your mind, change your life
He spent two-and-a-half years living with the Amish, spent time working at a leper colony in India, and helped Joel Salatin pioneer grass-fed, sustainable agriculture on Polyface Farms.
8. Look for Aha! moments
He joined the long list of entrepreneur college dropouts and ended up completely broke until he talked five, multi-millionaire entrepreneurs into mentoring him.
9. Be quick, but not in a hurry
He went on to become a Certified Financial Planner and worked in the world of finance before becoming a founder, investor, advisor, or mentor to the business world.
10. Pass on what you know
He appeared on various TV and radio shows and has spoken at top global universities like The London Business School and the University of Southern California.
Sources:
https://youtu.be/FweCR_jBt0U
https://youtu.be/sYnKJ2q98ys
https://youtu.be/vBTIyFiAqqs
https://youtu.be/1Qaaz-NBGtQ
https://youtu.be/8JZLSRmX2fE
https://youtu.be/hEXNgQ7Oynk
—————————
WANT TO LEARN THE SECRETS OF EARNING MONEY?
Ask To Join Loy Machedo's Secret Online Personal Branding University
—————————
Loy Machedo's Short Movie With RSN8 Productions
—————————
Coca Cola Features Loy Machedo in its Viral Advertisement
—————————
Loy Machedo Speaks at TEDx Dubai 2011 On Prejudice
—————————
Loy Machedo featured on National Television
—————————