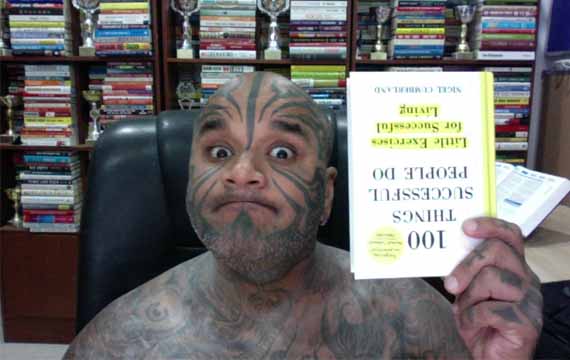 Loy Machedo's Book Review: 100 Things Successful People Do by Nigel Cumberland
From the Editorial Desk: Loy Machedo's Book Review: 100 Things Successful People Do by Nigel Cumberland
Here's the thing.
There are a Billion books in the marketplace.
Millions in the Non-Fiction Category.
Hundreds of Thousands of Authors
Thousands of Books that are Best Sellers
(Provided you know how to get it there)
Hundreds of books that may not be labeled as
Best sellers but have the potential to change your life
And then you have the rest that are – just books.
You have books that can Inform, Motivate, Influence, Guide, Change your Life
And then you have books that can do all of the above.
100 Things Successful People Do by Nigel Cumberland
tries to do all the above
Inform, Motivate, Influence, Guide and Change Your Life
However, the question remains –
how effective was the author?
Given the fact that I have a large library of great books
I always tend to compare one book to another
Or at times evaluate books on an experienced level playing field
That maybe most other readers cannot.
So this makes it very tough for an author or a book to really score a homerun
At least in my books.
Nigel Cumberland with this book 100 Things Successful People Do
Has a collection of 100 tips, tricks and strategies
That he believes is what makes some people more successful than others
As common sense would have it –
these are not 'exclusive' or 'scientific breakthroughs'
that the author has discovered –
they are just gems of wisdom
Any person with a bit of common sense, wisdom and experience
Can share with you any of these interesting tit-bits written in these pages.
So lets get down to the evaluation.
ON THE PLUS SIDE
The book has 100 pointers or tit bits of wisdom that will help you gain insight into the ways and habits of successful people. Some of the points I loved were:
Point 22 – Reinvent Yourself
Point 26 – Exude Confidence
Point 67 – Be Curious
Point 76 – Embrace Technology
Point 97 – Unlearn Everything
The points are very simple and self-explanatory.
You do not need pages and pages to be written to get you to understand what the author is trying to imply.
ON THE MINUS SIDE
If you are a seasoned and voracious reader like myself –
the pointers mentioned here are just a refresher.
Nothing else.
All I did was just browse through the pages
Get a quick read and – well that's was it.
MOMENT OF TRUTH
I wouldn't recommend this book to a seasoned professional
or someone who is well read.
Rather this would be a book I would recommend to a college graduate
Or someone who has never read or
hardly read a Motivational / Inspirational book
They would love this book.
Personally, I only purchased this book
just to see what I could brush up my head with.
And I completed reading the book easily
In one sitting.
OVERALL RATING
2 out of 10
Loy Machedo
Loymachedo.com | Whoisloymachedo.com | ThinkPersonalBranding.Com
***********************
WANT TO LEARN THE SECRETS OF EARNING MONEY?
Join Loy Machedo's Online Personal Branding University
www.ThinkPersonalBranding.com
***********************
Loy Machedo's Short Movie With RSN8 Productions
***********************
Coca Cola Features Loy Machedo in its Viral Advertisement
***********************
Loy Machedo Speaks at TEDx Dubai 2011 On Prejudice
***********************
Loy Machedo featured on National Television
***********************