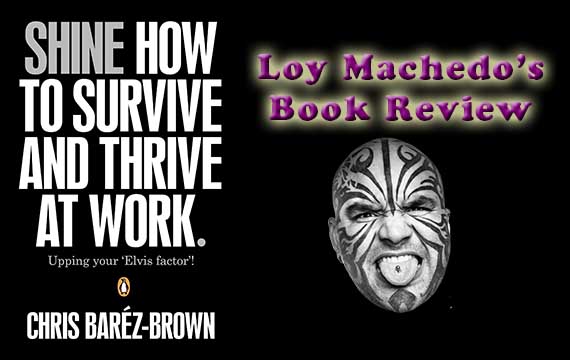 Shine How To Survive And Thrive At Work by Chris Barez Brown – Book Review by Loy Machedo
There are good books, crazy books, silly books, creative books, boring books, interesting books and yeah books that you cannot just put down.
There maybe many other classifications or types of books you and I can give but for now this is all I can think of.
So given there are books of various kinds – Chris Barez-Browns book "Shine To Survive And Thrive At Work' comes under the Creative, Thought-Provoking, Fun and Unique category while its content is more focused on living a life of your dreams and being true to yourself.
The Book contains tips like:
1. Personal Brand Visibility
2. Work Life Balance
3. Finding your true self
4. Doing what you love doing
5. Importance of Power Naps
6. Problem-Solving Techniques
7. Business Ethics
8. Using the Power of the Subconscious Mind
9. How to Tap into the Power of Creative Ideas
10. How to read people
11. Public Speaking
12. Inner Belief
WHAT DID I LOVE ABOUT THE BOOK?
1. Color Usage, Creative Design, Readability, Word Editing & Layout
2. Thought-Provoking Pointers, Ideas, Suggestions & Tips
3. Straight Forward Points of Wisdom
LIMITATIONS OF THE BOOK
1. TOO WIDE BUT NOT TOO DEEP
The author has spread himself too thin with too many points, without any depth. For instance, there was a deep desire for me to want to read more on Brand Development, Finding your True North and Problem Solving Techniques. However, given the author had to limit each point to around 100 to 300 words, not much about be done.
2. BOREDOM
Somewhere in the middle the book began coasting along and kind of got boring. I think at its worst, the author became predictable.
3. AUTHORS PERSPECTIVE?
The big question is this – agreed that one has to move in the direction of his / her dreams. How practical is it? Can everyone just give up on their jobs and move towards the direction of their dreams? What solutions would the author offer?
4. SOCIAL MEDIA ENGAGEMENT
Given the fact that the authors speaks about being outgoing, different and original, what about making it engaging for the reader by asking them to engage with the author on Social Media or on his website? Given this is a necessity in today's day and age – I missed this variable.
5. WHAT'S NEXT?
Resource Material & Recommendations – Well that was missing!
LOY MACHEDO'S MOMENT OF TRUTH
The reason I purchased this book is because the book of the recommendations given by people (authors & thinkers) I absolutely admire like Sir Ken Robinson, Seth Godin, James Cann and Ken Blanchard.
So if they found this book worth reading – I mean who the hell am I?
However, the only point of difference I had were the points mentioned above – the book spreads itself too wide and doesn't necessarily specialize in anything.
So if you are looking for an easy read – then go for this book.
However, if you are looking for a serious read – then this would not be the book for you.
LOY MACHEDO'S OVERALL RATING
7 out of 10
Read it when you are travelling on the plane. It will prove to be easy and entertaining. And yeah – have a yellow highlighter – there will be plenty of points to underline and refer back to.
Loy Machedo
Personal Branding Strategist
whoisloymachedo.com