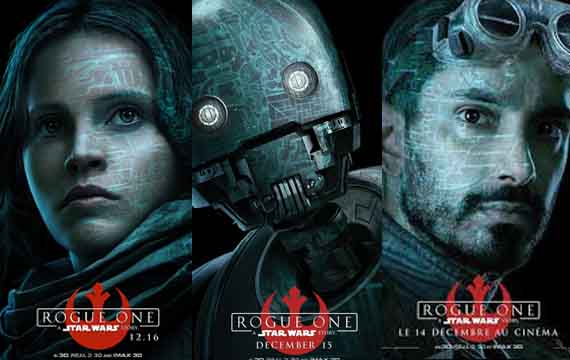 Rogue One: A Star Wars Movie Review by Loy Machedo
Rogue One: A Star Wars Movie Review by Loy Machedo
When I came to know that George Lucas was no longer involved with Star Wars and wasn't allowed to give any creative input into the new Star Wars Series – I just lost it. I didn't want to watch Star Wars – irrespective what the reviews were. Deep down I wanted them to regret leaving George Lucas out of the Star Wars franchise. But another side to me was like – please do not ruin my childhood by destroying Star Wars.
So yeah – I didn't watch Rogue One.
Can you believe it has been one year since that decision was made?
So finally after avoiding the inevitable, I finally decided – okay fine! I'll watch it!
And watch it I did.
So here is the Movie Review of Rogue One.
Rogue One: A Star Wars Story is set just before the events of Star Wars: Episode IV: A New Hope, focusing on the rebel spies who managed to steal the plans for the original Death Star.
The movie is set up in such a way that it leads the way to George Luca's 1977 original. It leads the way to make perfect sense as to who a one-man fighter can actually blow up a planet sized battle-station.
The movie lays ground to explain why Death Star has a Achilles heel and how this information fell into the hands of Princess Leia's hand.
In Rogue One there are no funny cartoonish characters like Jar Jar Binks or Ewoks to appeal to pre-school-aged audiences rather it is predominately designed to appeal to people who like down-dirty war-torn documentaries.
What I was upset about…..
• Rogue One didn't have any new alien race or alien specie introduced
• There wasn't the iconic Hero
• There wasn't the iconic Villain
• There wasn't any Jedi, Light Sabers
• There was ZERO chemistry between the main characters
Loy Machedo's Moment of Truth
So is Rogue One a Good Movie or Great Movie or Average Movie?
Great Movie – No
Good Movie – Yes
Amazing Movie – Not actually
Entertaining Movie – Yes
Director Gareth Edwards took upon him a mammoth responsibility of shouldering the Star Wars Franchise and giving the fans what they deserved. There was every possibility that his attempt would fail.
However, he didn't.
But here's my thing. Being a diehard George Lucas fan I still feel Star Wars should have at least involved the vision of George Lucas in it and given the franchise its original flavor – the magical new worlds, the aliens, the super iconic villain, the main character and yes – the magical chemistry and feelings the movie evoked for generations.
But for all its worth, it is still Star Wars……
So would I recommend you to go and watch it?
Yes, I would.
Loy Machedo
LoyMachedo.Com
WhoIsLoyMachedo.Com
ThinkPersonalBranding.Com
Production
A Walt Disney Studios Motion Pictures release of a Lucasfilm Ltd. production. Producers: Simon Emanuel, Kathleen Kennedy, Allison Shearmur. Executive producers: John Knoll, Jason D. McGatlin. Co-producers: Kiri Hart, John Swartz, Susan Towner.
Crew
Director: Gareth Edwards.
Screenplay: Chris Weitz, Tony Gilroy;
Story: John Knoll, Gary Whitta,
based on characters created by George Lucas.
Camera (color, widescreen): Greg Fraser.
Editors: John Gilroy, Colin Goudie, Jabez Olssen.
Music: Michael Giacchino.
With
Felicity Jones, Diego Luna, Alan Tudyk, Donnie Yen, Wen Jiang, Ben Mendelsohn, Forest Whitaker, Riz Ahmed, Mads Mikkelsen, Jimmy Smits, Alistair Petrie, Genevieve O'Reilly, Beau Gadsdon, Dolly Gadsdon.