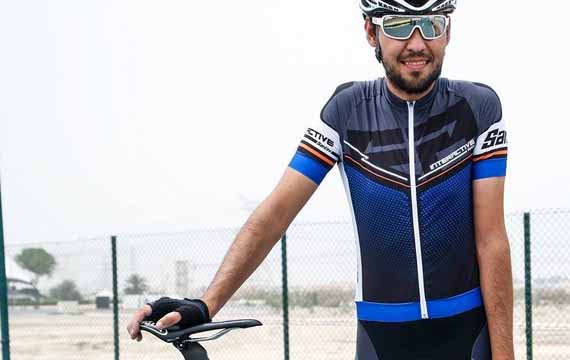 Interview With Raslan Abbadi of Besports Bike Shop
From the Desk Of Loy Machedo presents Interview With Raslan Abbadi of Besports Bike Shop
INTERVIEW WITH RASLAN ABBADI
Given below is the Interview with Raslan Abbadi I had taken on 30th October 2016.
LOYMACHEDO: So Raslan, When did you join Besport Bike Shop?
RASLAN ABBADI: Last year, August 2015.
LOYMACHEDO: Why did you join this brand?
RASLAN ABBADI: It was a New Company, New Challenge to take a Brand to a new level, A new experience to make sure that the Top Bike in the Middle East would capture the market.
LOYMACHEDO: What are the Top Brands you are selling at Besports Bike Shop?
RASLAN ABBADI: Argon 18, Cube, Wilier and Commencel
LOYMACHEDO: Who is your target audience?
RASLAN ABBADI: Families, Cyclists & Triathletes
LOYMACHEDO: Why should someone come to your shop and buy from you?
RASLAN ABBADI: We have a Big Range starting from base-level entry to the High End Bike. We cater to a large audience mix – Children, Men, Women, Teenagers, Amateurs and Professionals.
LOYMACHEDO: What sets your shop from the others?
RASLAN ABBADI: The variety of brands that we carry, the fact that our shop is run by Triathletes & athletes who have a passion for the sport and yes, are experts in their field. And yes, most important who provide the right information and educate the customer with what they truly need.
LOYMACHEDO: What advice you would give a beginner in this sport?
RASLAN ABBADI: 1) Get the right size 2) Get the best bike for money 3) Not too cheap Not too expensive 4) Get the Right equipment
LOYMACHEDO: What do you think is the biggest challenge a beginner finds?
RASLAN ABBADI: There are a lots of brands, there are many companies that mislead people into buying what they shouldn't be buying and yes, fake pricing strategies.
LOYMACHEDO: What is the budget a person – say a beginner should keep?
RASLAN ABBADI: Road Bike AED 5,000, Mountain bike AED 3,000 (The cost stated here is both without accessories)
LOYMACHEDO: What is your opinion on 2nd hand versus brand new bike?
RASLAN ABBADI: Its pretty tricky. You have to check on the history of services & quality. It is never easy to know what is true or false. And yes you lose the warranty when it becomes a 2nd hand product.
LOYMACHEDO: What can one expect when they purchase a bike from Besports Bike shop?
RASLAN ABBADI: When you purchase any Bike from us – you get the following FREE BONUS OFFERS – Bike fitting free (worth AED 950), Any Tweaking on the Bike (FOC), Service up to one month (FOC), Easy access to workshop
LOYMACHEDO: What are you service charges like?
RASLAN ABBADI: There are 3 Levels of charges. Regular (AED 200), Standard (AED 350) and Ultimate (AED 600)
—————————————-
Detailed Information
http://www.besport.ae/service–repair
—————————————-
LOYMACHEDO: What is your vision of 2017-2018
RASLAN ABBADI: Our key partners who are Sky Dive, Ironman Dubai, ITU Dubai – to give them the best services, best products and best overall experiences.
LOYMACHEDO: Is there any season when people should purchase a bike?
RASLAN ABBADI: The Main riding season begins September to May. All they have to do is choose the right time and right budget.
LOYMACHEDO: Rumor or Reality – You can get special offers during low season?
RASLAN ABBADI: Some shops do offer these so called "special offers' however, most of these offers are over-priced and inflated price-tags that create the illusion of a discount. All the brands being from the same industry – it is not possible to bring your prices down to such a level to offer anyone anything 'shocking' or out of the world.
LOYMACHEDO: Are there any other channels which sell your brand?
RASLAN ABBADI: Through bike shops across the region
LOYMACHEDO: Which are the other countries apart from UAE you sell to?
RASLAN ABBADI: Qatar, Bahrain, Saudi and Kuwait.
LOYMACHEDO: What is the difference between buying from your shop versus buying online? Isn't it cheaper to buy it online?
RASLAN ABBADI: People assume they can reinvent the wheel or they have discovered a new way to cut down expenses. When you factor in Shipping, Assembly, Fixing, Tweaking and Setting up the Bike with the right parts – the prices come to more or less the same. In fact some people who tried doing this – ended up paying more. And some others had to even bring the bike here to ensure that the wrong fitting which they attempted to do by themselves – was now corrected and made right.
LOYMACHEDO: Rumor or Reality – Here in the UAE the bikes are over priced.
RASLAN ABBADI: If you compare to recommended price of manufacturers – it is at par. If you compare it to an online store selling last year or outdated models – it would be different. And yes especially if you are talking about grey channels, shops that over-stock and want to clear out their mistakes.
LOYMACHEDO: Your personally favorite brand?
RASLAN ABBADI: Personally – I love Williard Centro (Need the Specs)
LM: Do you sponsor Athletes or do you have sponsorships with International Athletes?
RA: Sponsorships – International athletes? No. Teams – Yes.
LM: Why do you not sponsor International or Individual Athletes?
RA: The long term vision and also it is hard to deal with Individuals.
LM: What is it that you sell exclusively in your shop and people cannot get anywhere else?
RA: Centini – Tri suits & cycling kid for UCI world championship & Giro Italian Pas Normal – Cycling clothing, PUC clothing & glasses
LM: So what is Besports Bike Shop to you?
RA: It is a specialized bike shop that focuses on Right Service, Right Products, and ensures the Right Experience Right from the get go.
More About Raslan Abbadi 
http://www.bikingJordan.com
http://www.terhaal.com
http://www.flickr.com/photos/raslan/
https://twitter.com/RaslanAbbadi
http://www.leaplocal.org/locals/view/465/
Loy Machedo
The World's #1 Personal Branding Coach
www.LoyMachedo.com
www.whoisLoyMachedo.com
www.ThinkPersonalBranding.Com
———————————-
Loy Machedo's Short Movie With RSN8 Productions
—————————
Coca Cola Features Loy Machedo in its Viral Advertisement
—————————
Loy Machedo Speaks at TEDx Dubai 2011 On Prejudice
—————————
Loy Machedo featured on National Television
—————————