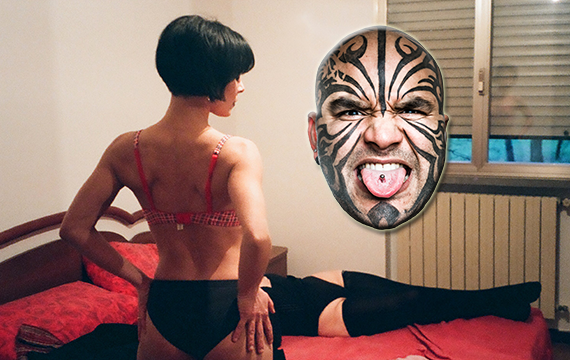 What I Learnt From Having Sex With A Young Prostitute
From the desk of Loy Machedo: The Spiritual Lesson I Learnt From Having Sex With A Young Beautiful Prostitute
So here goes – I'm admitting it – I had sex with a Prostitute.
Admitting what shouldn't be admitted.
Another taboo subject that should be discussed about.
I have no fucking idea why I am doing this….but then again – I wouldn't be Loy Machedo if I didn't do now – would I?
So before you read it – mind you, there are a lot of things here which may not be appropriate for younger readers. So please – before I invite you to read through this – let me just tell you – if you are 18 years or younger – Just make sure no one catches you reading this article openly.
And if you are religious or in a religious country – just read it and make sure no one knows.
So here is my life changing episode – of having sex with a Young Beautiful Prostitute.
If you wish to get in touch with me
loy@loymachedo.com 
Loy Machedo
The World's #1 Personal Branding Coach
www.LoyMachedo.com
www.whoisLoyMachedo.com
www.ThinkPersonalBranding.Com
———————————————————————
What I Learnt From Having Sex With A Young Prostitute
Being single, staying single has its merits.
No one to nag you.
No drama, no stress
No questions asked and no relationship problems
In fact, the lifestyle of being able to
Getup whenever I like
Sleep whenever I like
Sit naked and do my work online
Or masturbate openly to any porn video
Or have a kinky sex chat with some lonely horny single woman
Is just start of the many benefits that follow.
You may ask what other benefits are there?
Well, I know exactly where I keep what
No one touches my things
I do not have to worry about someone keeping something
In place – so tidily that I cannot find it
And yes, then there are those bits where
I don't have to worry about taking anyone out
Going shopping at someone else's time schedule
And yes, most importantly
Switching off my interesting yet life changing
TV Episode – just because I have to sit at the dinner table
Face my lover and sit and eat like 'family' so to speak.
So the benefits are endless.
Im sure the other benefits of being able to shag a new girl every week
Flirt around with another 12 more girls and let them know
They are the one and only in your life
And that if they show you their semi-nude picture
You will love them even more.
The thrill and the excitement of doing all this nonsense online
Well just never seems to satisfy the little horny boy in me.
Even today, knowing that I can still use my 'cyber-charm'
And make a woman get wet, horny, desperate and madly in love with me
Is a thrill that I cannot replicate.
Blame it on the dopamine receptors and the ingenious mix of testosterone
And the evolutionary DNA of a male homo sapiens
that gives me the justifiable excuse that polygamous relationships
are normal – And I am glad that this is at least what my cognitive dissonances chooses to believe.
So along with being an Atheist where I don't have to worry about a god whose only celestial agenda is to look at which wet, hot orifice my appendage chooses to enter – I am glad there is still hope for me to live a good life on this planet – although sometimes I do wonder – if I did embrace the eastern religios, how would I handle penetrating 72 untouched hymens – all at one go. So keeping the after life where milk, honey and pussy is in abundance – I am quiet satisfied with the vaginal opportunities that come my way here in this Eastern Paradise.
However, there is one problem.
And the problem is – I am a good guy.
Seriously – I kid you not.
I am a good guy.
Yes, I have fucked, sucked and smacked over 400 lovely ladies in my life time – but all of them – well, at least with all of them, I let them know that I was a bad boy who loved sex and was horny.
Strangely, none of those decent pussy cats did mind it.
———————————-
#loymachedo Shares A Strong Baby Message
What I Learnt From Having Sex With A Young Prostitute (Contd….)
It could have been the psychological fascination of having to know that they could get wild with a bad boy or it could have been the genuine blend of oxytocin, endorphins and serotonin towards me – especially given the fact that I knew how to suck, finger and lick their nipples and clit simultaneous at the same time – An art I took keen interest in developing. And also if you my kind who enjoys ensuring that the woman climaxes at least twice before you do once – then the possibility and probability to have the woman love to suck and swallow your – as they so cleverly put it in porno movies – 'hot creamy….' (whatever – I think you get the idea) – love portion (that is my terminology) is exceptionally high.
So thanks to the dear gods up in the skies – right from a very young age, I realized even though I was on the short and small end of 'my end', I made up for it in the tongue, finger and stamina department.
And so – my bedroom adventures stayed and remained active. And yes – it proved to be a great story-telling session with the boys where we would love to brag about our sexual exploits. After all – how else can young men with low-self-esteem and identity issues let the world know that – they are indeed 'special'.
So right from an early age of 16 to what I am today – I have enjoyed a kind of 'independence' so to speak of being a free bird.
I must shamefully and sadly (you seriously think I feel shame & sad???) admit that I did cheat on my 'opportunistically chosen' spouses – all three of them – simply because:
1) They were not good in bed
2) I never did get turned on by them
3) I got married to them for all the wrong reasons
4) I didn't love them
5) I had other aims, objectives, goals, strategies and agendas for marrying them.
If I so have to be honest and open….
The 1st one I got married because the bitch promised me a White Passport. She was Irish. But little did I know the bitch was even worse than a mentally deranged psycho. Why do I say I wasn't in love with her?
Well given the fact that the woman could be described as a Hippopotamus at her slimmest should give you an idea.
The 2nd one – oh boy – don't even start. By far the ugliest woman I have ever married in my life. And why exactly did I marry her? Was I blind? The answer is Yes – I was blinded by my so called Mentor – who was this Fucking Psycho Jesus believer – whom apparently the Holy Spirit spoke to him and told him that I should marry to this ugly contraption.
And before you start to crucify me – let me tell you how beautiful she was.
1) She didn't know how to use the 'modern' toilet as she was from the slums
2) Her whole fucking body had the fucking ordor of smelly arm pits and urine
3) She was the most disgusting and filthy woman I had ever been with
I am however, keeping aside the fact – that she had a good heart.
But then again – who the fuck wants a good-heart when you are unfuckable?
The 3rd wife – well…..let me put it to you this way.
She is the woman because of whom I am what I am today.
She was my best friend, my savior and my redemption.
However, I have to admit sadly – that I had to marry her only and only because I was residing in a Muslim fucking country where the fucking laws simply promulgate the fucking outdated practice – a man and woman MUST be married or else if they are caught even being friends (or staying in the same house even with NO sexual relationships) they will be jailed.
I had to make a few tough decisions and decide to settle down with this woman.
I did try my best with the best of intentions to make the relationship work.
Sadly….and to my most deepest failures – I realized, I wasn't in love with her.
And due to this – I guess I went down the road of being me.
Sleeping around with other women, having sex with other women and trying to feel complete – with other women – even though I was married to this angelically…..good human being.
So then….back to our shitty fucking story….
———————————-
Heartfelt Message Of Peace, Love, Respect & Success
What I Learnt From Having Sex With A Young Prostitute (Contd….)
I ended up divorcing her also.
Why – because I had to move on.
So now….
I moved from the Modern Mad Materialistic Muslim Madness to an Enchanting Eastern Easy-Going Environment.
And over here – I started to build my life from scratch.
But here lies another problem.
I am a fucking loner.
I do not drink alcohol
I do not smoke cigarettes
I do not go to bars
I do not go to pubs
I do not like to socialize
I do not like parties
And I think if you can calculate the equation
That also means – I do not go to whores and prostitutes.
Its not that I consider them bad
But – its just not my thing.
The earliest recollection I had of going to a Prostitute
Was in Dubai when my friend who worked for Emirates Airlines
Decided to give me a surprise on m birthday
And took me to a really nice young Russian Whore.
It was my 1st time and I honestly didn't know what to do
But she was kind enough to let me know that I could relax
And she would do the work.
And given that my friends paid the bill – I didn't have to worry.
And so after I enjoyed the first experience
I was under the mistaken assumption that the 2nd one would be equally good.
Unfortunately, the 2nd was Chinese and all she did was
Spread out her legs and told me to do my thing
In order words – I didn't enjoy it at all.
So then I decided – why not try for the last time
And so I went again
Found another nice location in Dubai
where special services were being provided
Went there – and sadly the Russian lady who provided me
A nice place to keep my hotdog happy
Well – turned out to be once again – a sad story
(She was kidnapped and forced into this trade)
Given the person I was
I realized this wasn't the kind of enjoyment I was looking for
So I made up my mind
Paid Sex – No more.
———————————-
Loy Machedo's Short Movie With RSN8 Productions
—————————
What I Learnt From Having Sex With A Young Prostitute (Contd….)
20 years passed since that day.
And now – I was in Thailand.
A land where every other second business outlet is
A Coffee Shop
A Pub
A Bar
A Tattoo Shop
A Rental Shop
A Massage Shop
A Restaurant
And some of them mix all the above to have a
One-Stop-Shop
So after coming down to Thailand and being a 'good boy'
And not indulging in sex at all
I worked hard in finding a good relationships
And I am glad to say – my hard work did pay off
But in the wrong way and with a big price tag.
The 1st woman – 25 years old – whom I decided to give my heart, soul and whole bank account – successfully conned me of 50% of my savings. And then went back to her abusive Thai Boyfriend.
A logical move I still cannot understand – especially given the fact that she tattooed my name on her chest (I am NOT joking! And the letters 'Loy Machedo' are each1 inch long. Until today I wonder – What the fuck was she thinking!)
Ouch.
The 2nd female, 21 year old, a really nice girl – but absolutely immature and whom had not seen the realities of life – but who wanted free money – well given the fact that I was in my 40's – I knew where this was headed. A painful separation at a later date. So….I choose to break this one up.
Oh one more thing…It didn't come in cheap. I had to give her a good sum of money to go back home.
Double Ouch.
And after making a few other unsuccessful attempts – I kind of realized a painful truth.
There is a certain benefit of having a whore than a girl-friend or at its worse – a wife.
Let me enumerate.
Features of an Eastern Prostitute versus a Foreigner
• USD $43 for the whole night
• Any hole (provided you both agree to it)
• Suck & Fuck anyway you like
• And next day – goodbye
• Very customer oriented
• Friendly as long as you have the money
• A very clearly defined relationship
• No expectations other than money
So that means Prostitute Happy & You Happy
Features of an Eastern Girl-Friend or Wife versus a Foreigner
• Take care of her
• Take care of her children (90% of them have children from their ex-boyfriends as young as when they are 17 years of age)
• Take care of her parents
• Payment of Dowry
• Normal Drama
• Expectations
• Expecting Equal Rights
• And if in case you are headed for a divorce – you lose everything
• And on an average I lost around $3,000 for the one month experience I had
So given my unsuccessful stint at getting the right woman
I thought to myself
Why not just a whore?
Seriously?
I mean all the foreigners whom I met told me the EXACT same thing
It is cheaper and of lesser headache
To get yourself a whore than to get yourself a wife
I thought about it
But then dismissed it
After all – I am a hard nut to crack.
So I went about doing my normal stuff.
However, when you stay alone
For weeks and weeks
And then weeks become months
And then it becomes months and months
Of loneliness and solitude
You snap.
You seriously cannot take it anymore.
And this is what happened to me.
—————————
Coca Cola Features Loy Machedo in its Viral Advertisement
—————————
What I Learnt From Having Sex With A Young Prostitute (Contd….)
There is only so much porn and masturbation one can watch
I started to get fed up of the hand movements holding my penis and wanking myself off every night.
I got fed up of the cybersex chats I was having with all these other lonely women in cyberspace.
I wanted something real.
I mean come on – I wanted some hot woman's mouth sucking on my hard cock
I wanted some hot woman fucking my brains out
I wanted to see, touch and feel some naked woman
I really wanted to get down on a woman and have her go down on me.
But what in the world could I do?
After all – all the women on the dating sites
Were not only chatting with me
They where chatting with 10 men at the same time
Giving all the 10 men the same fucking dialogues
And those 10 men were doing the same shit with 10 other women
So basically – everyone was fucking around with everyone
And given that the women wanted the best deal in town
Richest, Most Secure, Luxurious Spender who could give them
1) A House
2) A secure future
3) A great bank balance
4) A fantastic yearly all expenses paid holiday
5) A good insurance coverage
6) A monthly pay check to her family
7) A good number of expensive toys
8) A show-off advertisement to show their new net worth
And it wouldn't be a problem is the guy was as old as their great-grandfather and was 5 times the size of their body.
The money did the talking.
While the men?
Well since they had to be decent in the societies they came from
They came down to the Eastern world to choose girls who were young enough to be their grand-daughters. After all being a Pedophile is not acceptable in their countries – however over here being one as long as no one caught them – was fine. (Trust me – it is horrifying and frighteningly nothing new. I have personally met so called 'family-trourists' who let me know that they were down here to get girls as young as 9 year old. I shiver with disgust, disrespect and disdain at such human beings whom I wish sometimes – I could hand them over to the law……but then again – I am an expat here myself…..better to mind my own business and stay out of trouble…..so that is why maybe I don't socialize at all.).
So back to our story….
—————————
Loy Machedo Speaks at TEDx Dubai 2011 On Prejudice
—————————
What I Learnt From Having Sex With A Young Prostitute (Contd….)
So I was left with a dilemma…. What do I do?
Hope to find love?
Or like the cheesy corny saying goes
Let love find me?
Or should I go and get myself a nice hole?
I did my best to resist.
I fasted
I started to exercise
I began eating healthy….
Only to realize my horror….
That fasting + exercise + eating healthy
Only shoots up your testosterone
And yes – the end result
Makes you even more horny!
So I tried….
Masturbated once, twice, three times – sometimes four times a day
I indulged myself with 190 GB of porn to the point I got fed up of watching them
I even got fed up of touching myself
After all – I would just cum – but that insatiable and unsatisfactory feeling would linger.
So finally today after being unable to sleep
(unable to sleep for 6 days in a row)
I finally decided – it was time for me to just to do it
A quick glance at the dating, facebook, tinder and social media sites
And I got a list of places where I could go and get some
Much needed relaxation response
However, since it was my so called 1st time
I decided to go and check out the places
At 1am in the dark of the night I drove off with my humble scooter
Going and checking out the various shops
And outlets for the "special service"
I drove and I drove and I drove and I drove
Checked a few
I wasn't quiet sure what to say
But the minute I parked my scooter in front of their establishment
The kind hostess came forward and asked me
Yes – what do you want sir?
I muttered to myself not wanting to sound stupid
She must have understood I was new to this
So she asked me – You want girl?
You want Boom-Boom (which very politely means – You want to fuck?)
To which I would respond yes
And then they would bring out their fresh stock of meat
And I would get to inspect and hopefully choose
The best fish for the day.
To my bad luck
All the fish that was put on display
Was old stock.
So I wasn't too happy
And I went on driving
This continued for literally an hour
But that time I had really gotten fedup
And though of giving up my so called 'search'
When I suddenly saw a "Massage Parlor"
Looked like a decent establishment
I couldn't figure out if it was a
Special establishment or a normal establishment
But I suppose my doubts were put to rest
When a super skimpy young girl
Came forward, held my hand and let me know
She would give me a special massage
I still wanted to be sure that it was 'my special kind of massage'
So I kind of asked her if it was er….Special massage…
To which she responded
Happy Ending.
To which I finally realised – I met The Prostitute .
—————————
Loy Machedo featured on National Television
—————————
What I Learnt From Having Sex With A Young Prostitute (Contd….)
Well…so then I was happy – I guess
Finally I met The Prostitute
I was asked to take a shower
Which I did
Then my Prostitute asked me to lie down
Which I did
And my Prostitute started to massage me
Which I kind of realized
She wasn't specialized in any massage
Because the manner in which she was touching my legs
It felt more like my grandma wiping baby cream on her grandchild
And so – given the fact that I was super frustrated and super fed up
I just told her – can we "boom boom"
To which she said okay
Let me know she was going for a shower
She went for a shower
Came back in her towel
Put the towel away
And became with the customary responses
First was the oil based massage of my little brother
Which – I wasn't too happy about because I realized maybe It was her 1st time….
Or she didn't have much experience
So then I asked her to kindly suck it
To which she was kind enough to oblige
However, given the fact that there wasn't any passion
Just the feeling as if someone was blowing a balloon
With just the lips acting as a cover
I kind of gestured to her that maybe it would be better if we just fucked
To which – she just lay down and invited me to 'jump on board'
I was kind of determined to have a 'romantic sexual experience'
So I tried to 'fake it' as if she was my girl-friend
I tried sucking on her nipples to giving her a French kiss (to which she was shocked to know I had a piercing on my tongue) and well the normal touchy feely stuff. (No I didn't go down on her…that is something I do only with a woman I feel passionate about). So she tired her best to fake it and I was doing my best to imagine it.
But guess what – even after 1 hour….I am not joking….even after 1 hour….I just didn't climax! The poor woman started to get tired and I started to get worried. She even got so tired – she plopped beside me and told me to give her a break. The even pointed at her hips to let me know that spreading her legs wide with me giving those pelvic thrusts – was kind of making her legs sore.
So we took rest….and then I let my Prostitute know – I would tip her well.
(Please note – I am calling her this name – well because I cannot use her name and also for the sake of emphasis & impact)
—————————
Loy Machedo featured on the News
—————————
What I Learnt From Having Sex With A Young Prostitute (Contd….)
To which she brightened up and asked me how much?
So I told – don't worry – I will tip you.
So then she got her spirit back and cooperated with me to make sure I came. And finally – after nearly 90 minutes of struggling – trying my best to imagine all the erotic thoughts on the planet and doing my best to mentally focus on trying to cum – I came.
I was glad.
She was super glad.
And then she went for her shower
And I went for mine.
I tried to have a small conversation with her
But I guess she was more interested in her tip.
Given the fact that I just got relieved – I tipped her 3 times the amount which was supposed to be given to her. After all – I was satisfied 100%. Although – it wasn't the most ideal situation.
But yeah – I got what I wanted and I was happy.
So I tipped her.
She thanked me
And then I went outside, sat on my humble scooter and drove off into the night….
As I was driving the 45 minute drive home…
I thought to myself
Why don't all the countries in the world legalize The Prostitute & Prostitution?
Seriously?
Why don't they?
You have women who have nothing else but a vagina that can bring them 10 times more money than what a normal person would earn – that too for an hour of work. In fact – that woman was kind of making the same amount I would make per hour – although the currency conversion would make me earn 5 times higher.
I seriously feel ( The Prostitute ) Prostitution should not only be legalized
It should be made mandatory in those places where sexual crimes are high
Because when you have sex-starved men satisfied – the legal way
They will stop committing crimes against women.
And then if you take it one step further
Men from those barbaric Abrahamic religions or those outdated fuckall religions who feel the need to get married just to start fucking someone legally – would at least stop getting married. And this in turn would reduce the population of children – especially those with abusive fathers or terrible mothers or broken marriages – where a child is the byproduct of this practice.
I just realized – I felt so relaxed and happy after this episode.
Given how frustrated I was sexually since the past so many weeks
It was a great feeling to have someone act out sexually and help me climax
I was happy
She was happy
And my little boy was happy.
Finally someone was there to suck him, lick him, massage him and fuck him.
Its such a unfortunate thing that a man – no matter how powerful, would be ruled by his tiny little penis and his two small little balls.
As long as we are products of evolution and we have come from animals – this animalistic side of ours will forever prevail.
I think its very necessary for all men out there to have a sexual outlet.
And for all women out there to be given the freedom to be sexual providers
– especially if they are doing it by their own freewill.
I completely enjoyed my sexual paid experience.
And I have nothing but respect for that woman – that woman whom the world calls a Prostitute
I do wish I could be friends with her but given how many men she fucks per day and given how most of them treat her – I doubt she will understand or be able to discern one good intention from all the fake ones.
For me – I have just learnt to accept that Prostitute & Prostitution is a worthwhile contribution and necessity for our society. And all men who go to whores – well are doing all of us a great service.
I for one – I am glad I went.
I don't know if I will go again
But as long as I am single and haven't found the right woman
I think this is a safe and secure way of calming my troubled nerves
And yes – a small little muscle that often rules, clouds and blocks common sense from acting in the right place, at the right time and for the right reasons – simply because….he didn't get wet, hot and satisfied.
So what do you think?
Did you also learn something powerful from this young prostitute?
Let me know.