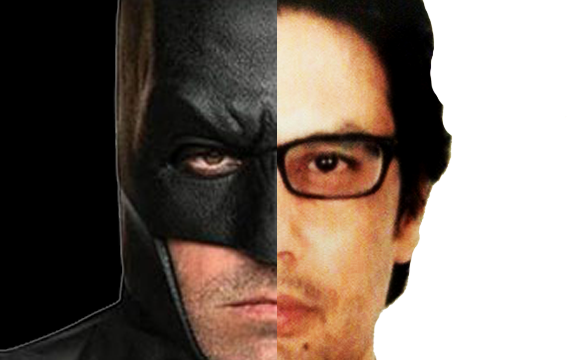 A Superhero Named Mazhar Farooqui
From the Desk of Loy Machedo: A Superhero Named Mazhar Farooqui
The Marvel & DC Franchise has been bringing out
Superhero after Superhero
Each one – A unqiue Brand in its own right
Unique costumes, colors, powers, personalities…..
We love watching these character come to life
And many a times in our deepest darkest fantasies
We too Hope and Pray that we too can
Fly like a Superman or
Have a Batcave like Batman or
Get angry and smash our idiot boss like the HULK
Or become invisible for sometime and get away from our spouses
Sadly, in the real world, there are
No such super-powers
Super-Heroes or Super-Abilities of Sorts.
Because in the real world –
Our reality is sometimes boring and plain as vanilla.
In our real world, the insurmountable Hollywood Styled Villain
Can be the Evil Sinister Credit Card
That is swallowing up all the precious savings per month
It can be a horrible employer who is exploiting you
Simply because you are under his visa
It can be someone you entrusted with everything
And now has betrayed you and left you to suffer and scream and die
And these day to day action sequences are nothing like the Fast & Furious Series
No fast cars, No hot bases, No Pumped Oiled & Gleaming Muslces
Just…..an old, overweight, middle life crisis
In other words – B-O-O-O-R-I-I-N-N-G shit….
Absolutely boring.
There is no uplifting music
No slow motion hero styled walk towards the camera
No CGI effects
And yes – no spandex costume to make you look amazing
However, devoid of all these Hollywood styled imagery
There is hope.
There are some ordinary human beings
Who use their time, effort, talent, mind and heart
To do good for others.
And just like all the super heroes we know
Who like to remain anonymous
These heroes do not wish to be named or exposed
Which is why maybe as a 'self-baptized' undercover writer
(oh well….at least I tried….the designation did sound sophisticated though…)
I decided to 'expose' if you may –
the one superhero I have known for a couple of years.
Now – before you jump to conclusions
Let me be honest.
No – he doesn't have 6 pack abs
No – he does he have good taste in clothes
No – does he look good.
He is….well…he looks likes
Wasim Akram – The Pakistani Cricketer
Alright fine….he doesn't look that good
More like Wasim Akram getting morphed with Stephen Hawking
A bit like that.
But then again…who cares.
He is not getting his profile on Shaadi.com anyways.
So lets talk about my Superhero.
I have had the honor of knowing Mazhar Farooqui by sheer accident.
He got in touch with me when I posted a video about the suicide of a young boy

Due to the pressure of the most useless
Over-rated crappy education system on our planet
The CBSE Indian System of Education.
Later on, he got an article that featured what I wanted to say
And that was dedicated towards helping youngsters like him.
The article was titled
Blogger urges parents schools to stop pressurising students
Ever since that article, I have had several encounters with Mazhar Farooqui
By far one of the most unique individuals on our planet.
What makes his unique?
1. He is forever busy
2. He never responds to your calls
3. He will send you a message – when he is free
4. He is all about work
5. He is forever busy
6. He loves to do for others
7. He loves to remain anonymous
8. He never wants to hear compliments
9. He never responds to your calls
10. He is always talking about the next article
11. He makes his colleagues work to the point they go mad
12. He is forever busy
13. His work ethics is so crazy – I even heard one of his colleagues call him the Steve Jobs of Media Publishing
14. Even though he is supposed to be a big shot Managing Editor – he dresses up simple (If I was in his shoes – I would have ensure my entire wardrobe was GUCCI!)
15. He never responds to your calls
16. And finally…did I mention he is forever busy?
Given what an impact and influence he has had
No just on me but so many others
I thought – hey, why not write an article about this
Superstar of the Ordinary Souls on our Planet
(That didn't sound very…dramatic did it?)
Anyways….
So ladies and gentlemen,
(Drumroll……)
I present to you
(Drumroll……)
The one the only
(Drumroll……)
The Aamir Khan of The Publishing Media
(Drumroll……)
The Salman Khan of Investigative Journalism
(Drumroll……)
The Shah Rukh Khan of Truth & Honesty
(Drumroll……)
Mazhar Farooqui
(Tah-Dah…..)
Applause
Applause
Applause
Now begins my article.
Loy Machedo
The World's #1 Personal Branding Coach
www.LoyMachedo.com
www.whoisLoyMachedo.com
www.ThinkPersonalBranding.Com
———————————————————————
A Superhero Named Mazhar Farooqui
Mazhar Farooqui as Batman
He doesn't want to harm anyone.
He just wants to protect the good people
He wants to destroy the evil doers.
And he will do whatever it takes to destroy them.
And Mazhar Farooqui as Batman targets
Fraudsters, Con-Artists, Evil Doers & Criminals of our society
Mazhar Farooqui as Sherlock Holmes
He dresses up awkwardly
He is pretty eccentric & odd
He is obsessed with what he does
But he see what's others miss out
He observes what others miss
Mazhar Farooqui as Robinhood
He robs from the rich to feed the poor?
Nope. Absolutely not.
But he does steal what is not rightfully yours
The fake fame, the fake glory and the fake respect
And give the power back into the hands of the common man
And he doesn't even take credit for it
Mazhar Farooqui as The Incredible HULK
Mazhar is a mild mannered Father at home
He is a is a gentle harmless human being when interacting with others
However, once the bad guys piss him off
By harming the values he hold dear to his heart
Justice, Humanity, Honesty, Decency and Goodwill
He will be nonchalant.
However, the minute you push his buttons by harming helpless human beings
Mazhar SMAASH!!!
Mazhar Farooqui as Captain America
Where his impenetrable shield is his Integrity
And where like the Blue-Eyes Handsome Avenger
He hold some values close to his heart
And is prepared to die for them
Mazhar Farooqui as Ironman
Where he knows the system and the rules
But he hates the Bureaucracy and the Loopholes
And when it is needed, he is willing
Not to take permission just to do what is right
Because he cannot stand stupidity, injustice and nonsense.
Now having buttered him so much
One would expect him to send me a cheque
Of 1 Gazillion Dollars
Or at least a thank you note….
But….then again….
Given his personality
(Did I mention he is forever busy?)
He would not even bother reading this article
Which I find irritating.
Absolutely irritating.
After all – he is surrounded by articles and articles and articles.
So why the hell am I buttering his ungrateful journalist?
Wait….read on….
Lets balance this article first….
Since I praised him
Let me also bad mouth him.
Does this man have any drawbacks?
Yes of course, he does.
And since this article is meant to expose him
Let me also expose him.
Scandalous Drawbacks of Mazhar Farooqui
His Hairstyle reminds me of Govinda (Bollywood actor)
His taste in fashion is as good as Dev Anand (Dead Bollywood actor)
His personality is as good as a Turtle (Not a Bollywood actor)
And finally, the biggest one of all…
His wife told me…
He is not that big of a Superhero after all.
Apparently, he didn't impress her during the romantic days in college.
Seems he was a bore.
Anyways…back to the story….
For normal people like you and me
He looks normal.
But whose superpowers are
his heart, his kindness
and his willingness to help others
His weapon of choice are his thoughts,
his creativity, his pen-man-ship and his journalistic sense.
But the biggest among all of them is – the 5D's
Drive, Desire, Determination, Discipline & Dedication
Towards spreading the Truth and doing good for humanity.
Mazhar Farooqui has won many awards and accolades
He can brag about it and show off
He can also wear a James Bond Styled Tuxedo
And go to all the so called fake glamorous gatherings
Where he can wine and dine with the Elite of the Elite of the Elite
I am also assuming he must get offered favors and bribes
In the form of gifts and tokens of love
To publish certain articles
(This is a no-brainer given the fact he works for the Media)
Which I know for a fact – he does not entertain
But for a man as influential as him
Lives in a simple apartment in a very small town in UAE
(I have had the honor of visiting his home)
I know for a fact his integrity is way up there….
(Look up at 90 degrees to know where and how up)
If there is anything I marvel about this man
Is the roles he does play.
As a Father – I have never seen anyone more loving to his children
As a Friend – He has helped many – including me when I needed his help
As a Leader – I have heard his colleagues say – he is one of a kind (crazy kind)
As a Journalist – Well his awards and the respect he has in the industry speak for itself
And As a Human Being – He has made this world a better place.
The only limitation I would add…would be as a Husband –
I have heard from sources his wife has a lot of suggestions and ideas
Over how he can improve and become better husband.
(Women are never happy – are they?)
So now the bottomline
What is the point of writing this article about Mazhar Farooqui?
Simple.
He is one of the top journalist in the Middle East
Who deserves his pay in gold
Who should be given greater opportunities
Who should be awarded more challenges
Who must be entrusted with corporate power to
Run a Print Publishing Business
And make it a Global Brand
Based on the values of
Integrity, Truth, Courage & Trust
He is a good man.
Its unfortunate there is only one like him
I have told him and many others who know him
That me – I can never be like him.
Never.
Its not my style to keep helping the world for free
And doing non-stop acts of charity
I have too many selfish goals, dreams and desires
To get into this Mother Teresa's role with a Mahatma Gandhi attitude
I want money, I love power and I want to succeed.
But at the same time
I cannot help but pay my respects to people like Mazhar Farooqui.
Because there are very few like him on our planet
And I know only one like him.
I just hope
If someone out there does read this….
And that someone is Rich, Powerful & Rich & Powerful
And you Mr. Rich & Powerful have to the power and the money to
Give this man enough leverage
To run his own publishing house
Please – do it.
I assure you – he may not mint you millions
But he will create a global brand that will change the world.
And I seriously hope, in this lifetime of mine
I get to see him do this.
Be a Superhero with actual Super-Powers
To change the world.
Loy Machedo
The World's #1 Personal Branding Coach
———————————-
Loy Machedo's Short Movie With RSN8 Productions
—————————
Coca Cola Features Loy Machedo in its Viral Advertisement
—————————
Loy Machedo Speaks at TEDx Dubai 2011 On Prejudice
—————————
Loy Machedo featured on National Television
—————————