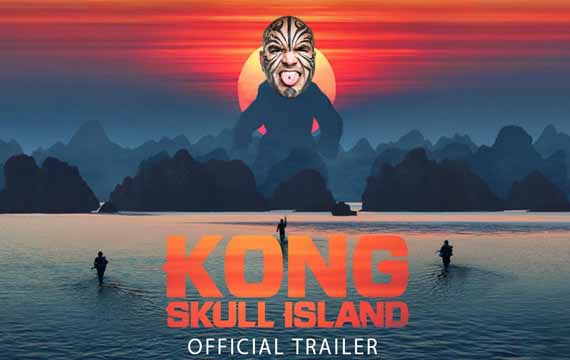 Kong: Skull Island – Loy Machedo's Movie Review
Kong Skull Island – Loy Machedo's Movie Review
In all monster movies, the director has two choices.
Either reveal the monster slowly and gradually,
building up the suspense,
the crescendo and the anticipation so much –
that finally when the audience gets to see it –
they feel those 60 minutes or 90 minutes of waiting –
was absolutely worth it
And then there are the other monster movies
That bring the monster right up into your face
Right upfront.
Examples of these
Slow Reveal –
Jaws (1975)
Godzilla (2014)
King Kong (1933, 1976 and 2005)
Fast Reveal
Deep Blue Sea (1999)
Sharknado (2013)
And now – Kong Skull Island.
"Kong Skull Island," on the other hand,
introduces Kong after less than half an hour,
then keeps him (and lots of other big, scary creatures)
front and center throughout the film's 118-minute running time.
And if you never had your fill
with monster-on-monster screen time –
this movie gives you plenty of this gore fest.
The storyline is pretty simple and straightforward
A team of soldiers and scientists
go on a mission to explore
a mysterious island with explosives,
only to end up getting stranded up there.
And then an all out battle breaks out
between the good monster and bad monsters.
The cast in this movie – by numbers – is huge!
And that is where it does get a bit muddled.
You have
John C. Reilly as a World War II airman
who's been trapped on the island for 28 years;
Tom Hiddleston as a tough, quiet British SAS officer;
Samuel L. Jackson as a Special Forces colonel
who develops an obsession with killing Kong;
Brie Larson a war photographer has no meaning or purpose in this movie;
And John Goodman who believes the earth is hollow
and filled with beasts whose existence predates the dinosaurs.
The monsters and the monster mash up looks amazing!
Everything from the CGI, the effects,
the AV sounds & lightening is so brilliantly designed
and skillfully animated,
they actually make you feel as if
these creatures weight thousands of tons.
I especially loved the effects when Kong drinks water,
fights with the giant octopus and yeah,
and yeah, fights with the oversized pterodactyls.
And if there was one thing that surely stood out –
it was the 70's Vietnam War theme
that has it going through the entire movie.
"Kong: Skull Island" is best viewed
on a huge screen with surround sound,
through a child's forgiving eyes.
The skull bashing, rock smashing,
Octopus Tentacle slurping,
and helicopter bouncing scenes
are some of the best you would ever get to watch.
So if you can leave logic,
common sense and sensibility at home
and go into the theatre with a child like innocence –
trust me Kong Skull Island is a movie
you will watch more than once.
Loy Machedo's Overall Rating
9 out of 10
I seriously fucking loved it!