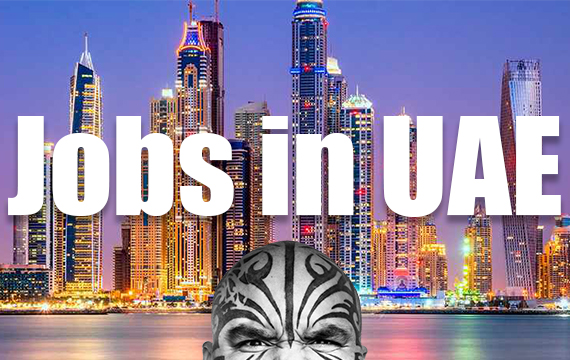 Jobs in UAE May 2020 & June 2020 – UAE Vacancies For The Month Of May 2020 & June 2020
Jobs in UAE May 2020 & June 2020 – IMPORTANT NOTICE &​​ DISCLAIMER
Email your Resume only once
This is a FREE service from my side. Payments have been already made by the clients. You do not (and must not) pay anyone anything for this.
Due to the current COVID-19 crisis – only those present in the UAE will be considered.
You will undergo mandatory tests to ensure compliance with the UAE Laws related to Health
You MUST have a Clean Bill of Health (Certificate)
You shouldn't have any legal issues with the previous company or visa
You must have at least one reference related in the current company who can verify information stated is true or false
Loy Machedo doesn't take any responsibility for your relationship, experience & the outcome of the offers mentioned below.
Any doubts/clarifications – send me an email to loy@loymachedo.com or Whatsapp +66-92-541-4784
***********************
JOBS in UAE For MAY 2020 & JUNE 2020 #1
JOB POSITION: BUSINESS DEVELOPMENT MANAGER
(Electronics, Education & Entertainment)
SALARY: AED 17,000 to AED 22,000 + Commission
REFERENCE: LM/0520/UAE/DXB/BDM-E3

DESCRIPTION:
You will be part of a new consumer goods (Electronics, Education & Entertainment) company that would be based in the Middle East. Right now due to restrictions, certain aspects of the operations are limited to working from home or via video conferencing. However, once restrictions cease – operations will be moving full swing.
So if you are a hungry sales professional who wants to go out to the market and achieve sales numbers, we may be interested in you.
JOB REQUIREMENTS
You are expected to meet your own sales goals & targets while managing the achievement of group sales targets of the team
Expand client portfolio based on geographical regions
Understand the corporate goals, objectives & long-term vision while ensuring short-term goals are met
Target wholesalers & retailers for business growth opportunities
Engage in B2B & B2C business opportunities,
You will report to the Sales Director and your performance will be evaluated every 6 months with opportunities to take on more challenges
Present & propose ideas and strategies with an out-of-the-box approach
REQUIREMENTS
Smart, dynamic, presentable, confident, articulate, ambitious & hungry for sales numbers
10 years proven track record
Background in B2B & B2C sales and experience in dealing with Wholesalers & Retailers
Bachelors Degree is mandatory
A drivers license is mandatory
Once the Covid-19 restrictions reduce – there will be extensive travelling involved.
Email Resume to loy@loymachedo.com with job reference in the subject line.
**********************************
JOBS in UAE For MAY 2020 & JUNE 2020 #2
JOB POSITION: OFFICE SECRETARY
SALARY: AED 3,000 + Transportation + Visa provided
REFERENCE: LM/0520/UAE/RAK/OS-AJ
DESCRIPTION:
Attend phone calls, emails, correspondences, walk-in-patrons, service providers, and manage the reception area.
Manage the attendance of employees, manage petty cash, maintain vehicles records, manage drivers and staff
Manage the appointments of the director and official correspondences.
Manage office upkeep, manage the stationery & office upkeep
REQUIREMENTS
5 years of secretarial experience
Diploma or higher education
Computer skills, Written & verbal communication
Must be smart, intelligent, proactive & strong-willed
Must have a pleasant personality
IMPORTANT
The client is particular about the following requirements
Women on husbands/father's visa need not apply as the company is looking to invest their resources in someone who will stick with them for at least 3 years.
No personal calls or use of social media is permitted during office hours
Punctuality & Leadership Discipline is paramount
Straight shift, 5 days a week job
Email Resume to loy@loymachedo.com with job reference in the subject line.
**********************************

JOBS in UAE For MAY 2020 & JUNE 2020 #3
JOB POSITION: TRAINER & HR DEVELOPMENT OFFICER
SALARY: AED 6,000 all inclusive
REFERENCE: LM/0520/UAE/SHJ/THR-V
DESCRIPTION:
A medium-sized privately owned company with a family atmosphere is looking to employ the services of a Professional Trainer, Speaker & Communicator who can teach, train & develop the in-house staff of its company.
ROLES & RESPONSIBILITIES
Conduct daily 60 mins classes to help develop employee skills in public speaking, personality development & self-improvement skills
Create modules & course for different departments of the company to help sharpen their skills
Ensure engagement, employee growth, loyalty & sense of responsibility towards the company.
REQUIREMENTS
You should be well informed in terms of the latest books, audio programs & video learning modules
You should be passionate about learning & teaching others
You will prepare modules and courses which will not only be taught in-house but later on will be uploaded online to the company library & marketed outside if and when the need arises
You must be very good at speaking, communicating ideas & have the ability to write & communicate effectively.
IMPORTANT
Degree is mandatory
Public Speaking Credentials & Experience
You must have additional certifications related to courses on Self-Development
As part of the interview process, you will be required to conduct a 1-hour training program in front of the staff
Only Candidates above the age of 40 need apply.
The employment contract contains a non-competitive & confidentiality clause
Email Resume to loy@loymachedo.com with job reference in the subject line.
**********************************

JOBS in UAE For MAY 2020 & JUNE 2020 #4
JOB POSITION: Marketing Executive For Chinese Brand
SALARY: AED 5,000 to AED 8,000 for the right candidate
REFERENCE: LM/0520/UAE/DXB/ME-JA
DESCRIPTION:

Company is looking for an Indian Executive, age 25 to 35, with drivers license & pleasing personality to represent the company as its representatives. The company deals with Chinese based goods & products which will be marketed & sold to buyers across the middle east.
Job profile will include creating new channel partners, sales partners, handling sales calls, dealing with customers (wholesale & retail), handling product deliveries & collection of payments.
Great opportunity for someone who is looking for a career in sales.
Please send a properly updated resume along with salary expectations.
IMPORTANT
Must have a diploma or degree.
Should be articulate & smart in dealing with people
Must have good sales & negotiation skills
3 to 5 years experience is necessary
Having knowledge of multiple languages is an added advantage
Should know how to handle client objections & rejections while being focused on achieving monthly targets
A company vehicle is provided. However, Salik, fines & petrol should be borne by the candidate.
Email Resume to loy@loymachedo.com with job reference in the subject line.
**********************************

JOBS in UAE For MAY 2020 & JUNE 2020 #5
JOB POSITION: PROPERTY SALES CONSULTANT
SALARY: AED 4,000 + Very Attractive commission structure + Company provided accommodation
REFERENCE: LM/0520/UAE/DXB/PC-ED
DESCRIPTION:

A medium-sized company with a few properties under its portfolio that has been having a small but stable customer base due to its fair & ethical business practices. Is looking for a trust-worthy salesperson to join its small team.

REQUIREMENTS
Enthusiastic, Energetic & Engaging sales executive with knowledge in the Property market.
Must be smartly dressed & have impeccable manners
Should be articulate in selling
Must have a tough-mental attitude, be well-read & intelligent
WHAT WE WILL HELP YOU WITH
Training provided to help you understand the nuances of the property market
Leads provided by the company
RERA Training and Card
Attractive commissions for big closes.
IMPORTANT
Must have a passion & drive for selling
Bachelors degree
Driver's License is mandatory
Email Resume to loy@loymachedo.com with job reference in the subject line.
**********************************

JOBS in UAE For MAY 2020 & JUNE 2020 #6
JOB POSITION: EXECUTIVE SEARCH CONSULTANT
SALARY: AED 8,500 + Allowance
REFERENCE: LM/0520/UAE/DXB/EE
DESCRIPTION:

Executive Search Consultant
Newly formed HR company is looking for consultants to join their team.

ROLES & RESPONSIBILITIES
Research talent & collect data through online & offline resources
Interview candidates and evaluate their skills
Recommend various training, solutions & strategies to not only enhance the candidate skills but also to ensure that they are prepared for being presented to the right clients
Meet with decision-makers in the corporate world and recommend solutions
You will also be required to conduct training sessions & presentations.
IMPORTANT
You must possess the enterprising aura to be able to communicate with C-suite executives.
Training will be provided
Preference for candidates above the age of 30
Candidates with a degree + strong communication skills + drivers license only need apply
Email Resume to loy@loymachedo.com with job reference in the subject line.
***********************
RECOMMENDED YOUTUBE LINKS
***********************
UAE Job Vacancies For The Month Of March 2020
About Me: http://whoisloymachedo.com/
Other Services: http://thinkpersonalbranding.com/