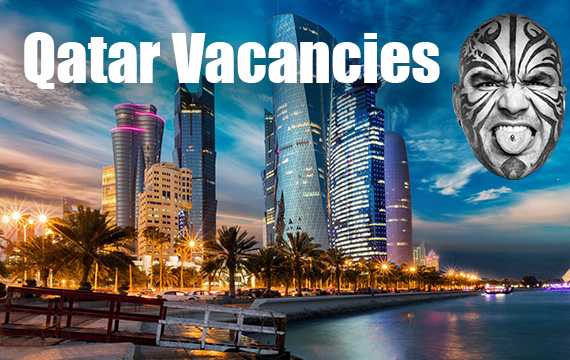 Job Vacancies in Qatar June & July 2020
IMPORTANT NOTICE &​​ DISCLAIMER
This is a FREE service from my side. Payments have been already made by the clients. You do not (and must not) pay anyone anything for this.
Email your Resume only once
Due to the current COVID-19 crisis – local & international restrictions/rules will apply
You will undergo mandatory tests to ensure compliance with the Laws related of Health-related to your country/country of employment
You MUST have a Clean Bill of Health (Certificate)
You shouldn't have any legal issues with the previous company or visa
You must have at least one reference related in the current company who can verify information stated is true or false
Loy Machedo doesn't take any responsibility for your relationship, experience & the outcome of the offers mentioned below.
Any doubts/clarifications – send me an email to loy@loymachedo.com or Whatsapp +66-92-541-4784
***********************
Job Vacancies in Qatar 
***********************************

Job Vacancies in Qatar  #1
JOB POSITION: PSYCHIATRIC NURSE /SPECIALIST
SALARY: Please State Salary Expectations In The Covering Letter
REFERENCE: LM/DQ/200620/SC12PN
VACANCY INFORMATION
Minimum 2 Years experienced in the same department.
Interested candidates please forward your Academic and experienced documents.
Candidates should have a NOC
Transferable visa with valid QID.
Please email the following
CV (With photo)
Degree/ Diploma Certificate.
Transcript.
Registration.
Final Year Mark List.
Prometric Certificate.
Experience Certificate.
Passport Copies
Email Resume to loy@loymachedo.com
************************
Job Vacancies in Qatar  #2
JOB POSITION: 
JOBS in QATAR
JOB POSITION:
SALARY: QR 25,000 to QR 30,000
REFERENCE: LM/DQ/200620/MEP5D
VACANCY INFORMATION
MEP Project Manager for an MEP Company
Nationality – Indian/Jordanian
Must have more than 20 Years experience
Email Resume to loy@loymachedo.com
************************
Job Vacancies in Qatar  #3
JOB POSITION: SENIOR ELECTRICAL ESTIMATOR
SALARY: QR 15,000
REFERENCE: LM/DQ/200620/EED79
VACANCY INFORMATION
Nationality – Indian/Srilankan/Filipino
Must have more than 10 Years Experience
Email Resume to loy@loymachedo.com
************************
Job Vacancies in Qatar  #4
JOB POSITION: MEP QUANTITY SURVEYOR 
JOB POSITION: MEP QUANTITY SURVEYOR
SALARY: QR 8,000 to QR 10,000
REFERENCE: LM/DQ/200620/MEP00A1
VACANCY INFORMATION
Nationality – Indian/Srilankan/Filipino
Must have more than 7 Years Experience
Email Resume to loy@loymachedo.com
************************
Job Vacancies in Qatar  #5
JOB POSITION: SENIOR ENGINEER – HSE
SALARY: Please State Salary Expectations In The Covering Letter
REFERENCE: LM/DQ/200620/QVHSE088
VACANCY INFORMATION
Candidate should be locally available in Qatar with Visa Transfer
Minimum 15 years in managing HSE in larger projects
10 Years as project HSE manager is preferable
Engineering graduate
NEBOSH IGC
IOSH Managing Safety
Lead Auditor in ISO 45001/OHSAS 18001
(IDip NEBOSH or equivalent to NVQ6 is preferable)
Email Resume to loy@loymachedo.com
************************
Job Vacancies in Qatar  #6
JOB POSITION: SITE ENGINEER (MECHANICAL)
SALARY: Please State Salary Expectations In The Covering Letter
REFERENCE: LM/DQ/200620/SEM/32
VACANCY INFORMATION
Engineering Degree in Mechanical
Minimum 10 to 15 Years
Piping works – Stainless steel, GRP, DI, Welding.
Pump erection & Commissioning
Interface with Ashghal and Consultant
Managing the workforce of 30 to 40 Manpower
Structural Steel fabrication and installation
Waste Water Plant or Sewage Treatment Plant experience added advantage
Capable to manage the workforce and work independently at Site
UPDA Added advantage
Must be locally available and NOC mandatory.
Along with the Resume please send the following QID copy, Experience certificates & UPDA
Email Resume to loy@loymachedo.com
************************
Job Vacancies in Qatar  #7
JOB POSITION: QC Engineers & QC inspectors
SALARY: Please State Salary Expectations In The Covering Letter
REFERENCE: LM/DQ/200620/ARC/4498
VACANCY INFORMATION
Bachelor degree in Architect or Civil
3 years' experience in the construction field, worked at least 2 years in the Gulf area
Finishing/civil experience
Aware of the Quality control procedures
Experience in reviewing the Method statements, ITP
Aware of the inspection requests procedures
Aware of the Non- conformance reports
Computer skills (office program very good)
Email Resume to loy@loymachedo.com
************************
Job Vacancies in Qatar  #8
JOB POSITION: STEEL STRUCTURAL INSPECTOR
SALARY: Please State Salary Expectations In The Covering Letter
REFERENCE: LM/DQ/200620/SSI/02
VACANCY INFORMATION
Bachelor degree in Mechanical/Civil
5 years' experience in steel structural construction field, worked at least 2 years in the Gulf area
Approved inspectors for welding
Aware of the different methods of welding
Aware of the Quality control procedures
Aware of the inspection requests procedures
Email Resume to loy@loymachedo.com
************************
Job Vacancies in Qatar  #9
JOB POSITION: OPERATIONS MANAGER
SALARY: Please State Salary Expectations In The Covering Letter
REFERENCE: LM/DQ/200620/OMQ1
VACANCY INFORMATION
In-charge of daily operations
Focus on all aspects of the day-to-day activities
Focus on the highest brand and quality standards
Maximize the revenue of the business
Stock control & Budgeting
Valid QID and transferable
Ready to join immediately
Must have at least 5 years F&B operation management experience
Has strong operational, managerial, leadership, analytical, decision making, sales and customer service skills
Strong communication and interpersonal skills
Email Resume to loy@loymachedo.com
************************
Job Vacancies in Qatar  #10
JOB POSITION: SITE ENGINEER (SUPERVISOR)
SALARY: Please State Salary Expectations In The Covering Letter
REFERENCE: LM/DQ/200620/SSS/Q1
VACANCY INFORMATION
Experience in Project management, supervision & resource management
Bsc. Civil Engineer/Architecture
Locally available and ready to join immediately.
7 years' experience
Send with updated CV & certificates to loy@loymachedo.com
************************
Job Vacancies in Qatar  #11
JOB POSITION: PAYROLL ASSISTANT
SALARY: Please State Salary Expectations In The Covering Letter
REFERENCE: LM/DQ/200620/PA/6
VACANCY INFORMATION
Maintaining, updating and monitoring employee work schedule in Bio-time system.
Collect and verify timekeeping information for all employees.
Investigate and resolve any discrepancies in payroll attendance.
Prepare and collect adjustments after payroll.
Deal with complaints and questions regarding payroll (attendance) from employees.
Calculate overtime, late, and absent per employee based on bio-time attendance.
Consolidating the medical certificate and manual attendance by monthly wise.
Ensure all overtime form have proper signatures upon submission.
Keep track of leave, such as vacation, personal, and sick leave.
Email Resume to loy@loymachedo.com
************************
Job Vacancies in Qatar  #12
JOB POSITION: FINANCE MANAGER
SALARY: Please State Salary Expectations In The Covering Letter
REFERENCE: LM/DQ/200620/FM/71
VACANCY INFORMATION
15 yrs of accounting experience in EPC/Mfg. environment
Working experience with IFRS
Operational knowledge of Business Intelligence tools (BI)/KPI
Working knowledge in SAP ERP.
Bachelors in Commerce and/or CA/ICWA/CPA
Preference for Local candidates available in Qatar with a transferable Visa, locally with a transferable visa
Email Resume to loy@loymachedo.com
************************
Job Vacancies in Qatar  #13
JOB POSITION: DOTNET/SHAREPOINT DEVELOPER
SALARY: Please State Salary Expectations In The Covering Letter
REFERENCE: LM/DQ/200620/DD834
Email Resume to loy@loymachedo.com

************************
Job Vacancies in Qatar  #14
JOB POSITION: ORACLE FUSION IMPLEMENTATION CONSULTANT
SALARY: Please State Salary Expectations In The Covering Letter
REFERENCE: LM/DQ/200620/OFIC-QV
VACANCY INFORMATION
Work closely with end-users on a daily basis to understand their needs, support business change and adopting Oracle Fusion ERP to its fullest.
Assist in defining and optimizing simple yet effective business processes and drive change within the organization through negotiation and consensus-building.
Provide hands-on functional & configuration support for implemented ERP modules.
Support the project team for the successful delivery of the business requirements through all phases of the implementation
Ensure system implementations meet high-quality standards and outstanding functional/ technical issues are prioritized and resolved.
Email Resume to loy@loymachedo.com
************************
Job Vacancies in Qatar  #15
JOB POSITION: PROFESSIONAL PHOTOGRAPHER
SALARY: Please State Salary Expectations In The Covering Letter
REFERENCE: LM/DQ/200620/Photo
VACANCY INFORMATION
Please share your work portfolio (links) along with the Resume
Email Resume to loy@loymachedo.com 
************************
Job Vacancies in Qatar  #16
JOB POSITION: HR OFFICER
SALARY: Please State Salary Expectations In The Covering Letter
REFERENCE: LM/DQ/200620/HRO1
VACANCY INFORMATION
3 to 4 years of experience
Good Team Player
Knowledge of F&B Industry
Nationality- Indian, Srilankan, Nepal, Bangladesh
Email Resume to loy@loymachedo.com
************************
Job Vacancies in Qatar  #17
JOB POSITION: HSE MANAGER
SALARY: Please State Salary Expectations In The Covering Letter
REFERENCE: LM/DQ/200620/HSEM
VACANCY INFORMATION
Bachelors in Engineering/Science or equivalent (NEBOSH Dip., Level6)
10 yrs of experience as a HSE Manager, preferably in Roads & Infrastructure
State professional qualifications
Email Resume to loy@loymachedo.com 
************************
Job Vacancies in Qatar  #18
JOB POSITION: SITE ENGINEER
SALARY: Please State Salary Expectations In The Covering Letter
REFERENCE: LM/DQ/200620/SEQ01

VACANCY INFORMATION
Bsc. Civil Engineer/Architecture
7 years' experience
Mention projects worked upon
Must provide references on projects worked
Email Resume to loy@loymachedo.com 
************************
Job Vacancies in Qatar  #19
JOB POSITION: FIRE & GAS SUPERVISOR
SALARY: Please State Salary Expectations In The Covering Letter
Visa, Ticket, Accommodation, Food, Transport shall be provided by company.
REFERENCE: LM/DQ/200620/F&GS

VACANCY INFORMATION
NATIONALITY – Indian/Indonesia/Filipino/Pakistani
S.S.C or equivalent.
Instrument Trade Certification.
5 to 7 years experience in Oil and Gas Plants working in Fire and Gas Systems/Detectors and Field Instrumentation/Valve overhaul.
Well versed with Safety procedures and work experience in various types of detectors, Instruments and Systems.
Proficient in spoken and written English.
Locally available candidates with NOC preferred.
Email Resume to loy@loymachedo.com 
************************
Job Vacancies in Qatar  #20
JOB POSITION: PROCUREMENT OFFICER
SALARY: Please State Salary Expectations In The Covering Letter
REFERENCE: LM/DQ/200620/PO9-1
VACANCY INFORMATION
5 years of experience in Oil and Gas, Shut Down projects
Bachelor's Degree in Business Administration
Must have worked closely with the cross-functional department from sending quotations, processing and delivering the required service/orders
Experience in providing pre and post order support to customers. eg: Quotations, Lead-time check, claim to process
Research potential customer information to facilitate sales of logistics products and services
Email Resume to loy@loymachedo.com 
************************
Job Vacancies in Qatar  #21
JOB POSITION: GIS SURVEYOR (KHARAMA PROJECT)
SALARY: Please State Salary Expectations In The Covering Letter
REFERENCE: LM/DQ/200620/GSKP-93

VACANCY INFORMATION
Valid QID + Qatar Driving License
Diploma or Degree in Civil Engineer
5 years experience in the relevant field.
Email Resume to loy@loymachedo.com 
************************
Job Vacancies in Qatar  #22
JOB POSITION: VARIOUS for KHARAMA PROJECT
SALARY: Please State Salary Expectations In The Covering Letter
REFERENCE: LM/DQ/200620/VKP

VACANCY INFORMATION
1. Project Manager
2. Engineering Manager
3. Sr. Project Engineer
4. HSE Advisor
5. Procurement Manager
6. Construction Manager
7. Installation Manager
8. Commissioning Manager
9. Interface Manager
10. Lead Construction Supervisors
11. Document Controller
12. Lead Structural Engineer
13. Lead Civil
14. Lead Process Engineer
15. Lead Instrumentation Engineer
16. Lead Electrical Engineer
17. Lead Construction Engineer
18. Lead Loss Prevention Engineer
19. Sr. Structural Engineers
20. Sr. Civil Engineers
21. Sr. Process Engineers
22. Sr. Instrumentation Engineer
23. Sr. Electrical Engineer
24. Sr. Construction Engineers
25. Sr. Loss Prevention Engineers
26. Sr. Environmental Engineers

Please email Resume + Experience & Educational Certificates to loy@loymachedo.com 
************************
Job Vacancies in Qatar  #23
JOB POSITION: Typist/Data Entry Executive
SALARY: Please State Salary Expectations In The Covering Letter
REFERENCE: LM/DQ/200620/Typist

VACANCY INFORMATION
2 years experience
Knowledge in English + another language (Written & Spoken)
Knowledge in Hukoomi ServicesEmail Resume to loy@loymachedo.com 
************************
Job Vacancies in Qatar  #24
JOB POSITION: Translator
SALARY: Please State Salary Expectations In The Covering Letter
REFERENCE: LM/DQ/200620/Translator

VACANCY INFORMATION
2 years experience
Knowledge of spoken & written at least 2 languages including Arabic
Email Resume to loy@loymachedo.com 
************************
Job Vacancies in Qatar  #25
JOB POSITION: PAYROLL + ADMINISTRATOR
SALARY: Please State Salary Expectations In The Covering LetterREFERENCE: LM/DQ/200620/PAA

VACANCY INFORMATION
Maintaining, updating and monitoring employee work schedule in Bio-time system.
Collect and verify timekeeping information for all employees.
Investigate and resolve any discrepancies in payroll attendance.
Prepare and collect adjustments after payroll.
Deal with complaints and questions regarding payroll (attendance) from employees.
Calculate overtime, late, and absent per employee based on bio-time attendance.
Consolidating the medical certificate and manual attendance by monthly wise.
Ensure all overtime form have proper signatures upon submission.
Keep track of leave, such as vacation, personal, and sick leave.
Resolves timesheet discrepancies by collecting and analyzing information.
Verify attendance, hours worked, late, no punching and absent.
Communicate with employees regarding their work schedule, absent, missing hours and leave.
Prepare and submit reports with attendance information to finance manager.
Entering data and creating summary of payroll monthly wise.
Email Resume to loy@loymachedo.com 
RECOMMENDED YOUTUBE LINKS
***********************
UAE Job Vacancies For The Month Of March 2020
About Me: http://whoisloymachedo.com/
Other Services: http://thinkpersonalbranding.com/