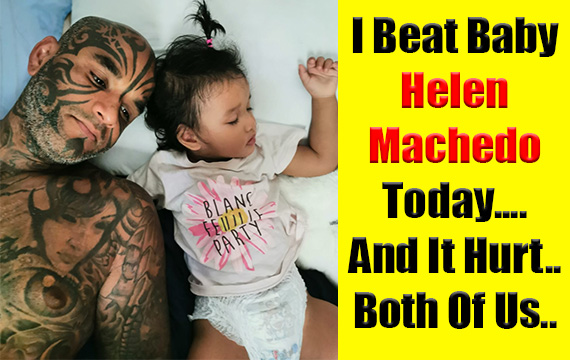 I Beat My Little Baby Helen Machedo Today….And It Hurt…Both Of Us
I beat my little baby girl Helen Machedo today.
It was one of those days where everything that could go wrong – went wrong. Got an asshole potential clients – not one but 3 , cancelled payment because of the banks fault, my baby dropped my ipad and cracked it, then she tore a book (no idea where she got it from), then my wife messed up my lunch, then she forgot to get me the ingredients for my dinner, then when speaking to my VIP client my baby was screaming throughout, then I got a bad headache and decided to sleep. I went to sleep only to be woken up with my baby and wife BOTH screaming at each other. Then I sat down with all that screaming that I could hear in my room. Then I went heated something from the fridge, only to have my kid screaming louder and louder. Finally, I just snapped, I went to the kid and shouted 'NO' and then gave her a the 'beating'.
Now – even though the beating consisted of one 'pat' – my baby girl knew it wasn't the normal 'pat' that I give her. She began sobbing painfully rubbing the left arm to let me know where I hit her. She hugged the corner of the cupboard sobbing.
Angrily I went to my room and sat with my now 'not-hot-anymore' dinner. I could still hear her sobbing. I went again, still angry. But this time I saw her sobbing. But now afraid. And alone.
Wifey was upset as she was also frustrated but hurt with what happened. She was washing the dishes – trying to not to baby Helen any attention, so as to let her know, she was in the wrong.
I looked at Baby Helen.
She looked at me still sobbing.
Still rubbing her arm.
It was hurting.
I went to her.
Picked her up.
She was still sobbing and gasping for air with each sob.
I took her and showed her toys.
Showed her favorite hangout joint – my brightly light room and the books. I showed her the books which she always loved to remove and assemble.
She climbed down my hips, went to my library and once again began her happy assignment – removing all my books and assembling them…while still sobbing and gasping for air…but now irregularly.
Soon, she was once again happily doing what she always does – making a mess of my house. I sat there letting her do her thing while my wifey put the bedding for her to get ready to sleep.
I carried her with a few of my books and then put her in her space.
After sometime she went off to sleep.
I lay next to her exhausted but unable to sleep.
I got up silently.
Went into my room.
Sat on my chair.
Now sitting in front of my ice cold dinner typing this incident.
Its tough being a father.
Its even harder to be a good father.
So many times, my patience, my tolerance and my silence is tested to the point, I think of violent, angry and even scary thoughts of discipline, beatings and shoutings. Sometimes I seriously want to scream at the top of my lungs, smash the computer, break the furniture and shout at this little creature. But even in my imagination when I see her looking at me – those big eyes, those chubby cheeks, that innocent expression… and I honestly don't want to hurt that little creature.
But then whom do I go to, where do I go and at whom do I vent out this anger? How long can I bottle up my emotions? What if I explode at the wrong time?
What will I do then?
And then my thoughts go off to images of the past… me getting violently beaten up by an abusive step-father. Beaten, Bruised, Battered and Bloodied…. And I immediately shudder and step out of that dark past….
I am not going to be that man…. I am not going to be that maniac… I am not going to be that monster…. I am not going to be that….
I will be what I need to be.
A loving, caring and understanding dad.
Its going to be hard.
But I need to be a good father to this little baby girl.
Its not her fault.
After all, who else does she have? Whom else will she go to? Whom will she open up to? Who can she communicate with? And….who knows…what she is trying to tell me.
Maybe she wants to tell her Papa… me… that she wants to be with me?
Maybe she wants to tell me….she wants to play with me?
Maybe she just wants to tell me…she loves me?
But she cannot articulate those words.
The only thing she can do…is scream for my attention.
As I lay there with my little one, I reflected on my actions.
I dont want to say I am ashamed.
Neither do I want to say that I regret them.
I did what I had to bring sanity in the house.
And I had to.
Baby Helen had to realize, getting my attention by screaming wasn't the right way. There are other ways to do it. And we both – both me and baby Helen will have to figure out what they are. We both will have to design our relationship where it makes sense to us both. After all – we both are new to it.
Its my first time.
Its also hers.
We both are new to this.
So it will take time to understand each other.
However, even though I am the 'big' Papa, I don't want to do or say anything that would hurt her.
If anything – it hurts me to know I hurt her.
But it was necessary to give her that 'pat' and discipline her.
I am not happy about it.
Neither am I proud about it.
Nor do I wish to do it again.
But discipline is required.
Even though it hurt me more than it did hurt Baby Helen.
But this is the life of being a Papa… A Father… Of little baby Helen.
I'm not perfect but I will do my best
To be her Papa Loy Machedo.
30th December 2019
3:18 am
PS – I will eat the rest of my ice cold dinner now and try to get some sleep.