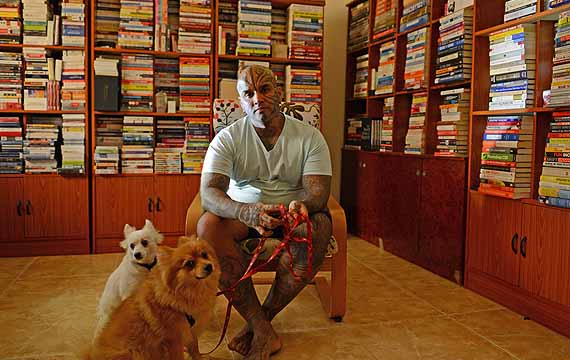 Educational Videos Watched By Loy Machedo On Wednesday, 11th January 2017
From the desk of Loy Machedo:
People always ask me
How is it you know so much
When you are a school dropout?
Or at times they ask me
How do you manage to have so much knowledge
When there is so less time?
Well – the answer is simple
I watch educational programs
Educational videos
and Educational MP3's
Almost all the time.
Here are a list of videos I watched today
The fact of the matter is simple
You need to keep yourself free
And give yourself the time
To read, study and to learn.
If you do that – chances are
You will be even more better
Than those whom you consider
"Highly Educated"
Loy Machedo
The #1 Brand Coach In The Middle East
**************************************
Elon Musk – The Story of The Real Iron Man
Aug. 3 (Bloomberg) — "Bloomberg Risk Takers" profiles Elon Musk, the entrepreneur who helped create PayPal, built America's first viable fully electric car company, started the nation's biggest solar energy supplier, and may make commercial space travel a reality in our lifetime. (Source: Bloomberg)
**************************************
How to become a memory master | Idriz Zogaj | TEDxGoteborg
Idriz is passionate about teaching others how to improve their memories and believes that with the right practice, almost everyone can get a super-memory.
**************************************
From the EG conference: Productivity guru Tim Ferriss' fun, encouraging anecdotes show how one simple question — "What's the worst that could happen?" — is all you need to learn to do anything.
Tim Ferriss is author of bestseller The 4-Hour Workweek, a self-improvement program of four steps: defining aspirations, managing time, creating automatic income and escaping the trappings of the 9-to-5 life.
Why you should listen
Tim Ferris brings an analytical, yet accessible, approach to the challenges of self-improvement and career advancement through what he calls "lifestyle design." His 2007 book, The 4-Hour Workweek, and his lectures on productivity are stuffed with moving, encouraging anecdotes — often from his own life — that show how simple decisions, made despite fears or hesitation, can make for a drastically more meaningful day-to-day experience at work, or in life.
Word-of-blog chatter in Silicon Valley may have propelled his book to bestselling success, but Ferriss himself takes a fervid stance against the distractions of technologies like email and PDAs, which promote unnecessary multitasking.
Following the success of his book, Ferriss has become a full-time angel investor.
What others say
"[Ferriss] has become a pet guru of Silicon Valley, precisely by preaching apostasy in the land of shiny gadgets: just pull the plug. Crawl out from beneath the reams of data. Stand firm against the torrent of information." — The New York Times
Tim Ferriss reveals what he's learned about the routines and day to day lives of billionaires and business titans.
There are only 24 hours in a day. Here's how the best-selling author and serial entrepreneur uses his.
**************************************
Prodigy hyper-polyglot Tim Doner has been teaching himself languages since he was 13. He now speaks nearly 20 languages! Join Tim on a cultural tour of New York unlike any you've ever heard!
**************************************
TEDxSanAntonio – Benny Lewis – Fluent in Three Months – Rapid Language Hacking
**************************************
Joshua Foer is a science writer who 'accidentally' won the U.S. Memory Championship & Why you should listen
There are people who can quickly memorize lists of thousands of numbers, the order of all the cards in a deck (or ten!), and much more. Science writer Joshua Foer describes the technique — called the memory palace — and shows off its most remarkable feature: anyone can learn how to use it, including him.
In 2005 science writer Joshua Foer went to cover the U.S. Memory Championship. A year later he was back — as contestant. A year of mental training with Europe's top memorizer turned into a book, Moonwalking with Einstein, which is both a chronicle of his immersion in the memory culture and wonderfully accessible and informative introduction to the science of memory. Much more surprisingly, that year of training also turned into a first-place victory at the national competition in New York and the chance to represent the U.S. at the World Memory Championship. Foer's writing has appeared in National Geographic, Slate, the New York Times, and other publications. He is the co-founder of the Atlas Obscura, an online guide to the world's wonders and curiosities, and is also the co-founder of the design competition Sukkah City.
What others say
"Memory training is not just for the sake of performing party tricks; it's about nurturing something profoundly and essentially human." — Joshua Foer
**************************************
The art of memory: Daniel Kilov at TEDxMacquarieUniversity
Hav­ing strug­gled with orga­ni­za­tional skills as a symp­tom of his poor mem­ory all through high school, Daniel sought out meth­ods to improve his mem­ory. It was then that he dis­cov­ered the "Art of Mem­ory", a loosely asso­ci­ated group of mnemonic prin­ci­ples and tech­niques used to orga­nize mem­ory impres­sions, improve recall, and assist in the com­bi­na­tion and 'inven­tion' of ideas. These tech­niques are some­times referred to as mnemotech­nics, and are employed by mem­ory ath­letes to per­form remark­able feats of learning.
Shortly after­wards, Daniel sought out Australia's most suc­cess­ful mem­ory ath­lete, Tansel Ali. Daniel was trained pri­vately by Tansel and at the 2011 Aus­tralian Mem­ory Cham­pi­onships Daniel man­aged to secure sec­ond place behind his coach and men­tor, and third place in the com­pe­ti­tion over­all. He also broke the Aus­tralian record for the abstract images event and is the offi­cial holder of that record, hav­ing mem­o­rized the order of 99 abstract shapes.
Daniel now espouses the value of mem­ory tech­niques as a poten­tial rev­o­lu­tion in edu­ca­tion, both in the tra­di­tional sense of the word and, because as a mat­ter of his­tor­i­cal fact, the art of mem­ory formed the cor­ner­stone of edu­ca­tion from the time of the Ancient Greeks, up until the renais­sance. When we use mem­ory tech­niques, we revolve back to the ancient and effec­tive art of learn­ing, mem­o­riz­ing and composition.
**************************************
Peter Doolittle: How your "working memory" makes sense of the world
"Life comes at us very quickly, and what we need to do is take that amorphous flow of experience and somehow extract meaning from it." In this funny, enlightening talk, educational psychologist Peter Doolittle details the importance — and limitations — of your "working memory," that part of the brain that allows us to make sense of what's happening right now.
**************************************
Sleep Drives Metabolite Clearance from the Adult Brain
A study by University of Rochester Scientists in the journal Science reveals that the brain's unique method of waste removal — dubbed the glymphatic system — is highly active during sleep, clearing away toxins responsible for Alzheimer's disease and other neurological disorders. Furthermore, the researchers found that during sleep the brain's cells reduce in size, allowing waste to be removed more effectively. This revelation could transform scientists' understanding of the biological purpose of sleep and point to new ways to treat neurological disorders.
**************************************
Why do we sleep? | Russell Foster
Russell Foster is a circadian neuroscientist: He studies the sleep cycles of the brain. And he asks: What do we know about sleep? Not a lot, it turns out, for something we do with one-third of our lives. In this talk, Foster shares three popular theories about why we sleep, busts some myths about how much sleep we need at different ages — and hints at some bold new uses of sleep as a predictor of mental health.
**************************************
Anki: What it is, how to use it (to learn a language)
**************************************
The first 20 hours — how to learn anything | Josh Kaufman | TEDxCSU
Josh Kaufman is the author of the #1 international bestseller, 'The Personal MBA: Master the Art of Business', as well as the upcoming book 'The First 20 Hours: Mastering the Toughest Part of Learning Anything.' Josh specializes in teaching people from all walks of life how to master practical knowledge and skills. In his talk, he shares how having his first child inspired him to approach learning in a whole new way.
******************************************************
Loy Machedo
The Number 1 Personal Brand Coach in the Middle East
I Help People Earn Double Their Income By Getting Better Paying Jobs.
***********************
Coca-Cola Features Loy Machedo in its Viral Advertisement
***********************
Loy Machedo Speaks at TEDx Dubai 2011 On Prejudice
***********************
Loy Machedo featured on the News