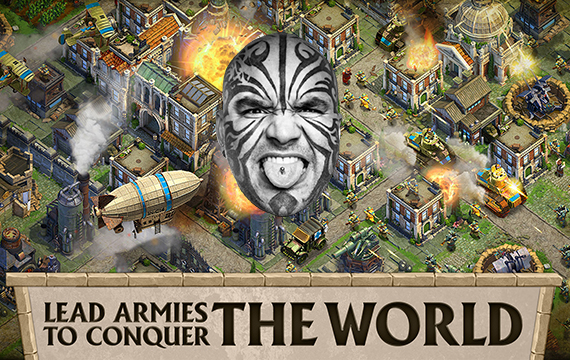 Dominations Game Attack Strategy For Bored Or Busy Players
Dominations Attack Strategy For Bored Or Busy Players
or in simple words
Loy Machedo's "secret" Attack Strategy
DISCLAIMER:
– I am by no means an expert or anywhere close to being a good player. I am just a player who plays this game to kill time. So even before you slam a statement like "What a shitty attack" – mind – you, I switch on the game, dump my troops, get 4 to 5 stars and switch off the game.
– The troops mentioned here are all trained to the MAX level
SO FOR WHOM IS THIS STRATEGY USEFUL?
Beginners.
Busy players
Bored Players.
*********************
DOMINATIONS GAME ATTACK STRATEGY
HERE IS MY STRATEGY
NATION: French
REASON: Faster Training Times + 62 Troop Space Donation
I can train a Heavy Tank in 1 min 30 seconds. And the basic army from zero in less than 3 mins.
CURRENT BENEFIT:
Retaining + Looting.
*********************
DOMINATIONS GAME ATTACK STRATEGY
TROOP MIX –
HEAVY TANKS + INFILTRATOR + RPG
(they are all maxed out)
2 OR 3 HEAVY TANKS –
8 INFILTRATOR
4 RPG
MACHINE GUN
TRANSPORT
BOMBER
WHY HEAVY TANKS
– Heavy Tanks absorb the MAX damage & still survive for long.
– Great for attracting enemy troops to themselves
– Once you see a large number of troops surrounding them, bomb them with the bomber.
WHY INFILTRATOR
– The BEST at destroying defensive structures especially the hated Anti-Tank Gun
– They can easily sneak through the gates & destroy most powerful trouble causing structures.
WHY RPGS
– They destroy anything and everything with each attack. And when you have many of them – they cause significant damage. And also protect the infiltrators.
WHY MACHINE GUN?
– Good for killing enemy troops
WHY TRANSPORT?
Goodness gracious….Are you even serious? Do you know how powerful this troop is???
Trust me – if you haven't used this one – better start.
This troop when maxed is a BEAST
More like a Heavy Tank in the sky dropping killer troops.
WHY BOMBER
Without a doubt the one aircraft that causes immense damage to all troops/structures when sent to attack.
*********************
DOMINATIONS GAME ATTACK STRATEGY
TACTICS
4 – Sabotage
3 – Betrayal
WHY SABOTAGE?
I use it primarily to shut down air-defense structures OR the Missile Silo.
And ensure my air-troops destroy these structures when I have paralyzed them.
WHY BETRAYAL?
When any Town Center is filled with troop or troop cards or powerful troops – what best to handle them than use them against their own team?
*********************
DOMINATIONS GAME ATTACK STRATEGY
HOW DO I ATTACK?
INSPECTION
1) Upon checking the base, I immediately check the location of the following
In order of importance
– Missile Silo
– Rocket Arsenal
– Bunkers
– Tank Depot
– Air Defenses
– Anti-Tank Guns
Missile Silo because it destroys my army in large numbers
Rocket Arsenal because they spawn out very strong troops
Bunkers & Tank Depots because they will keep breeding troops
Air-Defenses because they destroy my planes
Anti-Tank Guns – Because they destroy my strongest troops.
*********************
DOMINATIONS GAME ATTACK STRATEGY
ATTACK SEQUENCE
1) Drop The Satellite (Green scan) to disable hidden Air Missiles & Trps (matter of luck most of the time). I normally drop it where I feel "I would" have placed the traps against my enemy.
2) Drop my Transport + Bomber on The Missle Silo + Rocket Arsenal to destroy them first. Over here I also use my Sabotage tactic to ensure the anti-aircraft defense structures are shut down.
3) Drop my HEAVY TANKS + Generals In one remote corner to gather all the attention & enemy troops (including initial Missile Silo attacks)
4) Drop the Infiltrators & RPG's to ensure the Bunkers & Tank Depots are targeted some where a bit in the center or away from the HT & Generals.
5) As soon as the enemy troops begin spawning, ensure the BLITZKRIEG is activated so that enemy troop deployment is delayed
6) Drop the troop cards behind them to ensure they cover the guys in the front.
7) Drop the Mercenaries, Donated Troops to another corner.
8) Always keep an eye for enemy troops that spawn and use the most powerful ones to betray the enemy by BETRAYAL Tactic.
9) Constantly ensure the Transport is dropping troops every possible corner to keep killing, clearing & distracting troops. Use the bomber to bomb the troops that surround the main army.
10) Ensure where ever Anti-Tank Guns are – they are made useless and destroyed because they seriously destroy the big boys. So that is why either I surround them with smaller troops or get them neutered.
*********************
DOMINATIONS GAME ATTACK STRATEGY
TIPS & TRICKS
– Troop Card Mix – Always have long range (which are weak) + short range (which are fast & strong) + Powerful Troop Cards Mixed.
– Ensure you study the base before you attack. Many times players keep a very small structure at extreme corners of the map especially Oil Refinery which is harder to destroy. Solution for this is to have a few or 4 Infantry on strandby
– If a player has the FORBIDDEN CITY avoid getting confused or worried. The Forbidden city can be destroyed easily with even a bomber. Focus on the Town Center first.
– If a player has Pentagon or United Nations – the fact is (the general) or more troops will come out. So have a strong troop to keep them busy, bomber ready to blow them out and machine gunner focused on them to destroy them easily.
– DONT Stress yourself about a 5-star. Sometimes in the quest for a 5-star, you will lose the entire game. Focus on one star at a time. Yes, Quick Victory is important. But remember – you 'may' not always get this. However, one thing I have noticed – in my quest to get 5-stars – I have destroyed my entire army. So be slow & smart.
– If the player you are going to attack is tougher than you – practice a "friendly attack" with your alliance. It ALWAYS helps.
– Ensure your Museum is properly stacked with the best and important artifacts. Do you know many times players even forget that AFTER they change their alliance or leave the alliance – NONE of their artifacts are placed???
– It is PARAMOUNT to ensure your traps are all maxed out. Trust me – Your Traps matter.
– Focus on your university to have a balanced & tough base
– Walls are important. Take it from me – the walls make a massive different.
– HTG or Hold-The-Gates will determine how powerful your defense is. I was stupid enough to ignore this.
– You want to win? Ensure your alliance donates & fills the bases & your request.
Well – that is a problem is almost all alliances (almost all)
Which is why I have 3 accounts and I am the one who took the responsibility to fill up all the bases. Now – no complaints.
– Bastions bring the speed of HT and powerful troops to ZERO! If they are placed strategically, you better figure out how to deploy your troops inside it (Transport) and ensure you keep the HT away from them. Elephant Archers & long range troops solve this problem as they can kill structures kept protected in them.
– Last if not the least – keep practicing.
THE MORE you practice, the better you get.
And if you want to learn – attack players who are tougher than you.
The lessons you learn from this will help you improve your game.
Hope you enjoyed this article as much as I enjoyed writing it.
Regards,
LM
*********************************
Loy Machedo
Personal Branding Strategist
+66-92-541-4784 | loy@loymachedo.com
To know more about me Google: Loy Machedo