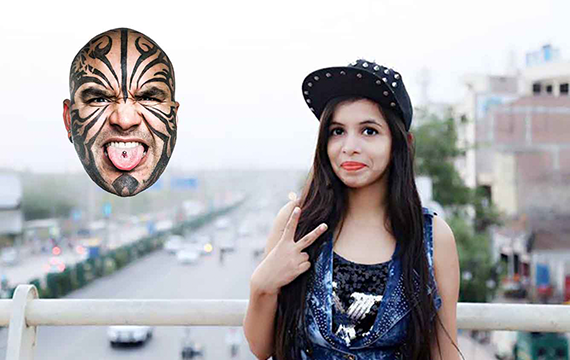 The Dhinchak Pooja Shocker – The Truth About Her Finally Exposed
From the desk of Loy Machedo: The Truth Behind Dhinchak Pooja Exposed
A few days ago, my Creative Head from India – the irritating Aaron Dean D'Souza asked me to write about some chick with the name Ding-Dong-Chack-Puja (or that is what it sounded like).
Initially, I gave him the same response I normally give him – Of Fuck it. However, given the absolute bad luck I have with Aaron – where 99% of the time he is right and 99% I am wrong – I decided I wouldn't argue with him – but seriously – I wasn't interested to know who this dumbo was.
However, ever since I have been on Quora, I have seriously taken his guidance and gut feeling in making sure I follow everything he has to say. Why?
Because of this…
Within 30 days, I grew from zero views – to today 3.59 million views and around 4,500 followers.
The guy – even though a fucking kid – is nothing short of being a genius.
(In case you want to follow my Quora Blog – Just Google Loy Machedo – Quora or click here)
And so – when he once again gave me the link to the question "Who is Dhinchak Pooja" well I thought I would answer it….However, all of a sudden someone sent me the question with a much more interesting title "What does Loy Machedo think of Dhinchak Pooja?" I was like…alright let me give my opinion….
But here is the deal – I honestly didn't know who she was.
Seriously.
I never heard of her.
It was more like one day someone asked me online what did I think of a Yo Yo named Honey Singh (which later I found out his name was Yo Yo Honey Singh )
So now, once again, I had another Indian personality to google and give my opinion on….
So once I googled – I got this screenshot that you can see below….
And the only thing I could see was some small underage 9-year-old girl's picture wearing an oversized cap.
With a quick glance – my eyes came down to the news update that stated
Troll her all you want, Dhinchak Pooja is India's Online Sensation with 2.65 Mn Views Per Month
So then that lead me to search about her in the news section of google and this is what I found….
And that lead me to check out her youtube channel.
So as of now this young woman has amassed around 178,830 subscribers and for her video as her youtube banner claims – she has over 30 Million Views on her video.
Now here is where I will break down what I think of her on various aspects of her Personal Brand.
In terms of her Music
I watched 2 or 3 videos of hers
With just 5 seconds of listening to her lyrics, I understood what she was doing.
Her strategy is very simple.
I think she focuses more on being and positioning herself in a rather 'I-am-so-horrible-at-singing-that-I'm-actually-the-best' format.
More in the lines of my favorite horrible singing sensation from Pakistan – The legendary Thair Shah.
And trust me when I say this – No one can sing more horribly and more terribly than him.
He is the master at it.
What makes this individual unique is that – he is so bad, so bad, that you actually love him!
His two hits are Eye to Eye and Angel.
Here are both his videos
(WARNING: But I must caution you – your life will never be the same if you watch his videos. So please think twice before checking out his songs on youtube!)
The first one is his Romantic Melody – Eye To Eye
The second one is him being – An Angel (of love I suppose)
So in terms of Music – I am not a fan of their music but I do find it really creative, amazing & extraordinary how they have been able to leave an impact in the eyes, ears, hearts and minds of their targeted audience.
And if in case you think these are the only 2 people around – check this chap out – His name is Vennu Mallesh and listen to him sing…
SO FIRST AND FOREMOST – WHO IS DHINCHAK POOJA?
So given the background check, I did of her, this is what I found out about her.
She is a 23-year-old girl (DOB – 16-Dec-1993) born in Uttar Pradesh, India.
Her hometown is in New Delhi, India.
She completed her M.A Arts in English from Guru Gobind Singh Indraprastha University, Delhi.
She is a rapper
She is 5′0 Feet, weighs in 44kgs and has dark brown hair and eyes.
So now the question arises – What is it that makes them so incredibly successful?
Given that they have amassed over millions of views (Dhinchak Pooja with 30 Million views & Thair Shah 10 Million views), they have proved that they know the fundamentals of Social Media.
And what is that they do well?
Controversy & Shock Value
Do the opposite of what you expect
Be really proud of being 'not smart'
Flaunt it with confidence & self belief.
Offer Entertainment
SO WHAT DID I ANALYZE ABOUT DHINCHAK POOJA?
This is what people don't see realize. Whatever this girl Dhinchak Pooja is – is not her doing it. She has a marketing / professional team who is guiding her, supporting her and helping her execute the team strategy. So although she looks like she is the 'face' of her brand – she is not.
Her team uses Shock Value, Entertainment & Creativity in positioning her brand.
If you calculate that you earn $1.5 per 1,000 views – based on this, this young woman has managed to earn $1,500 per million views. And if she has managed to garner 30,000,000 views – you are talking about a $45,000 pay day
Her videos are done professionally and executed in such a manner to make you believe – she is doing it in an amateur fashion.
Now why do I say that she has a Marketing Team or a Professional Team behind her and she is not the brains behind all this sensation?
Simple.
Go to the Wikipedia page.
You will see so many deletions.
Why?
Because 'someone' posted something about her to ensure she got the marketing and branding milage. However, given that Wikipedia is not a "personal advertising page" but website run by people who only post genuine content backed by ample Media evidence – all the 3 posts about here were removed.
So do you think this is being done by her hardcore fans?
I doubt.
It is 100% the strategy behind her very intelligent marketing team.
What do I think will be in store for her in the future?
Do you remember the one hit wonders of our generation?
Vanilla Ice Ice Baby?
Mambo No.5 ?
And for this generation PSY Gangnam Sytle?
And yes, most notably…
Pikotaro PPAP (Pen Pineapple Apple Pen)
These are amazing artists with incredible talent and yes – One Hit Wonders….
They came and they left.
And if you are looking for specifics to India – you may still recollect talented pop artists like Alisha Chinai, Harjeet Singh Sehgal aka Baba Sehgal, Daler Mehndi, Colonial Cousins, Remo Fernandes – they were incredibly talented artists who at least came out with original songs – and today have disappeared into the oblivion. But AT LEAST THEY HAD ORIGINAL SONGS.
But what about Dhinchak Pooja?
Does she have any original song to her credit?
No.
I classify her more as being famous for the sake of being famous as in a Kim Kardashian or Paris Hilton – both whom at least have something other than a face to show for (you know what I mean)
So can she move in the direction of MaximBady who clocks in an average of 10 million to 40 million views on an average?
Or someone like Just Sul who creates a riot with his incredible presence online?
I doubt.
These individuals have constantly and committedly come out with new and original content but with their own personal creativity, hard-work and effort – I doubt she can move ahead very far with the concept she has started – unless of course, she reinvents herself.
Given her youth, the direction that she has taken and the fact that she is currently a one trick pony – this is what I predict for her.
MY PREDICTION FOR DHINCHAK POOJA
With the current direction she is taking – most probably she will have a 5-year life span after which the excitement and fizzle will die out. At some point, people will get used to the format. Then the question is what's next? So unless and until she doesn't rebrand and recreate herself – I do not see her moving very far.
Given that she is young right now – she will enjoy what she is doing. The immediate success and glory that she is enjoying will make her addicted to this new found fame. However, after a period of time, once it goes to her head and creative clashes take place or differences of opinions get in the way (or egos) that is where this image or persona will start to crack.
Finally, there is always a danger of having a youngster succeed to fast too soon. And that too come to the spotlight for reasons can be considered a fad. Remember Psy Gangnam Style? Remember PPAP? And if you go back in time, you have Macarena, Lambada, MC Hammer and Vanilla Ice. – they came and they went. So I see this girl more as a fad and fun factor right now. However, in time, people will want something new. And that is where they will switch over the channels to see something new. Being cute, sweet and silly is good. But after some time – it becomes boring.
However, I would like to conclude one thing – given what she has accomplished, that too in a country like India where becoming famous is what almost everyone years for – what she has done – is truly amazing and noteworthy.
And for that, I give her…sorry not her….but her Creative Marketing Team – my respect.
Loy Machedo
The World's #1 Personal Branding Strategist
———————————————————————
Have Questions?
Email me – loy@loymachedo.com
———————————-
Loy Machedo's Short Movie With RSN8 Productions
—————————
Coca Cola Features Loy Machedo in its Viral Advertisement
—————————
Loy Machedo Speaks at TEDx Dubai 2011 On Prejudice
—————————
Loy Machedo featured on National Television
—————————