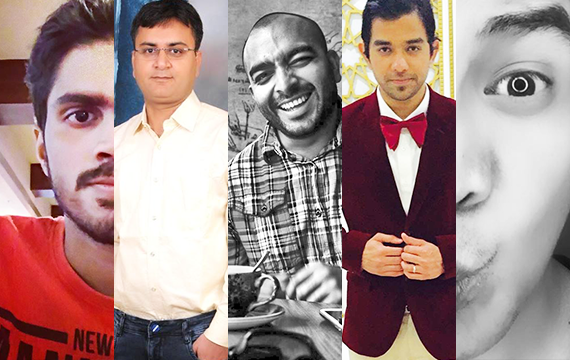 Loy Machedo's Core Team for WhoIsLoyMachedo.Com – A Tribute
From the Desk of Loy Machedo: Loy Machedo's Core Team for WhoIsLoyMachedo.Com – A Tribute
Behind every successful man there is a woman.
Behind me, lies a team of men who have given me their
Time, Effort, Creativity, Heart and Soul
Almost all of them did charge me a single dime
Because if they did – I wouldn't have been able to afford them
Why did they do it?
Because we were friends, brothers and friends for life
Here is my team of innvaluable keyplayers
Whose worth is more than millions
But whose contribution to my brand is priceless.
I owe them everything I am and they will forever be
My friends for life.
Ladies and Gentlemen, I present to you
for WhoIsLoyMachedo.Com
My Core Team.
"If I have seen further, it is by standing on the shoulders of giants."
Isaac Newton
Loy Machedo
The World's #1 Personal Branding Coach
www.LoyMachedo.com
www.whoisLoyMachedo.com
www.ThinkPersonalBranding.Com
———————————————————————
Loy Machedo's Core Team Number 1
#loymachedo wants to recognise POWER BRAND – JOE ALEXANDER of
www.RSN8Productions.com for his contributions to the success
of the brand Loy Machedo and yes for helping me with
www.WhoIsLoyMachedo.Com
He was the photography genius who has helped me make my brand what is it today.
He was the one who created the Iconic Half Face Tattoo Post that helped me create the aura and mystery of Loy Machedo.
Please check him out on
www.RSN8Productions.com
he is an Internationally Accalimed World Class Photographer who has won numerous awards and has his work featured globally.
I personally recommend Joe Alexander
Loy Machedo's Core Team Number 2
#loymachedo wants to recognise POWER BRAND – BINAND RAJ V N
A simple young man who can be easily misunderstood and taken for granted because of his youthful appearances and his humility. But behind his childish charm is a genius waiting to explode. His logical deductions & observations are second to none. I was personally shocked and surprised at his input towards my brand growth. Given how critical I am and that I work only with the best in the world – I decided I needed his expertise. Today he is part of my core team. If you want someone who has a Million Dollar Potential – This is your man!
He is in his 20's and works in Dubai. (Please give him a good job offer!)
For Dedication, Loyalty, Growth-Mindset & Creativity & yes, most importantly untapped potential, please contact him on
binandrajvn@gmail.com
I give you my personally guarantee on his integrity & character.
Loy Machedo's Core Team Number 3
#loymachedo wants to recognise POWER BRAND – AARON DEAN D'SOUZA 
If there is one human being on the planet who has shocked me with his Creativity, his Genius, his Thought Process & his Camouflaged appearance – it is this man.
I am guilty as charged when I say this – I underestimated him and took him for granted. I even treated him with disrespect and disdain. But this young man ended up becoming my most creatively challenging force and the one man who always proved me wrong with his logic.
Almost all the crazy combinations & ideas you see on whoisloymachedo.com is thanks to this young man.
I sometimes wonder what will be become if someone invests and capitalizes on his untapped potential.
If you are looking for that one in a Million – here is my top pick for you.
He is in his 20's and works in India. (Please give him a good job offer!)
If you wish to contact him
aarondean56@windowslive.com
Loy Machedo's Core Team Number 4
#loymachedo wants to recognise POWER BRAND – EROS GOZE
Can creativity can be any creatively different?
Is it humanly possible to twist, turn and give something a totally new vision that would impress the daylights out of you?
Meet Eros Goze
The only human being I know on this planet who can shock you – even with an iPhone. His ability to capture moments, give it life and make it something that is so out of the world – will not only capture your imagination, it will send you spell bound.
If there is any creative photographer who has made me from great to iconic – is it this man.
One of the world top photographer with thousands of accolades.
Best part – he has not yet reached his prime.
And I am a big fan of his.
http://www.modelmayhem.com/eros210
http://erosgoze.wix.com/eros
http://be.net/erosgoze
Loy Machedo's Core Team Number 5
#loymachedo wants to recognise POWER BRAND – JATIN CHADHA
You have to save the Best for Last.
And that is where I present to you one man revolutionisedized my Online Brand. Let me not say anything much about him apart from just one sentence.
Without Jatin Chadha – there is No Loy Machedo Online.
I do not exist.
It was by sheer luck I bumped into him and his team and today I am able to operate and grow thanks to him.
I cannot speak enough about this man.
I will only tell you this.
You want to become a global presence?
Contact this man.
To get in touch with him
https://about.me/jatinchadha
Loy Machedo
The World's #1 Personal Branding Coach
———————————-
Loy Machedo's Short Movie With RSN8 Productions
—————————
Coca Cola Features Loy Machedo in its Viral Advertisement
—————————
Loy Machedo Speaks at TEDx Dubai 2011 On Prejudice
—————————
Loy Machedo featured on National Television
—————————