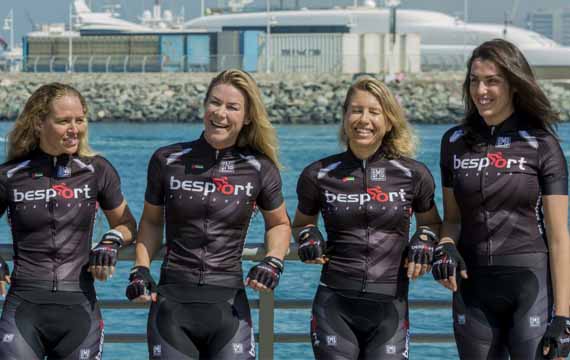 What Makes Besports Bike Shop Stand Out From Other Brands?
From The Desk of Loy Machedo: Besports Bike Shop – The Most Unusual Bike Shop In The UAE
A few months ago
I decided to purchase the best of the best Triathlon bike
That the Middle East had to offer
The magnum opus
The Argon E119+
A top of the range tri-bike priced at $15,000
That would give me the complete experience
Of riding the best and feeling the best
Even though I wasn't the best
But then
I had to cut this dream short
As life took its twists and turns
And I had to leave Dubai, UAE permanently.
However, memories remained.
And among the many memories –
The experience with Besports Bike Shop.
So here is the
Uncensored Uncut and Unedited Story
Of my experience with The Besports Bike Shop.
Read, Enjoy, Share.
Loy Machedo
The World's #1 Personal Branding Coach
www.LoyMachedo.com
www.whoisLoyMachedo.com
www.ThinkPersonalBranding.Com
———————————-
BESPORTS is a cycling shop actively involved in promoting healthy living through cycling with stores in Abu Dhabi, Dubai and Al Wathba.  It is owned and managed by Cyclists & Triathletes dedicated to Cyclists & Triathletes.
They specialize in Bike Fitting, Bike Services & Repairs
———————————-
Besports Bike Shop – The Most Unusual Bike Shop In The UAE
KEY FEATURES
1) THE BIKE FITTING SERVICE
Totally out of the world
Team of experts who know what they are doing
High-Tech equipment to monitor and give you feedback to suit your physical body types
I have undergone this service and I can tell you without a doubt – they are simply the best.
2) THE BRANDS
They deal with some of the top brands in the world.
15 Brands that BESPORTS deals in
Argon
BnBRack
Commencal
Dahon
Elite
FSA
HT
Marzocchi
Michelin
POC
Powermax
Santini
Sigma
State Bicycle Company
Wilier
3) THE COMPONENTS
Everything sold in this shop is from the Original Dealers & Manufacturers
Components & Bike Accessories –
Aerobars
Baby-Seats
Bar Ends
Baskets
Bell & Mirror
Break Lever
Break Pads
Button Brackets
Cables
Cameras
Car Bike Racks
Cassettes
Chain
Chain Rings
Clothing
Cranksets
Cyclo Computer
Derailleur
Eyewear
Fender
Grips
Shoes
Supplements & other accessories.
4) THE BIKES!
Bikes – everything from
BMX
City Bike
Folding Bikes
Hybrid Bikes
Mountain Bikes
Road Bikes
Single Speed Bikes
Tri-Bikes
————————————–
Besports Bike Shop – The Most Unusual Bike Shop In The UAE
"Besport is the official bike sponsor of the IRONMAN Dubai and ITU Abu Dhabi".
————————————–
DID YOU KNOW about the "7 Emirates in 24 hours".
The 7 Emirates in 24 is a challenge which 5 cyclists of different nationalities took upon themselves to ride across the seven emirates of UAE in 24 hours, Raslan and Roisin included. This challenge was done last year, May 10th. Lately, we have decided to repeat the challenge this year in same month and day, May 10th.
There are several intriguing points of the challenge are:
It was proposed by a female (Roisin)
It was done in less than 24 hours
It was done in the extraordinarily hot weather of the UAE with a lot of wind blowing
The cyclists consist of 5 different nationalities, an Emirati, Jordanian, Irish, South African and a Filipino
Furthermore, they recently made a film documentary about this challenge. The objective of the documentary from sport & health perspectives is to encourage and inspire people to do more sporting activities for health and other benefits. And from a general perspective to pass the message that "anything can be achieved" if we do not give up as people did not think this 5 cyclist can complete the challenge despite several problems they encountered before and during the challenge.
You can view the Trailer here:
We have also created a Facebook Page for the challenge where we will be sharing updates and progress, https://www.facebook.com/7emirates24/
————————————–
Besports Bike Shop – The Most Unusual Bike Shop In The UAE
WHAT MAKES BESPORTS 
STAND OUT FROM OTHER BRANDS?
————————————–
AT NUMBER 5
WALKING THE TALK….
(OR RATHER CYCLING THE TALK)
Without Product knowledge, expertise, experience, know-how and yes, practical knowledge, what is the point of dealing with people promoting any brand? And this is the common story of some of the bike shops in the Middle East. Sales people & Business Owners who market a product or service – without knowing what it is or having any experience.
BESPORTS has some of the best industry professionals working for them. And not just people with knowledge, but athletes who put their bodies to the test every single time. Among them is Raslan Abbadi who is not only the store manager but also a die hard enthusiast and athlete.
Among them is Raslan Abbadi who is not only the store manager but also a die hard enthusiast and athlete.
And then there is Roisin Thomas – an Irish Born Super Cyclist who has been making headlines in the media almost every years.
————————————–
Besports Bike Shop – The Most Unusual Bike Shop In The UAE
AT NUMBER 4
THE HUMAN FACTOR
Genuineness, Empathy & Willingness to Understand
You need to understand most businesses have absolutely mind-numbing overheads. Everything from the rent of the place, to the salaries of the staff to the costs of running an establishment – can paralyze a business. And that is where most of the staff or employees are constantly reminded by the management to SELL, SELL, SELL.
However, there is the difference where Besports in concerned.
They are not interested to SELL, SELL, SELL.
Rather they want you to BUY what you "NEED".
This is what I eperienced.
When I went to the shop, I asked Raslan for THE MOST EXPENSIVE bike andTHE MOST EXPENSIVE tri-suit and THE MOST EXPENSIVE accessories. Not because I was trying to show off or that I was bored with life. Rather I wanted to know what was the best the market could offer and what could I use in my Triathlon Journey. To my surprise, Raslan not only asked me what I wanted and why I wanted it, he also asked me questions relating to how did I start, where did I want to go, how much did I want to achieve and for how long. (sadly, life took its unexpected turn).
Raslan looked at me like he normally looks – unimpressed and bored.To my surprise, Raslan not only asked me what I wanted and why I wanted it, he also asked me questions relating to how did I start, where did I want to go, how much did I want to achieve and for how long. (sadly, life took its unexpected turn).
I thought he would at least smile knowing I was  customer who was willing to spend.
But he was indifferent. And at its worst – bored to death.
After taking a moment to breathe, Raslan simply asked me – Why?
I replied – Why What?
He responded – Why do you want to buy the most expensive items?
And then I told him – all the logically intelligent sounding reasons – to look smart and yeah – smart.
He then he gave me a verbal slap on my face saying, "Look, I can easily sell you the most expensive bike. For me its not a problem. You want the most expensive, you want to spend a lot of money – fine. It is good for us. But it would not be good for. I want to ensure you get value for money and you buy only what you use. So now, would you like something that is worthwhile or do you just want to blow up your money on things you will not end up using?"
And with that, I not only became a participating actor for "The Silence of the Lambs", I also meekly answered every question of his which was designed to find out – what did add value to me.
Now in hindsight – he didn't have to do this exercise.
He could have just give to me what I asked for – the most expensive bike. He would have most probably made his monthly quota and helped the management achieve the sale for the month.
But he didn't.
In fact – he even insisted that I NOT spend so much and he guided me towards spending what a beginner would in the sport of Triathlon.
This trait that stems from a Leader – speaks volumes about a brand and its people.
PS – I the end, I didn't listen to him. My ADD personality ended up buying the most expensive bike, with the most expensive parts and the most expensive accessories.
————————————–
Besports Bike Shop – The Most Unusual Bike Shop In The UAE
AT NUMBER 3
SPECIAL DISCOUNTS – NOPE!
NO SPECIAL OFFERS OR DISCOUNTS.
No discount?sn't that a serious drawback?
What?sn't that a serious drawback?
Are you shitting me?sn't that a serious drawback?
Isn't that a serious drawback?
Not giving amazing discounts and offers?
In fact given my wonderful Indian heritage
That runs in my blood
(only where being stingy is concerned)
I asked Raslan the time old traditional question
Which part of the year do you offer MEGA discounts and Special Offers
To which Raslan replied
Never.
I asked him again – Never Never?
Once again, in his cold, expressionless manner he replied
Never.
So I naturally asked him why not?
His reply was simple and sincere
If we wanted to attract an army of bargain hunters
We could have started misleading people by
Displaying an over-inflated price tag
Of what the product was worth when it was launched
And then put the price at what we wanted to sell
With a big X mark on the previous price
Enticing the potential buyer to purchase the product
At a "Super Mega Discounted Price"
However, this has its serious drawbacks.
1) You are not encouraging a passion for the sport – rather just mindless selling & buying
2) You are technically 'lying' to the customer.
So what we do is – we keep the prices at a very affordable margin throughout the year and if ever the principal brand does offer something special – we directly pass that benefit to the buyers.
————————————–
Besports Bike Shop – The Most Unusual Bike Shop In The UAE
AT NUMBER 2
INSPIRE TO GREATNESS
PURE INSPIRATION
When you go to a bodybuilding gym and you see amazing hi-tech equipment and well-dressed employees, giving you a perfect smile, with bleached white teeth, well pressed matching uniforms and a Barbie doll-like smile – there is a certain feel to it.
However, when you go into another bodybuilding gym where the gym trainers, the participants and everyone else is preparing themselves for a world-class competition – the ambiance, the experience and the motivation to train go up to another level completely.
The latter is the feeling you experience when you step into Besports Bike shop.
Each and every person working there is either
A) An Athlete
B) A Bike or Sport Connoisseur who loves training
C) Someone who truly loves the sport
The amount of time they spend, practice, research, learn and invest where Cycling and Triathlon is concerned, are not even funny. And I think this is what makes them stand out.
They live, breathe and follow what they preach.
————————————–
Besports Bike Shop – The Most Unusual Bike Shop In The UAE
AT NUMBER 1
PERSONAL INTEGRITY
Now this one is fundamentally the rarest gem you can find in any person, business or relationship. Let me give you an example to state this point clearly.
Let me give you an example to state this point clearly.
Lets imagine you have $15,000 in your hand as cash.
And I ask you to hand this over to me – a total stranger
With a verbal promise that I would return it back to you sometime later on.
Do you think you would do it?
If you are a sensible person like most others
The answer would be No.
And if in case, you did give it
The chances of you getting the money back
Are next to impossible.
However, given that this is a rare occurrence in itself
The chances of it happening are even rarer.
But this is where it has happened
And you will be shocked to know – this is my experience.
When I had decided to move into the next level in Triathlon
I purchased the Argon E119+
The most expensive bike in the shop.
I purchased the bike, I took it home
And then…..
I waited for the right time to start training with the bike.
Strange as it may sound – I never even sat on the bike – let alone train with it
The bike was never touched.
It just say in my house for a few weeks
And when the shocking reality of me having to leave UAE set in
I was in a fix
I purchased the most expensive bike
I never touched it at all
And now I had to sell it.
Given that this bike was so expensive
It was highly doubtful that anyone would buy it immediately
So added to the fact that I had to leave UAE and move on
Loomed in even more
Now Raslan as a businessman in principle – didn't have to bother
He was obligated to helping me sell the bike
Nor did he have to bother to assist me in selling off the extras.
Because simply – he wouldn't benefit from it – at all!
However, this is where it got really strange.
He not only assisted me in getting rid of most of the stuff
He didn't take a single penny for a fee.
He even offered to help me sell the bike
Not at a loss – rather at a decent price – that too to someone worthwhile.
As of now as I type this article
Raslan is doing his little bit in keeping that bike in his shop
And keeping an eye if there is anyone who would like to purchase
A state-of-the-art bike that has been unblemished, untouched and unused
And in a competitive marketplace where brands compete hard to stand out
He is doing his best to ensure – I get the best price possible.
In a day and age where Frauds, scams and open-day-light robbery takes place
This level of trust, honesty and integrity is very rare indeed
And if a person who represents the brand can have such a high-level of integrity
I believe the brand he represents also has the very same characteristic.
————————————–
Besports Bike Shop – The Most Unusual Bike Shop In The UAE
MOMENT OF TRUTH
So given my experience with other bike shops and BESPORTS Bike Shop
What can I summarize the experience to?
I have lived in the UAE for 40 years of my life.
I have checked, experienced and interacted with a a multiplicity of Brands, Companies, Products & Services.
The ones that give me a good service – I recommend it to others
The ones that give me a bad service – I spread the news to everyone.
However, the ones that go out of the way
to make my experience memorable
(Good or Bad)
I leverage my limited experience on Social Media
(200,000 connections with 700 views on my website per day)
to make sure everyone and I mean everyone know about it
By leaving a permanent digital imprint
(Digital Imprint = Once its on the WWW – it can never go away)
Raslan, Besports and his team at Besports Bike Shop in UAE
Have been nothing but outstanding to me
They have gone out of their way to give me an amazing experience
So for me – in return, I will do whatever it takes
To inform, to educate and to market their brand
To all those who trust in my word, my message and my brand.
BESPORTS Bike shop
Stand out as one of the Top Brands in the Middle East
Where Cycling, Triathlon & Bike Accessories & Components are concerned.
Period.
And I highly recommend them for life.
Loy Machedo
The World's #1 Personal Branding Coach
www.LoyMachedo.com
www.whoisLoyMachedo.com
www.ThinkPersonalBranding.Com
———————————-
Loy Machedo's Short Movie With RSN8 Productions
—————————
Coca Cola Features Loy Machedo in its Viral Advertisement
—————————
Loy Machedo Speaks at TEDx Dubai 2011 On Prejudice
—————————
Loy Machedo featured on National Television
—————————