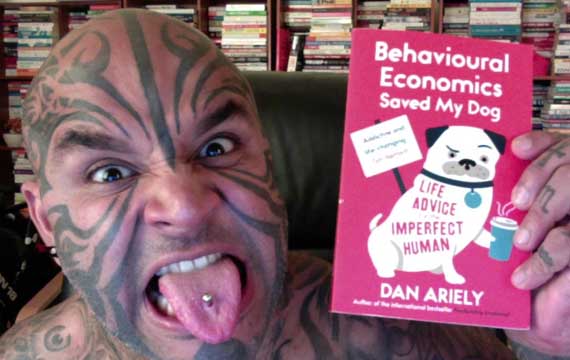 Behavioural Economics Saved My Dog by Dan Ariely – A Loy Machedo's Book Review
WHO IS AUTHOR DAN ARIELY?
• Dan Ariely is the James B. Duke Professor of Psychology and Behavioral Economics.
• He teaches at Duke University and is the founder of The Center for Advanced Hindsight and also the co-founder of BEworks.
• He is the author of Predictably Irrational and The Upside of Irrationality, both of which became New York Times best sellers, as well as The Honest Truth about Dishonesty.
• Ariely's talks on TED have been watched over 7.8 million times (Below are the links to his talks)
WHAT IS THIS BOOK ABOUT?
The book is an entertaining collection from his Wall Street Journal advice column, each question and response complemented by a witty cartoon. The author brings his unique perspective to bear on a maelstrom of life's problems – Marriages, Eating Garlic, Friends with Benefits, The Art of Multi-tasking, Choosing between a Partner & Pet, Midlife Crisis, Traffic Jams, Self-Control, Asking the Right Questions, Bad Sex and Why Women Wear High Heels.
What I liked about the book was the humor, the playfulness, the wit and the wisdom in each and every answer he gave to his readers.
LOY MACHEDO'S MOMENT OF TRUTH
This is a book that focuses on its entertainment value and less on its practicality or its thought-provoking research..
With a helping hand from legendary New Yorker cartoonist William Haefeli, Ariely's new book will make you laugh at the ridiculous aspects of our daily existence just as you gain a new perspective on how to handle the inevitable challenges that life brings us all.
LOY MACHEDO'S OVERALL RATING
2 OUT OF 10.
Don't bother buying it.
But yeah – do make it a point to check out all the video links I pasted below.
His insights are worth listening to.
LOY MACHEDO
Personal Branding Strategist
whoisloymachedo.com