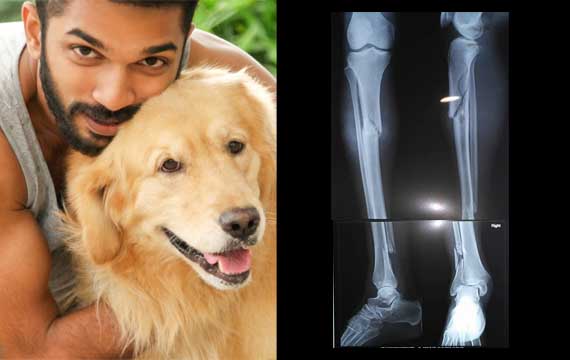 From the Desk of Loy Machedo
What happens when an absolutely very talented young man driving a motorbike – has an accident? That too an accident that completely cripples him. And then not having those so called friends be there for him when he needs them the most?
Here is the story of Ashik Divakaran. I have known him as a truly wonderful, ambitious and knowledge thirsty young man who wanted to touch the lives of millions.
Today, he is undergoing an obstacle in life – financially, emotionally, physically, mentally and spiritually – which, he fears will render him crippled.
This is his letter of the incident in his own words.
My request to you is – read the letter, add him as a friend on facebook and then flood his inbox and facebook wall with your positivity, love and influence.
Let's change the life of this young man through our words.
And yes, if after reading this letter – you wish to add him up, here is his facebook link.
https://www.facebook.com/ashik.divakaran.nair
Loy Machedo
The #1 Personal Brand Strategist in the World
*****************************
Dear Loy,
Hello, it's been a while! So many months since we last spoke, I haven't even heard how things have been since you moved to Thailand. I hope you found what you're looking for there. If not, who knows, it might be just around the corner. Your persistence would surely get you there, I'm sure. Hope creative work and learning is going good, make sure you learn some Muay-thai and meet some good women while you're at it. (Wink)
Well, I am far from good as I write this, physically. Mentally, like you, I've learned to be strong I feel, over the years. You have faced far worse difficulties and mastered them better than most people I know. I write to you this time to share a trauma I experienced, and what I learned from it. Without further ado, let me begin.
On New Year's Eve I had a great time with my friends, with a belly full of beer and food. There was simply too much to look forward to, new plans, new ideas, and new aspirations. My career as a fitness coach was about to reach new bounds and I had serious travel and adventure plans. And I had saved the money and did the learning this time, transcending all my difficulties.
But as fate would have it, on the night of 3rd January, when I was waiting at a crossroad to turn my bike, (indicators blinking, no traffic, bike very still) a speeding bike at maybe 120-130 km/hour veered out of control and BAM! Hit me with such sheer force that I and my bike were thrown a good few meters away. Pain was creeping through my leg, up my spine and into my head. It was gripping. I could feel a strange, strong vibration through my whole body like my body was a gong that just got banged.
Immediately, I tried to get up, and collapsed, one of my legs had given up on me. I looked down to my utter shock and dismay, my right leg had become a U shape and my feet was upward. I tried moving it a bit, and my feet was dangling. I could see my bones protruding from 2 holes and blood was squirting in every direction. Panic gripped me. All kinds of thoughts started swiveling in my head, coupled with excruciating pain and fear. I looked around, few people were discussing from far; nobody helped me up! I screamed "Please! Help me!" no one answered. That was my reality check, I knew no one was going to come. Suddenly I heard myself telling me "do something, do something or you might never get through this."
I crawled to the side, used my hands to pull myself up on the side of a car. I hopped forward hopelessly, I fell. I saw the guy who hit me escape through the side. I screamed at the people to note his number, to get me my wallet, my phone and my bike keys. I hopped forward again, saw an auto-rickshaw and moved tragically towards it and fell in it. Someone tossed in my phone. Few minutes later the driver came and I begged him to take me to the hospital. I was sure I'll get care in time as there were 2 hospitals in a 1 km radius. But this guy, I don't know for what cruelty, took me to a hospital 3-4 kms away. I was dropped at the hospital and was rushed to the x-ray room. I screamed and shouted to the staff to give me painkillers and first aid.
But I was introduced to a world of human stupidity. The staff, the nurses, the doctor who came there, everyone was panic stricken and looking at each other. I started hurling abuses and screamed at them to get me care, but they could do nothing. They were telling me they don't know what to do. I tried calling my friends, no one was picking up the phone. I knew some were drunk, some were sleeping and some were plain irresponsible, and it was past midnight. I begged them to get me a senior doctor, finally they got someone on the phone and asked me to wait. I had lost all hope.
It must've been 2 hours by then after the incident. I had lost too much blood, I was getting giddy. Suddenly the doctor who was called came and I begged him to help me. He held my shoulder and in a very reassuring voice, told me "Don't worry child, I'm here now, I will do the needful. I'll move you to another hospital after giving you first aid. Be strong, you will get through this." I didn't utter a word since, I thought about all the good things in life, trying to distract myself. My blood loss was stopped with some bandages and I was taken to another hospital.
By the time I reached the second hospital 3 and a half hours had passed. Doctors and nurses, syringes and bandages, did multiple rounds around me time after time. The pain got slightly lesser from the painkillers. But sleeping and thinking were out of the question, the pain was keeping me awake. I had never felt so physically and mentally debilitated.
In the morning the doctor came and spoke to me, few of my friends had arrived at the hospital too.
He told me that I have 4 compound/comminuted fractures on my right leg, including one in my ankle joint which was broken and dislocated. I also had blood loss, extensive soft tissue damage and damaged ligaments. He was real yet reassuring to me. I asked him how much time it'd take to heal. He said 6 months to a year depending on how well I take care of it. He smiled and told me to be as strong as I was till now, and he left.
I felt miserable reflecting on the consequences, and a surgery was planned that night, it would be an extensive and expensive one. My friends visited me and reassured me everything was going to be fine. But having learnt well about the human body and injuries, I knew what was at stake. Then it was time for me to be alone, visiting time was over. There I lie on that bed trying not to think about anything, but the thoughts and the pain were overwhelming. But let me tell you one thing Loy, I didn't shed a drop of tear till then. In the back of my head I knew, what happened has happened and there was no going back, the only way was through the pain.
For few hours I wished I was asleep till everything was alright. I can't really explain what I was feeling, the thoughts wouldn't stop, panic mixed with fear and sadness, excruciating pain, extreme tiredness, I had no control over anything. I just wanted this to be over somehow and I didn't want to know how.
All of a sudden, as my last resort, I started concentrating on my breath. I forced myself to think about nothing else other than myself breathing in and breathing out. Images of the trauma, of my future, the pain, thoughts about what would be and what cannot be kept getting flooded in my head, but vehemently I kept concentrating on my breath. It wasn't easy at all, but deep breathing is supposed to calm me at the least, even if I can't reach a meditative state, I felt.
At the time I had been practicing and experimenting meditation for quite a few months but I was still skeptical of its effects. But amidst all this I used every last bit of my will to concentrate and before I consciously knew it, it happened. I had lost my sense of self. The pain, the fear, the panic, the thoughts, everything just flew past me till there was absolute nothingness. No, I wasn't asleep, I was aware of people walking by, of surgical instruments clinking, people speaking; but it was all just floating past me. I didn't even feel anything had happened to me, I felt normal, I was content and I had a strange sense of well-being in me. I felt like I could remain in that state forever.
When I opened my eyes, the pain slowly returned. But I was much calmer and composed. I checked the time and it seemed I had meditated for more than an hour. I quickly reflected on what I had just done and the effect it had on me. Before, the maximum time I had sat in meditation was around 40 minutes and it wasn't nearly deep and impactful. I quickly understood that in our most easeful times, we take everything for granted and take no control over our mind, its impulsive and we let it roam in unwanted directions, we let it remain distracted. Here amidst the pain I was seeking with all I have for some respite, and I had found it and more.
After that I went through my surgery which was 7 hours long, then a few days later I got discharged and as of now I'm staying at my aunt's place to recover. There's significant atrophy of my injured leg's muscles and overall I've lost weight. But my mind has got stronger. I've been exercising with bands for my upper body, reading a lot and writing as well, drawing, learning and above all, meditating. Sometimes the worries of lost health, time, money and opportunities catches up with me. But I manage to let go of it by being productive, and it's the habit of meditation that's keeping me together. It keeps my depression and anxiety at bay and it has increased my concentration significantly. I've been researching more about it ever since, especially the science behind it. So far it's very interesting and the findings are very promising, to say the least.
So, at the end of it all. I learned a few things. Primarily that our most difficult times bring the best out of us, it is true that what doesn't kill us makes us stronger. And secondarily, that Trauma brings in closure. It reveals hidden aspects about us and sometimes leads to vast realizations. I've also learnt that in today's world where everything is a rat-race and where we are constantly bombarded with information, where anxiety and depression prevails, meditation can be the one very promising aid to handle these issues.
Hope to hear from you soon Loy, would like to hear your views and of course get a little motivation from you. With warm regards, sincerely.
Ashik Divakaran
***********************
Loy Machedo
www.ThinkPersonalBranding.com
***********************
WANT TO LEARN THE SECRETS OF EARNING MONEY?
Join Loy Machedo's Online Personal Branding University
www.ThinkPersonalBranding.com
***********************
Coca Cola Features Loy Machedo in its Viral Advertisement
***********************
Loy Machedo Speaks at TEDx Dubai 2011 On Prejudice
***********************
Loy Machedo featured on National Television
***********************
Loy Machedo featured on the News
Comments
comments

<!-comments-button-->