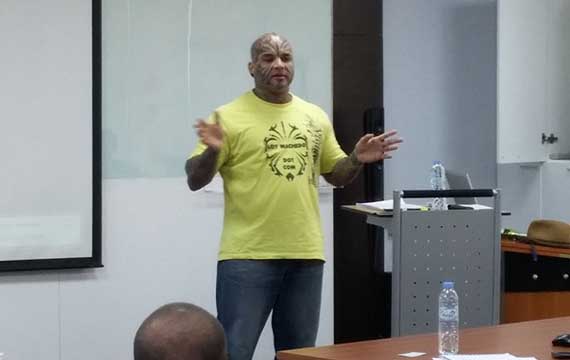 From the Desk of Loy Machedo: 21 Powerful Questions A More Amazing Personal Brand!
Personal Branding is the Process and Practice of marketing a "Person" – their characteristics & personalities both Personal & Professional as Brands. This is a method of positioning yourself to stand out from the rest of the crowd.
Personal Branding is a very important tool for success – in fact it is the ONLY tool that will help you succeed in this day and age. However, it should be consistent and recurring, Memorable and Engaging and most important – should focus on the customer. It should answer the question – "what need can I fulfill of my target market".
Here are 21 Questions you can ask yourself to become a more Powerful Brand.
Loy Machedo
The #1 Personal Branding Strategist
www.ThinkPersonalBranding.com
***********************
Want to Join My Online Personal Branding University? 
***********************
21 Questions To Become An Amazing Personal Brand!
APB 1. How can you engage in some activity of Personal Branding every single day?
Amazing Personal Brand 2. What activity can you engage in that will boost your Personal Brand?
APB 3. How much time, effort and money should be spent in to Personal Branding Per month? Per Year?
Amazing Personal Brand 4. What Mediums of channels should be used for Personal Branding Strategy?
APB 5. You should be able to answers the question – what need can I fulfill of the customer which I have expertise in?
Amazing Personal Brand 6. How can you satisfy the need of your target market – in the most easiest manner?
APB 7. You should be able to answer the question – if everyone provided the same service – what can I provide 'extra' that would make the customer go for me?
Amazing Personal Brand 8. You should be able to answer the question – if everyone looked the same and was the same – what is it that I have – which sets me apart from everyone else
APB 9. Personal Branding Question 101 – What problem do you help solve of a customer
Amazing Personal Brand 10. How do you describe your Personal brand – in one line?
APB 11. How do you describe your Personal brand – in one paragraph?
Amazing Personal Brand 12. How do you describe your Personal brand – in one complete article?
APB 13. What is the minimum price for your Personal Brand (Product / Service)?
Amazing Personal Brand 14. What is the maximum price for your Personal Brand (Product / Service)?
APB  15. What needs to be done to make your Personal Brand Successful?
Amazing Personal Brand 16. What needs to happen to make your personal brand a success?
APB  17. Do you speak the language of your target market?
Amazing Personal Brand 18. For your Personal Brand to succeed – who should be your role model?
APB 19. For your Personal Brand to succeed – who should be your mentor?
Amazing Personal Brand 20. For your Personal Brand to succeed – whose "recipe" should you copy?
APB 21. You should be able to answer the question – "(your name) as a Personal Brand – What is it all about?"
***********************
Loy Machedo
www.ThinkPersonalBranding.com
***********************
WANT TO LEARN THE SECRETS OF EARNING MONEY?
Join Loy Machedo's Online Personal Branding University
www.ThinkPersonalBranding.com
***********************
Coca Cola Features Loy Machedo in its Viral Advertisement
***********************
Loy Machedo Speaks at TEDx Dubai 2011 On Prejudice
***********************
Loy Machedo featured on National Television
***********************
Loy Machedo featured on the News
Comments
comments

<!-comments-button-->