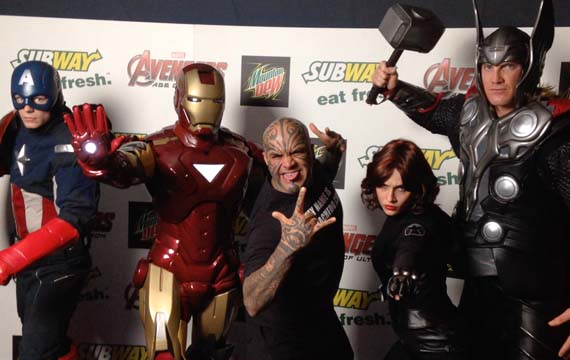 MEGA SPOILERS AHEAD – TO BE WARNED!!!
Personally Speaking –
If you are a Comics Fan or Marvel Fan – You should see it – but then again…..
I don't think one should 'rush' to watch The Avengers: Age of Ultron.
Why?
Well Read and Decide if I am Right or Wrong.
Enjoy this Mega Detailed Movie Review and Let me know your Thoughts / Comments
Shocking Surprises in 'The Avengers: Age of Ultron:
1) The Movies Premise is simply this: How do the Avengers battle Artificial Intelligence that escapes through the Inter-connected Internet World – which cannot be stopped or controlled – especially when it gains intelligence at every step, second and system?
2) Age of Ultron starts of with Earth's Mightiest Heroes hunting down the remnants of the Hydra organization.
3) The Maximoff twins add an interesting spin to the works. Not only do they infer that there are other ways to gain superpowers, but they can also hold their own against the Avengers.
4) Hawkeye was given more prominence in this movie. The Human Side to him made him truly a hero.
5) The Ironman takes a 'Semi-Villain' Role in this movie
6) There's a fragile romance that develops between Bruce and Natasha, which shows how tender Whedon can be as a filmmaker. The shot of Natasha's hand cupped in Hulk's enormous greenness is truly a sight to behold. However, the romance between Hulk versus Black Widow was too explicit and direct. I felt it could have taken a slow mature growth – instead of a explosive & explicit form with the Black Widow being too direct and at times desperate.
7) Exposing Mark Ruffalo hairy chest – Why? Really Why???
8) Ultron is truly a worthy Marvel Nemesis. Voiced by James Spader, Ultron has a fantastic physical presence. Beginning as a robot shell and evolving into a towering robot giant, he's a formidable enemy and one that seems unstoppable.
9) The Vision was created in a rather surprising & spectacular manner. I feel more weightage & grandeur could have been given to his birth. It was pretty flat to be honest
10) Thanos is ready to rumble for the next sequel of the Avengers: Infinity War Part 1 and Avengers: Infinity War Part 2 scheduled to be released on May 4, 2018, and May 3, 2019, respectively.
11) Ultron is Joss Whedon's farewell to the Marvel universe, and he does a Brilliant Job.
12) Iron Man, Thor and Captain America still deliver their one liners and hold their own in the action stakes
13) Olsen as Scarlet Witch is phenomenal and her character evolution throughout the film is handled extremely well. She also has one of the coolest superpowers seen for a while which is her ability to manipulate minds. This makes for a stunning sequence mid-film where Black Widow, Captain America, Thor and The Hulk are all cast under her spell.
14) Taylor-Johnson and Olsen never truly nail the Eastern European accent – In fact they keep going borderline from being Eastern European to proper American.
15) At 141 minutes the movie does have its moments where it drags and gets boring.
16) Great Script, Good Storyline, Funny One-liners & Surprise Moments and a great entertainer – however only for Comic & Marvel Fans.
17) The Climax is simply Unbelievable and Mind Boggling.
18) The CGI is rendered so beautifully that the most ridiculous things — like a bit of a landlocked country breaking out and rising up like a floating island — look credible and spectacular. No wonder the list of names of just the visual effects team of Age of Ultron runs on to 20-odd pages.
19) For once, Andy Serkis gets to act in person, with people.
20) In the end however, Hulk shoots himself into space in the end
21) The Mega Surprise is when The Silversurfer dies
22) Product Placements – Beats Audio Headsets (Sported by Banner to Cool Down), Audi driven by Tony Stark (and in between by Hawkeye & Captain America), Skype Communication Courtesy Black Widow and Addidas Running Shoes Courtesy Quicksilver
23) There is no after-credit scene after the movie. Don't bother waiting.
24) I was personally disappointed with the trailer. Why did they give away the Hulk versus Hulk-Buster battle? That was the best and only moment where the Hulk truly showcased himself. The rest of the movie – well he did nothing much. And to think of it – they did give out the best bits of the movie. Possibly a great advertising promotion strategy.
25) Overall Rating – Well the 1st Avengers was a bit too much for me to handle when I watched it in the Cinema hall. But after watching it a few more times over the months – I kind of really liked it. And rated it at 9 out of 10. So if you take this as a benchmark – I would give this 'The Avengers: Age of Ultron at 8.7 out of 10.
Unnecessary Bits in the Movie
1) There's a sequence where Thor meets Professor Selvig and goes to a lake and screams, for no apparent reason.
2) There's a new, all-powerful, gemstone in this film, but its power is hardly enough to beat Ultron, which is never explained.
3) Ultron is like every other Marvel universe supervillain – inconsequential.
4) We're never told what his plans are and why he's doing things.
5) Characters enter the scenes, add something unsurprising to the film, and exit awkwardly, usually because of an explosion of some sort.
The Characters who got the Maximum Screen Time in
'The Avengers: Age of Ultron'
• Jeremy Renner as Clint Barton / Hawkeye
• Robert Downey Jr. as Tony Stark / Iron Man
• Chris Hemsworth as Thor
• Mark Ruffalo as Bruce Banner / Hulk
• Chris Evans as Steve Rogers / Captain America
• Scarlett Johansson as Natasha Romanoff / Black Widow
• Aaron Taylor-Johnson as Pietro Maximoff / Quicksilver
• Elizabeth Olsen as Wanda Maximoff / Scarlet Witch
• Paul Bettany as J.A.R.V.I.S. and Vision
• James Spader as Ultron
The Characters who didn't make any sense being on 'The Avengers: Age of Ultron'
I could never understand the purpose of having the following actors play the following roles in the Avengers: Age of Ultron. They hardly had any screen time!
• Don Cheadle as James "Rhodey" Rhodes / War Machine
• Cobie Smulders as Maria Hill
• Anthony Mackie as Sam Wilson / Falcon
• Hayley Atwell as Peggy Carter
• Idris Elba as Heimdall
• Stellan Skarsgård as Erik Selvig
• Samuel L. Jackson as Nick Fury
The Other Actors who played small short yet important roles are:
• Thomas Kretschmann and Henry Goodman return as Baron Wolfgang von Strucker and Dr. List
• Linda Cardellini portrays Laura Barton, Hawkeye's wife
• Claudia Kim portrays Helen Cho, a world-renowned geneticist
• Andy Serkis portrays Ulysses Klaue, a black-market arms dealer, smuggler and gangster who is a former acquaintance of Stark's from his weapons-dealing days
• Julie Delpy appears as Madame B., who mentors Black Widow into becoming an assassin
• Kerry Condon voices the artificial intelligence F.R.I.D.A.Y., Stark's replacement for J.A.R.V.I.S
• Josh Brolin makes an uncredited appearance during the mid-credits scene as Thanos
• Avengers co-creator Stan Lee makes a cameo appearance in the film as a military veteran who attends the Avengers' victory party
Loy Machedo's Final Analysis for 'The Avengers: Age of Ultron'
Overall Rating – Well the 1st Avengers was a bit too much for me to handle when I watched it in the Cinema hall. But after watching it a few more times over the months – I kind of really liked it. And rated it at 9 out of 10. So if you take this as a benchmark – I would give this 'The Avengers: Age of Ultron at 8.7 out of 10.
The Avengers: Age of Ultron
Director: Joss Whedon
Cast: Scarlett Johansson, Chris Hemsworth, Robert Downey jun, Chris Evans, James Spader, Aaron Taylor-Johnson, Elizabeth Olsen, Mark Ruffalo, Jeremy Renner, Idris Elba, Samuel L. Jackson, Paul Bettany, Don Cheadle, Andy Serkis, Stellan Skarsgard
Rating: (M)
(Editors Note: The Avengers UAE Premier was sponsored by Subway Arabia. Special Thanks to them for inviting me for the Premier so as to share the Review with the fans & friends ~ Loy Machedo)
Comments
comments

<!-comments-button-->